Bol Bol, the son of the tallest player in NBA history, Manute Bol, is making a name for himself as a potential NBA lottery pick for the Oregon Ducks.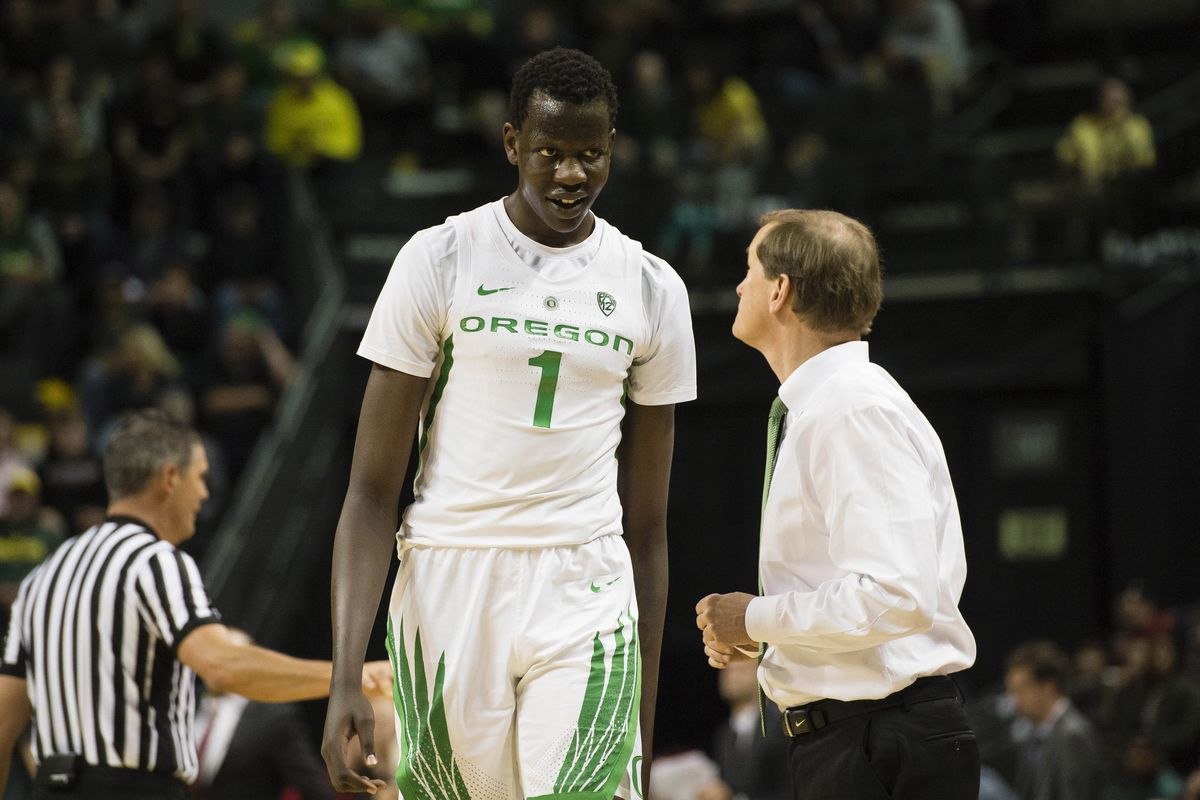 Through six games, the 7-foot-3 freshman center leads the 4-2 Ducks in scoring with 21.3 points per game. Bol also leads Oregon in rebounding and blocks.
Tallest Duck in Eugene
Bol Bol grew up in Olathe, Kansas, the son of the late former NBA player Manute Bol. In 2012, Bol caught the eye of scouts when he appeared at a basketball camp. The seventh-grader stood 6-foot-5 and towered over his teammates.
Bol attended prep school in Las Vegas for his senior year before accepting a scholarship at Oregon. Standing at 7-foot-2, Bol also has a wingspan of 7-foot-8. Just like his father, Bol is expected to play in the NBA. Although he's not as tall as the 7-foot-7 Manute, Bol is quicker with far-superior offensive skills.
Many scouts projected Bol to be a potential lottery pick. So far this season in six games with the Oregon Ducks, Bol is averaging 21.3 points and 10 assists per game.
On defense, Bol is a force with 18 blocks and he's averaging four blocks a game over his last four games.
On his night he turned 19-years old, Bol first caught the attention of a national audience earlier this month. Bol scored a career-high 26 points for Oregon against #16 Syracuse in front of a packed crowd at Madison Square Garden in New York City. Bol finished with an efficient 11 of 17 shooting and added 9 rebounds in an 80-65 win.
Earlier this week, Bol set a new career-high with 32 points against Texas Southern. The Ducks were upset in a shocking five-point loss. In a losing cause, Bol added 11 rebounds for his third double-double of the season.
Chip Off the Old Manute
Manute named his son, Bol, after his grandfather and Dinka chief Bol Chol Bol. Manute, originally from Gogrial, Sudan, had the honorable distinction of being the tallest player in NBA history at 7-foot-7. The Washington Bullets drafted Maunte Bol in 1985. Manute spent his ten-year NBA career with four different NBA teams. After his NBA career, Manute became an activist and fund raiser for Sudanese refugees.
During the Civil War, the government accused Manute Bol as an American spy and the barred him from returning to America. Manute managed to flee to America via Egypt.
In 2002, Manute Bol became a political refugee while in Connecticut. He eventually settled his family in Kansas.
Manute passed away at the age of 47 in June of 2010 due to kidney failure. Although there is no specific record of birth, Maunte is expected to be several years older than what the media reported.