The biggest question in the Kansas State vs. Oklahoma game is whether the Wildcats will have enough players to field a team. A full-strength Kansas State squad would have problems with No. 3 Oklahoma, so one that's been adversely affected by the COVID-19 pandemic will definitely struggle in Norman, Oklahoma.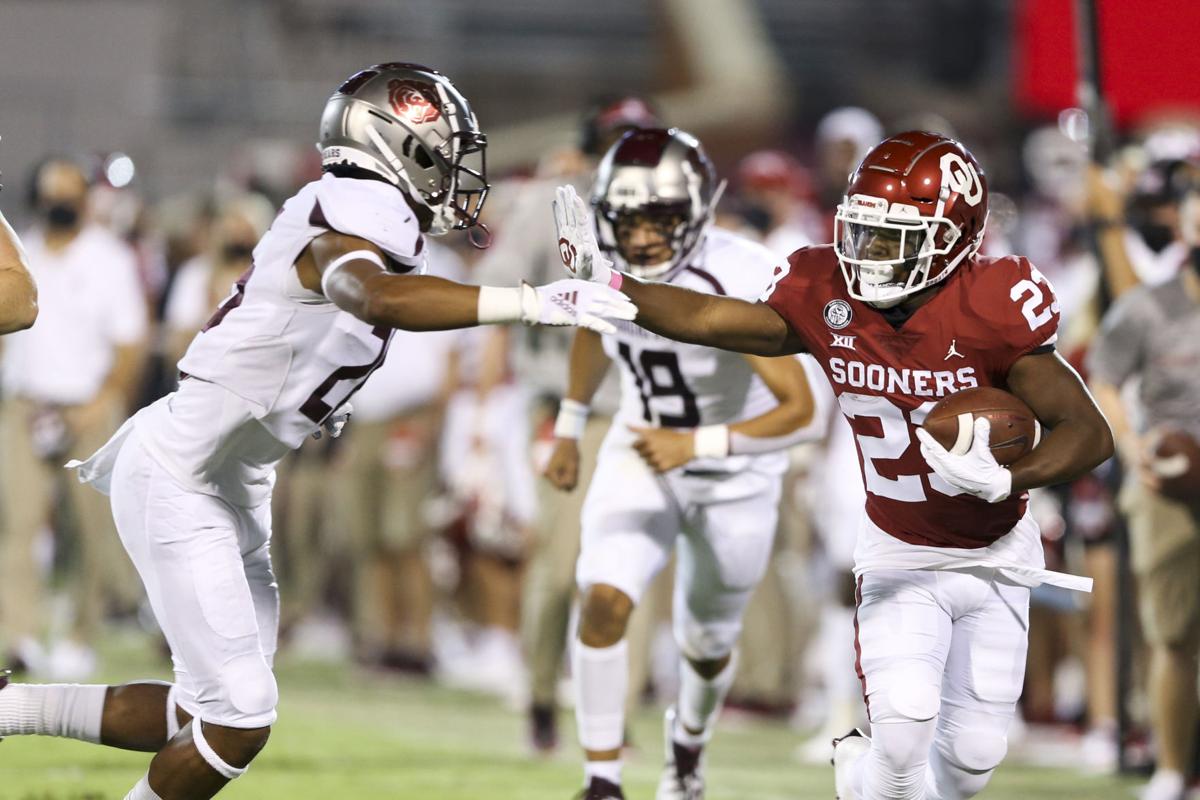 That's why with this week's One Bet, $100, I'm eagerly taking Oklahoma and giving away 27.5 points to Kansas State.
The last bet I made was taking the over on the Clemson-Wake Forest game. The over was 59, and the final score, 37-13. It would be the first of two overs that Clemson failed to cover.
---
One Bet, $100
| | | |
| --- | --- | --- |
| This Week  | Last Bet | Season Total  |
| Oklahoma -27.5 | Lost: Clemson/Wake Forest over | 1-1 -$10 |
---
Oklahoma has no problems running up the score on opponents, especially ones in their own conference. Two weeks ago in the Sooners' opener, they destroyed non-conference foe Missouri State 48-0, easily covering the 40-point spread.
COVID-19 Put Game in Jeopardy
There was doubt Oklahoma and Kansas State would even play on Saturday. Wildcats head coach Chris Klieman said his team was in danger of missing its opener two weeks ago, and playing this week was in danger.
"We were excited because we were able to get 12 kids back on Monday after that game," Klieman said. "Lo and behold, we've lost probably another 10 to tracing or a positive (test) over the past week, so you take two steps forward, and you end up taking a step-and-a-half or two back."
Klieman said the biggest issue is making sure his players are safe.
"Whether we're down guys or not, our guys want to play, but we also have to make sure that it's safe for the guys that are out there," Klieman said. "And I know everybody is kind of waiting on a day-to-day basis, and that's the tricky part that all of us are dealing with."
Oklahoma Loaded, Kansas State Shooting Blanks
Despite having a freshman quarterback, Oklahoma hasn't lost a step from last year's potent offense. In the Missouri State victory, QB Spencer Rattler threw four touchdown passes in the 48-0 victory.
Head Coach Lincoln Riley told reporters Rattler isn't as mobile as quarterbacks in the past, but he has the ability to scramble.
"I think we'll just have to see how it evolves," Riley said. "I mean, he's a good athlete, a different kind of athlete. We've had kind of different guys each year, but we've always looked to recruit guys that we feel like gave us some type of threat in the run game and some type of advantage there, and I think he certainly does."
Kansas State will depend on its run game, and Oklahoma might have to adjust to stop the Wildcats' new offensive weapon.
Why Oklahoma Will Win, Cover Spread
Oklahoma is just too deep talent-wise for Kansas State to keep up for four quarters. I believe the Sooners will get tested early, but will find their rhythm in the second quarter and start pulling away.
I was fortunate to find 27.5 points, as most sportsbooks were offering 28. If this is a four-touchdown game, I'll get the victory instead of a push. I don't think it will be that close, however.