North Carolina and Boston College have been slow starters in the beginning of the 2020 college football season. Both teams have managed to score just seven points in the first half of the games they have played.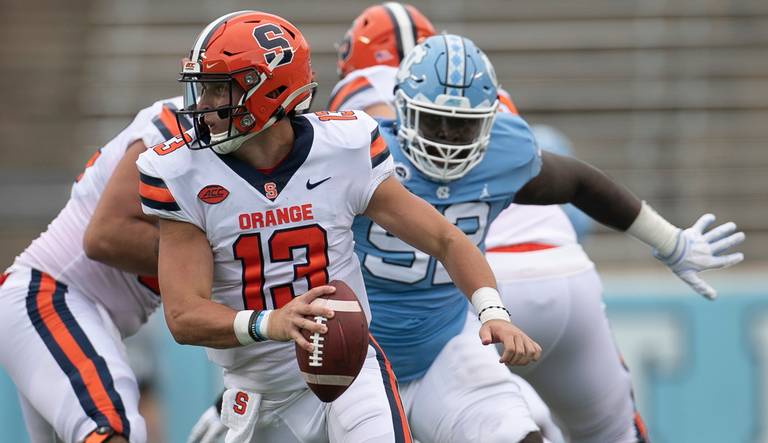 That is why with this week's One Bet, $100, I am going to take the first half under in the North Carolina-Boston College game. The line was steady at 27.5 points at all of the sportsbooks I checked, so bargain hunting was futile.
Still I like just under four touchdowns in the first half. I believe there are several factors that should keep this game in the teens through two quarters.
Last week I took Oklahoma and gave away 27.5 points against Kansas State. The Sooners laid an egg and got upset, ruining any chance the team had to compete for the National Championship.
One Bet, $100
| | | |
| --- | --- | --- |
| This Week          | Last Bet     | Season Total |
| UNC-BC first half under 27.5 | Lost: Oklahoma | 1-2, -$110 |
North Carolina and Boston College, however, shouldn't disappoint me like Oklahoma did. If they perform like they have in their previous games, the under should come through in the first half.
North Carolina Shaking Off Rust Against Boston College
North Carolina has played one game so far this season, while Boston College has played two. The Tar Heels only game was way back in Week 2, when the defeated Syracuse at home, 31-6.
That game was three weeks ago. Since that victory, North Carolina has had three weeks off. They were supposed to play a non-conference game against Charlotte, but coronavirus concerns led to the cancellation of the contest, and Tar Heel athletic officials couldn't find another opponent on such short notice.
So the North Carolina players have been cooling their heels. Head coach Mack Brown, though, said he wasn't concerned.
"We still haven't had our second game, so that will be interesting to see this weekend as we move forward," Brown said. "But I'm not worried about them being excited about playing, they'll be ready to play."
They might be ready, but will there be rust because of the inactivity?
"What we've told our players and coaches is let's just start the season over," Brown said. "Let's just go back and restart and that's what we're trying to get their mentality to be."
Boston College Will Try Quicker Start
Boston College has played two games, but like North Carolina have taken some time to get the offense going. In both their victories they scored just seven points in the first half.
Eagles head coach Jeff Hafley said there were stark differences between the first and second half in both the wins over Duke and Texas State.
"We learned that we need to be more consistent," Hafley said. "If you look back to the Duke game, there were times we looked really good. Then there were times when we made mistakes. The same thing in the Texas State game, there were times where we looked really good and there were drives where we just had lapses and we weren't consistent."
Will Boston College improve enough against No. 12 North Carolina? Probably not.
Why First-Half Under Will Hit
North Carolina is rusty, and Boston College is not that good. The Eagles, who are 14-point underdogs, should struggle to score against a defense that is infinitely better than Boston College's offense.
North Carolina should sputter a bit in the first half, they definitely will in the first quarter. Even if the Tar Heels find their offense, they should keep Boston College off the scoreboard in the first half.
Look for a first-half score in the 14-7, 14-10 range. I don't think it will be much more than that.