Defending American League MVP Shohei Ohtani may offer more value to an MLB team than any other baseball player on the planet. He's a star-level hitter and pitcher, is on a low-paying contract through 2023, and is right in his prime. That's why, as shocking as it may seem, the Los Angeles Angels could try to move Ohtani for a massive haul before next week's MLB trade deadline.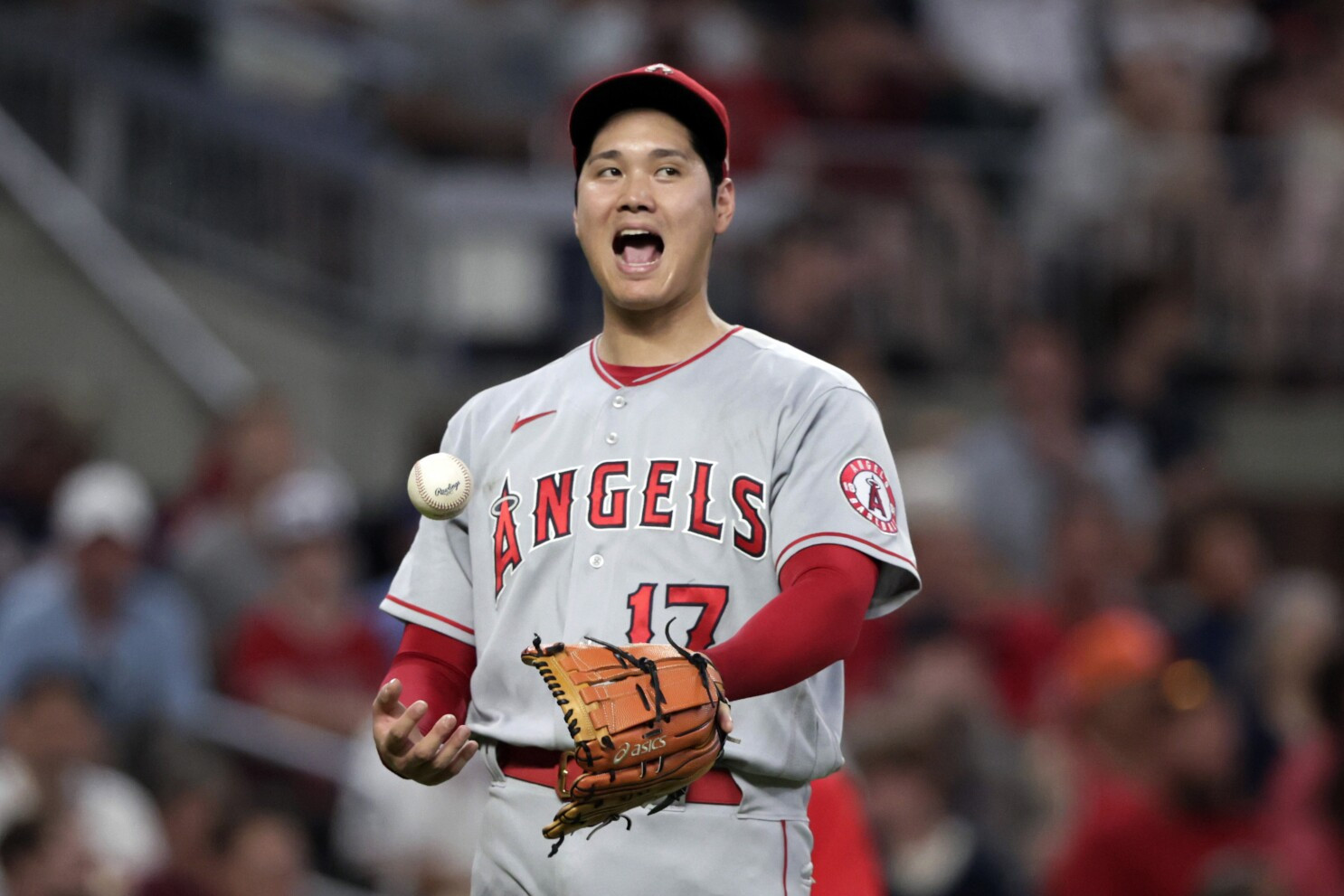 Ohtani impressed again on the mound Thursday night, allowing two runs over six innings while striking out 11 in a 2-0 loss to the Texas Rangers.
Angels may have short future with Ohtani
The Angels are stumbling once again, and have no realistic chance of making the playoffs. Losing has obviously worn on Ohtani, who has said repeatedly that he wants to play for a winner.
That doesn't necessarily mean leaving the Angels. Ohtani hasn't demanded a trade, either publicly or (as far as anyone knows) privately. However, his statements don't exactly inspire confidence that he's in Los Angeles for the long term.
"Regardless of where I'm playing, I'm going to give it my all and try to win that ballgame in front of me," Ohtani told reporters after Thursday's game. "I'm with the Angels right now, and I'm very thankful for what they've done. I love my team and my teammates. Right now I'm an Angel, and that's all I can focus on."
Ohtani is now 9-6 with a 2.81 ERA on the mound. He leads the majors in strikeout rate, punching out 13.1 batters per nine innings. At the plate, Ohtani has hit .254 with 21 homers and 59 RBIs on the season. While his offensive numbers have dropped a bit and his pitching has improved slightly, Ohtani is essentially showing the same two-way stardom he produced in 2021.
Oddsmakers have noted that production and see Ohtani as a potential winner of two different awards. FanDuel lists the 28-year-old as the +150 second choice to win AL MVP behind only Aaron Judge (-165), and the +1000 fourth choice to win the AL Cy Young Award.
Trade unlikely on short notice
The Athletic's Ken Rosenthal reported that the Angels are unlikely to trade Ohtani by next Tuesday's deadline, though the team has also said it is open to hearing offers. The next few days may prove too hectic for such a massive move to materialize, as Los Angeles would have to consider just how much they want back for a transcendent two-way star.
Angels listening on everybody, and for the first time that includes Ohtani. One rival says they want "your 4 top prospects." Rivals all believe it is s major long shot that Angels ownership ultimately OKs a Shohei dealhttps://t.co/w1jajqf9sM

— Jon Heyman (@JonHeyman) July 29, 2022
However, the Angels will face decisions on Ohtani sooner rather than later even if they don't trade him. His current contract ends after 2023. Ohtani will command an outrageous salary for 2024 and beyond, provided he remains healthy. Right now, however, he is making only $5.5 million per season, a number that only adds value to an already blue-chip trading piece.
With that in mind, expect all the big guns – the Yankees, Mets, and Dodgers, as a start – to at least enquire about Ohtani. Whether or not a deal gets done is another question, however. MLB Network's Jon Heyman quoted a rival as saying that the Angels want "your four top prospects" for the superstar, and that other teams don't expect the Angels' ownership to approve a deal for Ohtani before the trade deadline.