While Shohei Ohtani won the AL MVP award for his historic two-way season for the Los Angeles Angels in 2021, he was never truly in contention for the Cy Young Award, as the team limited his innings on the mound and his numbers didn't match up with the best pitchers in the American League. But, if Ohtani continues to put on performances like he did on Wednesday, he could contend for both awards in 2022.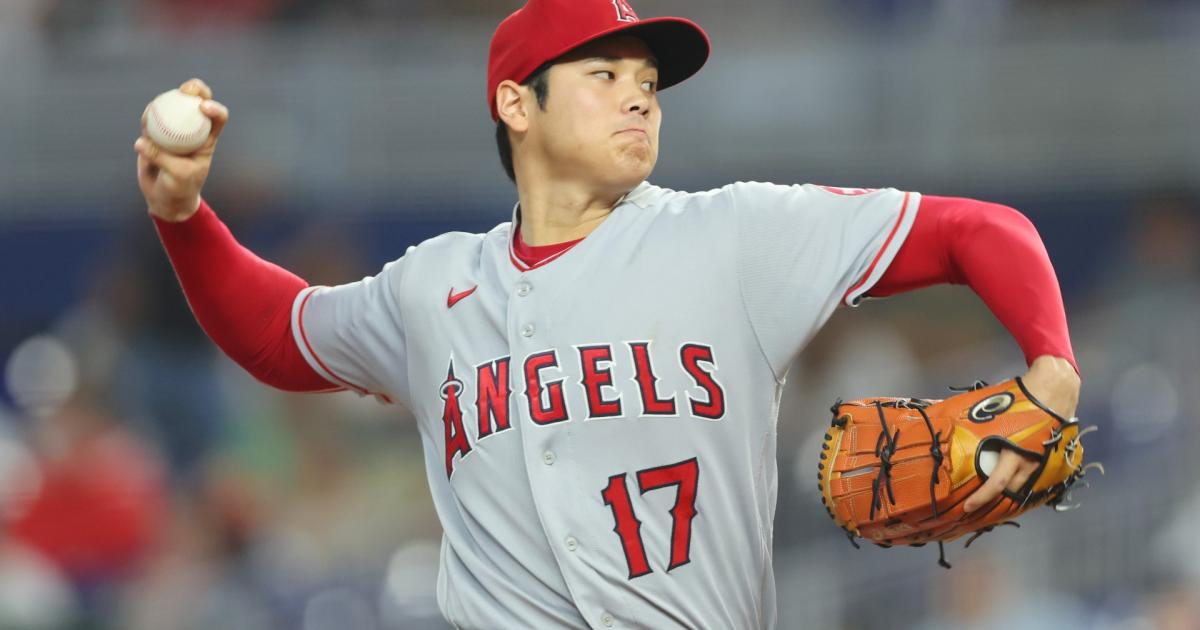 Ohtani gave up just one unearned run over seven innings while striking out 10 hitters in a 5-2 win over the Miami Marlins on Wednesday.
Ohtani sets another historic standard
The two-way superstar also went 1-for-4 with two RBIs, a run scored, and a stolen base.
The victory pushed Ohtani's record on the year to 8-4 with a 2.44 ERA. He hasn't allowed an earned run over his past 28.1 innings pitched, and has picked up wins in each of his last five starts.
Shohei Ohtani doing things the world hasn't seen for at least 100 years 😳

(h/t @ESPNStatsInfo, 📹: @MLB) pic.twitter.com/B0OYZK3ie6

— ESPN (@espn) July 7, 2022
Ohtani is the first player since at least 1920 to strike out 10 batters, earn two RBIs, and steal a base in the same game.
"It's special, it's historic, it's elite," Angels catcher Max Stassi told reporters. "He's established himself as one of the better arms in baseball – everybody else knows that – and you've got to fear him at the plate the same day, too. He's a superstar pitcher and he's a superstar hitter."
As long as Ohtani continues to pitch and hit at an All-Star level, he's going to be in contention for more MVP awards. At the plate, he's currently hitting .259 with 18 home runs and a .839 OPS.
Judge rates as favorite in AL MVP race
Yet despite the combination of his pitching and hitting skills, Ohtani isn't the current favorite to win AL MVP. Yankees slugger Aaron Judge claims that honor, with FanDuel listing him at +100 to take the trophy. Judge is enjoying a monster year: he leads the league in home runs (30), RBIs (64) and runs scored (65), and has a .993 OPS. It's hard to imagine how voters will weigh that enormous offensive production against Ohtani's added value as a pitcher.
That value is looking more and more significant with each start. Ohtani (+950) now ranks fourth in the AL Cy Young Award odds at FanDuel, behind only Shane McClanahan (+250), Justin Verlander (+270), and Gerrit Cole (+850). While he's still a dark horse, for now, continued dominance could legitimately pull him into the race.
The question of whether Ohtani can avoid fatigue and injury while playing both designated hitter and pitcher for the Angels always looms over these discussions. For now, Ohtani says he can handle the workload.
"I'm able to go without any worries on my body, fully healthy," Ohtani told reporters. "It's a huge part why I'm pitching well."
If that's true – and if Ohtani can keep pitching the way he has over the past month – he'll end up on a lot of Cy Young Award ballots. And if that's the case, it will be hard to deny a second MVP award to a player who will be acknowledged as one of the top handful of pitchers in the American League, while also being a star at the plate.