LSU might be No. 1 in the AP Top 25 Poll, but Ohio State is atop the College Football Playoff rankings. The first of five rankings was released Tuesday night by the 13-person committee.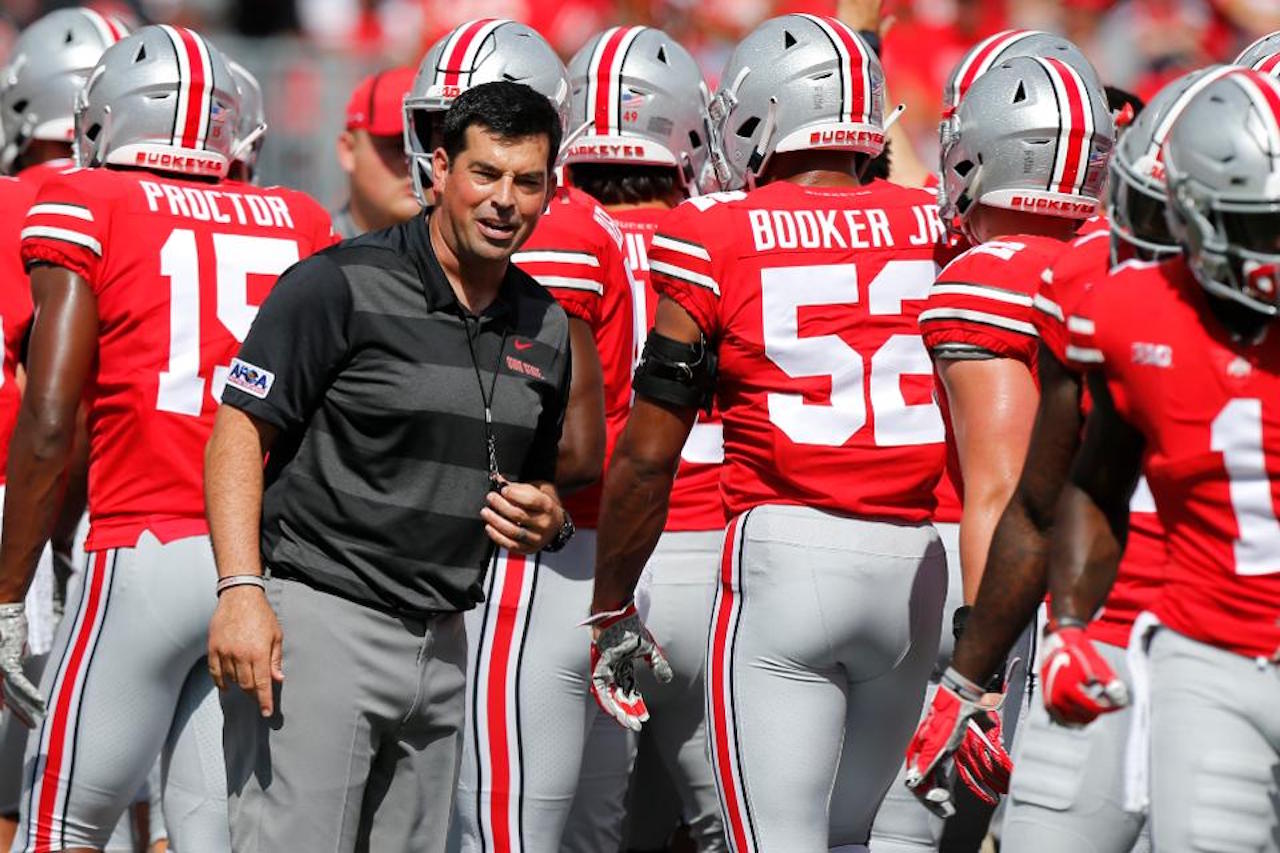 There are four more weekly rankings leading to the selection of the four teams that will participate in the College Football Playoffs. The final selection is Dec. 8. In this College Football Playoff Ranking, LSU was second, Alabama third, and Penn State fourth.
The Buckeyes were a bit of a surprise top pick in the College Football Playoff Rankings. Ohio State is No. 3 in the AP College Football Top 25 Poll. They jumped over No. 2 Alabama, and No. 1 LSU. Committee chairman Rob Mullens said OSU impressed the panel.
"Ohio State has performed at a very consistent level, really good on both sides of the ball, explosive offensive playmakers and chase young is as disruptive a defensive player as there is in the country," Mullens said. "They perform at a consistently high level every week."
Ohio State Steamrolling Opponents
The Buckeyes are 8-0 under first-year coach Ryan Day. OSU has outscored opponents 386-63. The only ranked team they have faced was then No. 6 Wisconsin in Week 8. They defeated the Badgers, 38-7.
In his Tuesday press conference to preview Maryland, who the Buckeyes are favored by 43.5 points, Day was asked about the upcoming poll.
"I think it's for the fans," Day said of the rankings. "Doesn't mean anything to us because if we lose this weekend, we're not going to be in the top four, that's for sure." What matters is where we're at once we're done with the season, the regular season."
Barring a disastrous upset, OSU should keep its No. 1 ranking when next week's next poll is released. They won't have a game against a team with a winning record until Nov. 23, when they host Penn State. The Nittany Lions face stiff competition on Saturday when they travel to play undefeated Minnesota. PSU is a 6.5-point pick.
College Football Playoff Rankings Showdown Saturday
The No. 1 and No. 2 teams in the AP Top 25 Poll will face off Saturday when top-ranked LSU travels to Alabama. It will be interesting to see if the College Football Playoff Rankings committee drops the loser of this game out of the top 4.
Alabama opened a seven-point favorite, but the line has moved to 6.5. LSU coach Ed Orgeron doesn't have to tell his players how big this game is, but he did reiterate that fact to reporters in his Monday press conference.
"It's the biggest game on our schedule but there'll be bigger games down the road for us," Orgeron said. "We understand, we have respect for Alabama, we understand what they do well, what we do well and it's going to be a great game."
Clemson First Team Out
Even though Clemson is ranked No. 4 in the AP Poll, the Tigers have been sliding down the poll since they were the preseason No. 1 pick. As a result Clemson was ranked fifth in the College Football Playoff rankings.
The Tigers are undefeated, but don't have any big victories. They are at a disadvantage playing in the weak ACC, but nearly being upset by North Carolina in Week 5 didn't help their cause.
Clemson coach Dabo Swinney criticized those that have questioned his team's schedule, and reminded them who beat Alabama in January for the National Championship.
"Who has beat Alabama in SEC? In the past five years? Ain't many," Swinney said. "Yet we've had a great run in our conference because nobody is else good. We've only won in postseason because people are tired or there are distractions … it's funny."