Clemson quarterback Trevor Lawrence outdueled his Alabama counterpart in the College Football Playoff Championship, and oddsmakers believe he will do the same in the 2019 Heisman Trophy race. The soon-to-be sophomore, who led the Tigers to the national championship, is the favorite with several sportsbooks to capture the award for college football's best player.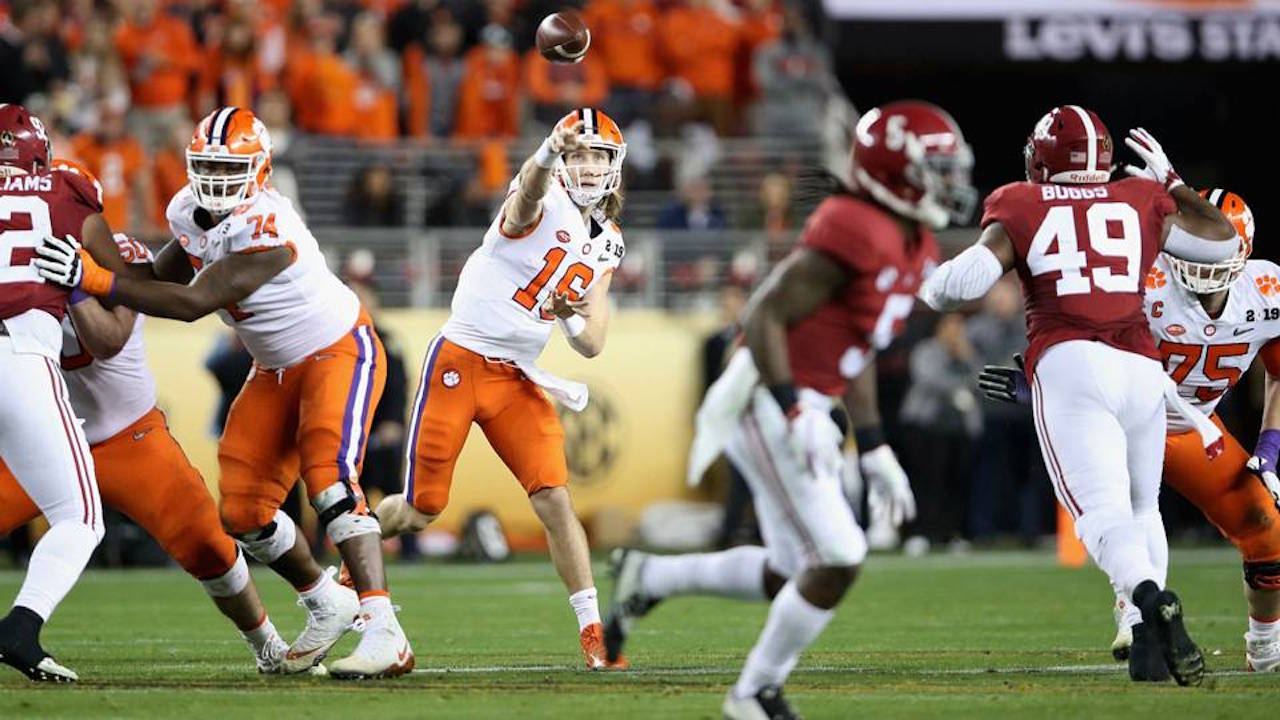 BetOnline opened Lawrence's odds at 3/1, but they have been adjusted to 7/2. Tua Tagovailoa, who led Alabama to the 2018 title, began at 4/1, but is now at 5/1.
After the Tigers' 44-16 victory over Alabama two weeks ago, Clemson coach Dabo Swinney was ready to anoint Lawrence the best player in college football. He won the quarterback battle with starter Kelly Bryant four games into the season, then led the team like a veteran.
"Well, I mean, he was the best player, and that's not a knock to Kelly Bryant — and I love Kelly Bryant, what a great player he is," Swinney said. "But my job is to make decisions that put the team in the best possible path to win, and after four games he was the best player."
Lawrence Expected to Improve
Those that have watched Lawrence believe after one season in college, he is ready to play in the pros, but Swinney was quick to downplay that scenario.
"The NFL stuff, that's not something that I spend hardly any time talking about it until it comes time for some of these guys to have to make decisions, and I try to help them have good and accurate information so they can make solid decisions for their future," Swinney said. "Oh, we've got a bunch of guys that could play in the NFL. Give me about six months, I could probably get a series or two in. I'd be ready."
Crimson Tide coach Nick Saban watched Lawrence torch his secondary in the championship game and had nothing but praise for him afterwards, calling him "a special talent."
"I think Trevor Lawrence in particular has done a phenomenal job for his team this year in his ability to execute and certainly doesn't play like a freshman or look like a freshman, and if anybody ever watched him, they wouldn't think he was a freshman," Saban said.
Tagovailoa Earns Praise
Tagovailoa finished second to winner Kyler Murray in this year's Heisman voting and might have taken home the award had he not injured his ankle and missed some games. Still his s2018 stats were impressive. He finished with 3,966 passing yards, 43 touchdowns and a 69 percent completion rate.
Swinney compared the Alabama junior to be to a couple of NFL players.
"He's got a little bit of Brett Favre in him, a little bit of Michael Vick in him," Swinney said. "He's got that stuff that, you think you've got him, and he's got eyes in the back of his head. He spins out, and the next thing you know, it's a big play. He is so accurate in the pocket, and he's incredibly accurate on the move."
One player that is a great value bet is Jalen Hurts. The former Alabama starter transferred to Oklahoma, home of the last two Heisman winners, Baker Mayfield and Murray. His odds went from 9/1 to 6/1 after news of him choosing the Sooners.