Crew members working for Bubba Wallace, the only full-time African-American driver on the NASCAR Cup circuit, made a troubling discovery on Sunday when they found a noose in their garage stall at Alabama's Talladega Superspeedway during Sunday's Geico 500. Wallace, who was not in the garage when the noose was discovered, led the movement to get the confederate flag banned from all NASCAR events.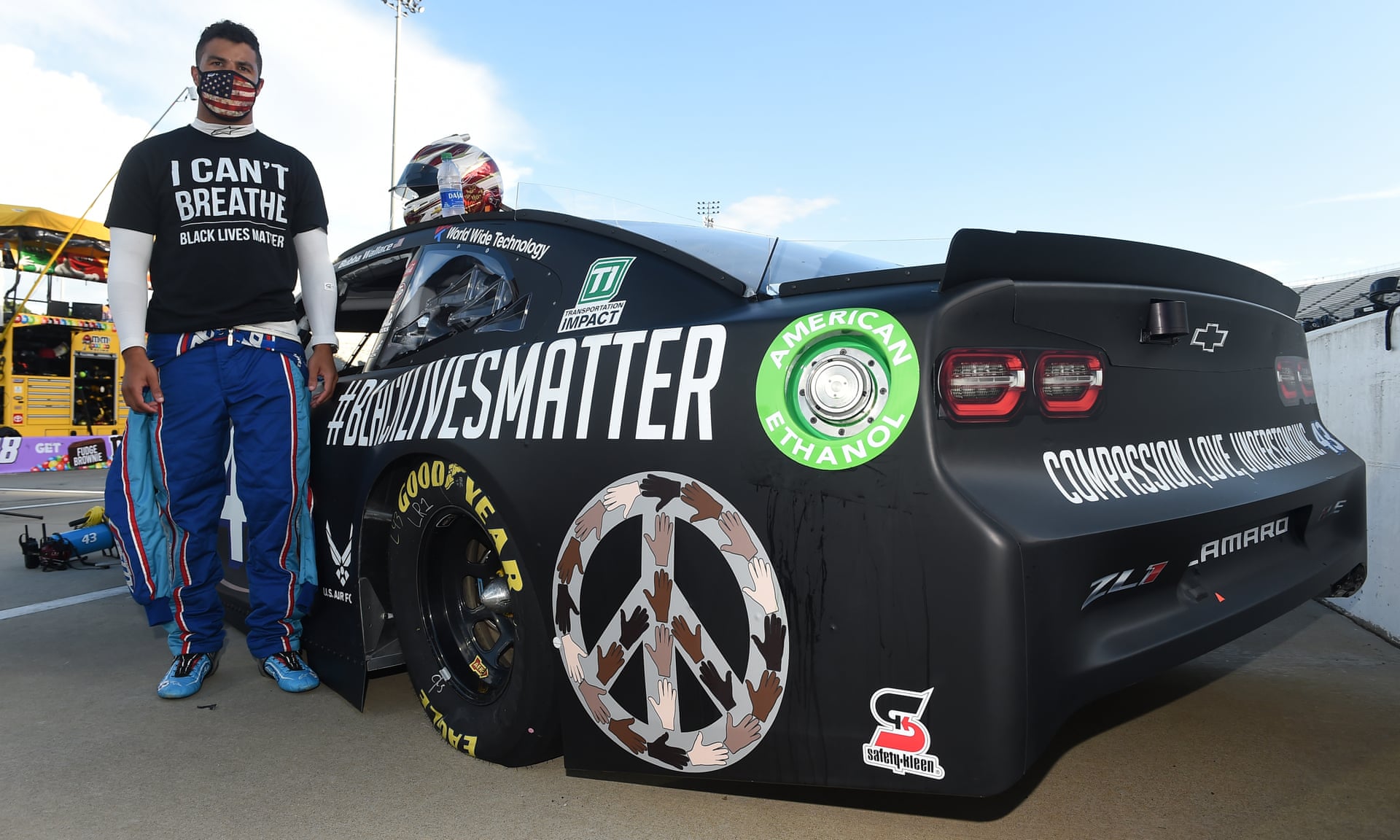 NASCAR immediately launched an investigation into the incident. Because of the COVID-19 global pandemic, access to the garage is limited, with only drivers, crew members, and select track personnel allowed to enter.
The racing organization condemned the act and vowed to find who was responsible. On Monday, before the restart of the race, drivers rallied around Wallace. They surrounded his car and walked with him as he drove out onto the track.
"We are angry and outraged, and cannot state strongly enough how seriously we take this heinous act," NASCAR said in a statement. "As we have stated unequivocally, there is no place for racism in NASCAR, and this act only strengthens our resolve to make the sport open and welcoming to all."
Wallace Attacked on Social Media
Wallace did not see the noose. It was discovered by one of his crew members, who immediately reported it to a NASCAR official. When told about what had happened, Wallace took to social media to criticize the guilty party.
"Today's despicable act of racism and hatred leaves me incredibly saddened and serves as a painful reminder of how much further we have to go as a society and how persistent we must be in the fight against racism," Wallace wrote on Twitter. "Over the last several weeks, I have been overwhelmed by the support from people across the NASCAR industry, including other drivers and team members in the garage. Together, our sport has made a commitment to driving real change and championing a community that is accepting and welcoming of everyone."
Soon after his post, people trolled Wallace. Nicholas Coleman wrote that Wallace was seeking publicity, and that the incident was "self-inflicted."
In another post, S. Annie Billings alleged she "never saw the color of your skin. I saw you as a race car driver! You made this a race issue."
Some even accused Wallace of staging the incident, and calling him "Bubba Smollett." That nickname is in reference to actor Jesse Smollett who claimed he was attacked by two strangers who beat him, doused him in bleach, and left him with a rope tied around his neck. It was later proven the actor had staged the attack.
Some Upset Over Confederate Flag Ban
Wallace was a leader in getting the Confederate flag banned from NASCAR races — a move that hasn't sat well with some NASCAR fans. One person flew over Talladega in a small plane towing the confederate flag with the words, "defund NASCAR." The owner of the plane is unknown at the time of this writing.
Also outside of the facility, cars and trucks flying the Confederate flag sped up and down the street. Ed Sugg, a vendor, was selling the flag alongside President Trump 2020 banners, telling AI.com that business was brisk.
"People are disappointed that NASCAR has taken that stance," Sugg said. It's been around for as long as all of us have been. I don't think anybody really connects it to any kind of racism or anything. It's just a Southern thing, it's transparent. It's just a heritage thing."