Bubba Wallace, the only full-time African American driver on the NASCAR Cup Series circuit, is calling for the elimination of all Confederate flags at NASCAR races.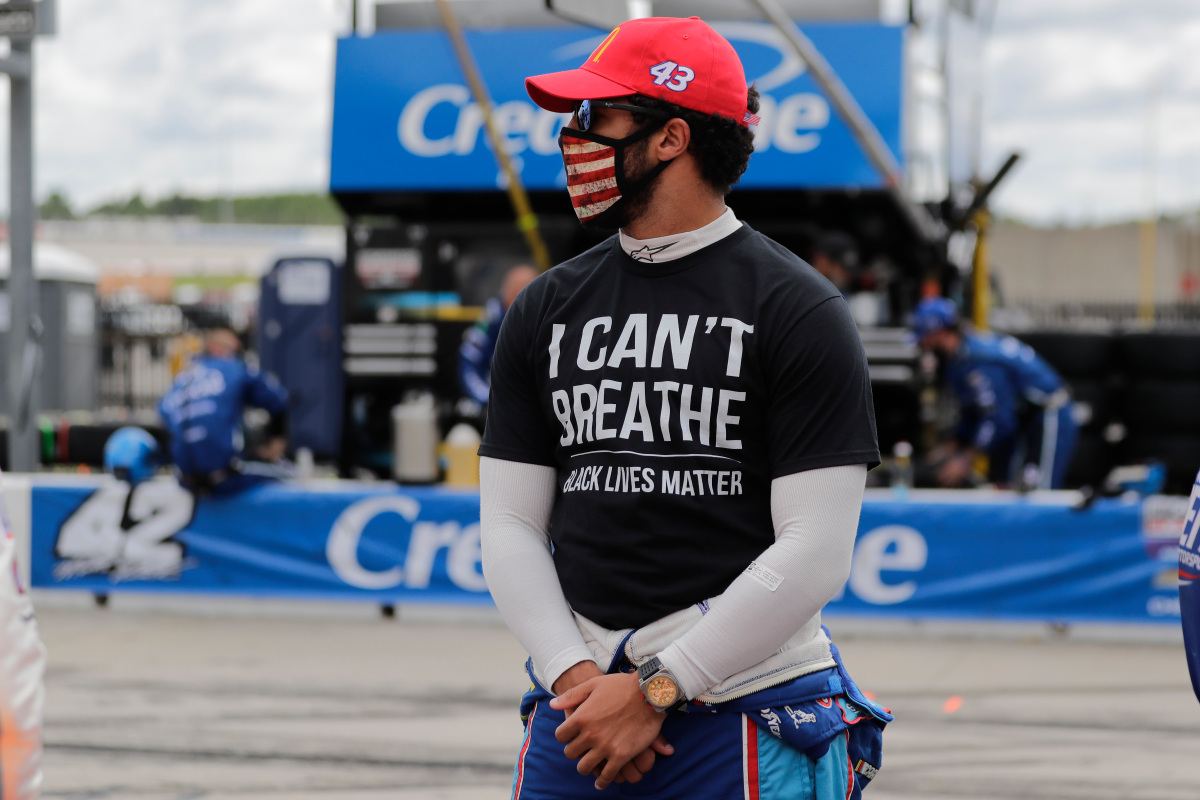 Wallace made his comments to CNN on Monday, saying that while the move would likely upset some NASCAR fans, it is time for the change.
Wallace: Confederate Flags Create Discomfort at Races
The 26-year-old Wallace, who drives the No. 43 car for Richard Petty Motorsports, spoke out about the Confederate flag a day after wearing a shirt bearing the words "I Can't Breathe" and "Black Lives Matter" at Sunday's NASCAR race in Atlanta.
"No one should feel uncomfortable when they come to a NASCAR race," Wallace told CNN. "So it starts with Confederate flags. Get them out of here. They have no place for them."
Wallace acknowledged that he hasn't always put much thought into the Confederate flag, but that his perspective has changed with time.
"What I'm chasing is checkered flags, and that was kind of my narrative," Wallace told CNN. "But diving more into it and educating myself, people feel uncomfortable with that, people talk about that – that's the first thing they bring up."
Wallace predicts that some fans won't agree with such a move, but says that individuals who oppose the stance can "get back on the road where you came from."
"There's going to be a lot of angry people that carry those flags proudly but it's time for change," Wallace said. "We have to change that, and I encourage NASCAR to have those conversations to remove those flags."
Report: NASCAR Considering Change in Policy
Other NASCAR drivers have also broached the issue, even if their stances aren't as strong as Wallace's.
"I only salute one flag and that's America's," Brad Keselowski said after Sunday's race. "I recognize that that flag might mean something different to different people, but it doesn't mean United States of America to me. But I'm not gonna tell people they need to get rid of it. That's not my right either."
NASCAR has asked fans not to bring Confederate flags to races for several years now, and has created a trade-in program that allows fans to exchange their Confederate flags for American flags. On Tuesday, Adam Stern of Sports Business Journal reported that NASCAR is now actively considering an outright ban on Confederate flags.
.@NASCAR is actively considering a change to its confederate flag policy, per sources, as calls grow for the series to permanently ban the symbol from its facilities. pic.twitter.com/vQxbs4xWwE

— Adam Stern (@A_S12) June 9, 2020
NASCAR President Steve Phelps pledged to drivers that the organization will do a better job on issues of racial injustice going forward.
"The black community and all people of color have suffered in our country, and it has taken far too long for us to hear their demands for change," Phelps told drivers via radio during warm-up laps before Sunday's race. "Our sport must do better. Our country must do better."