The top seven spots in the third edition of the College Football Playoff Rankings stayed the same, but there could be a shake up in the making after this weekend. Ohio State, which is second behind No. 1 LSU, is playing No. 8 Penn State on Saturday.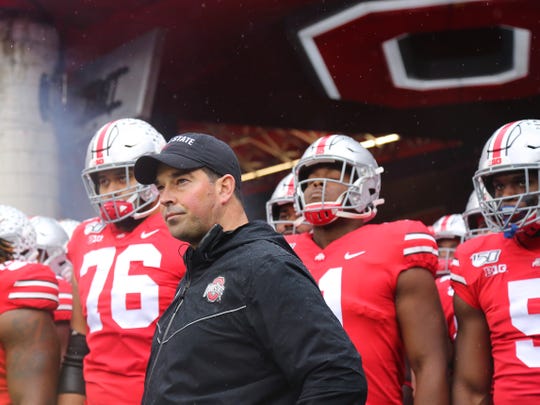 If the Buckeyes score an impressive victory over the Nittany Lions, there's a possibility the 13-member CFP Rankings committee puts OSU ahead of LSU in next week's rankings. Ohio State was No. 1 in the first edition of the CFP Rankings, but have since been overtaken by LSU.
The Buckeyes have been devouring their competition this season. They've outscored their three, non-conference opponents, 163-26. It's the same story in the Big Ten, where OSU has outscored their opponents 515-72.
In their last two games, the Buckeyes were favored by 42.5 and 52.5 points respectively, though they failed to cover in last week's 56-21 victory over Rutgers. They are 18-point picks over Penn State at home on Saturday.
Ohio State on a Roll
It wouldn't be surprising if CFP Rankings voters put Ohio State back above LSU, like they did earlier this season. The Tigers, who are also No. 1 in the AP College Football Top-25 Poll, are playing lowly Arkansas. LSU is favored by 44 points.
Ohio State has a much tougher match up, and coach Ryan Day says his team knows they need to focus.
"I think our team knows what's at stake, we have talked about that," Day said. "But now it's time to just focus on Penn State. This is a talent-equated game. We all know we have been in some games that we have had more talent than some of the other teams we have played. This is a team that talent equates. So when that happens it goes back to discipline, it goes back to fundamentals, it goes back to toughness, all of those things that come into play when your talent no longer matters."
How Long is Alabama in Mix?
With Alabama's starting quarterback, Tua Tagovailoa out for the season with a dislocated hip, the Crimson Tide's future is up in the air. They will be relying on backup QB, Mac Jones, and Coach Nick Saban says he has confidence in the redshirt sophomore.
"I don't think the offense changes much at all," Saban said. "Mac played in the Arkansas game and did a nice job. He's smart. He understands the offense. He's made a lot of improvement throughout the course of the year. Mac is a very capable guy. He's a smart guy, and we have a lot of confidence in what he can do and what he will do."
Playing Western Carolina, where the game has been taken off the board at sportsbooks, should be an easy test for Jones. His real challenge will come the following week when 'Bama meets Auburn, who is No. 15 in the CFP Rankings.
Any Chance for Oregon, Utah?
Oregon, who is No. 6 in the CFP Rankings and Utah, who is ranked No. 7, each dominated their games last weekend, and should do so again in Week 13. The Ducks face Arizona State and are 14.5-point picks. Utah is at Arizona, where they are 22-point favorites.
Still, dominating victories might not be enough to sway voters to move them up in the CFP Rankings. They will probably need some help from the teams above them if they are going to earn entry into the CFP's top four.