LSU, the winner of Saturday's LSU-Alabama game, was also the winner in this week's College Football Playoff Rankings. The 13-member committee installed the Tigers over Ohio State University as the top team in the second round of voting. Clemson is ranked No. 3, and Georgia No. 4.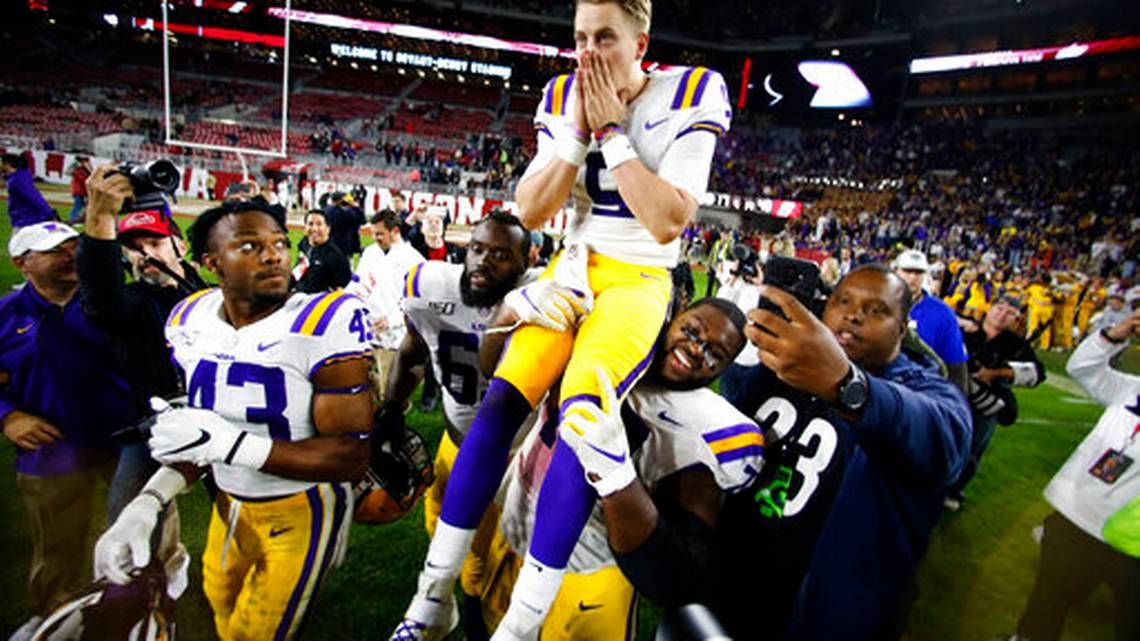 The playoff semifinals match the No. 1 seed vs. the No. 4 seed, and No. 2 will face No. 3. The semifinals will be hosted at both the Peach Bowl and Fiesta Bowl on Dec. 28. The championship game will be played on Jan. 13, 2020 in New Orleans.
The Buckeyes had been No. 1 team, but the committee didn't their 73-14 dismantling of Maryland was enough to help them hold the top spot. OSU was a 42.5-point favorite over the 3-7 Terrapins.
Week 12 Rankings
Team                         CFP Rank        Odds to Win Championship Game
LSU                              No. 1                                  2/1
Ohio State                    No. 2                                 2/1
Clemson                      No. 3                                 7/2
Georgia                        No. 4                                 14/1
Alabama                      No. 5                                  6/1
Oregon                        No. 6                                  50/1
Utah                            No. 7                                   40/1
Minnesota                   No. 8                                  80/1
Penn State                 No. 9                                   40/1
Oklahoma                   No. 10                                 40/1
This week's opponent might not be good enough help them regain the No. 1 spot. OSU are on the road at Rutgers, and are a 52-point pick to defeat the 2-7 Scarlet Knights. Rutgers became the first major college to fire its head coach this season, when they dismissed Chris Ash after losing to Michigan, 52-0.
LSU not Focused on College Football Playoff Rankings
When LSU defeated Alabama on the road, 46-41, it was the Tigers' fourth victory over a top-20 team. That was enough, committee chair Rob Mullens said Tuesday night, to give them the top spot.
"We got two great teams at the top in LSU and Ohio State," Mullens said on ESPN. "Like I said last week, the committee is really impressed with Ohio State and their consistency, but when you look at LSU's resume with the win over Alabama on the road. That makes their fourth top-20 win, and they're the only team in the nation to have that. They're deserving of that No. 1 ranking."
While the committee was swayed by LSU's performance, their coach, Ed Orgeron has been counseling his players not to obsess about the College Football Playoff Rankings. He told reporters that despite being a 21-point road favorite at Mississippi, they don't want to get into a trap game.
"We're going to treat this week just like any other week," Orgeron said. "I think that we have a mature enough team not to look down the road because if we don't beat Ole Miss, it won't happen."
Jostling for Final Spot
For the moment, Georgia holds the last spot in the College Football Playoff Rankings. They were the beneficiaries of Penn State and Alabama losses. Some thought Minnesota would move higher up the rankings. Mullens said defeating Penn State was good, but the other teams the Golden Gophers faced weren't strong enough to sway them.
"When you're looking at Minnesota, their schedule was a concern — particularly the non-conference schedule," said Mullens. "As it laid out through Week 10, they'd only played one team in their league that has a winning record. The win against Penn State obviously impressed the committee."
Minnesota coach P.J. Fleck said he believes his team is one of the elite in the country.
"They really love each other, they really sacrifice for each other and when you got everybody rowing the boat in the same direction, same speed, same efficiency, all believing in one vision," Fleck said. "It's a powerful force no matter what that is, not even just football, in any sport. I think that's what this team does."