The Saint Peter's Peacocks, a small Catholic school from Jersey City representing the MAAC, embarked on a sensational run in the 2022 March Madness tournament. Saint Peter's upset #2 Kentucky, #7 Murray State, and #3 Purdue to become the first #15 seed to secure a spot in the Elite 8. Despite Saint Peter's magical Cinderella run, bettors are prohibited from placing a wager on the Peacocks if you happen to be a resident of New Jersey.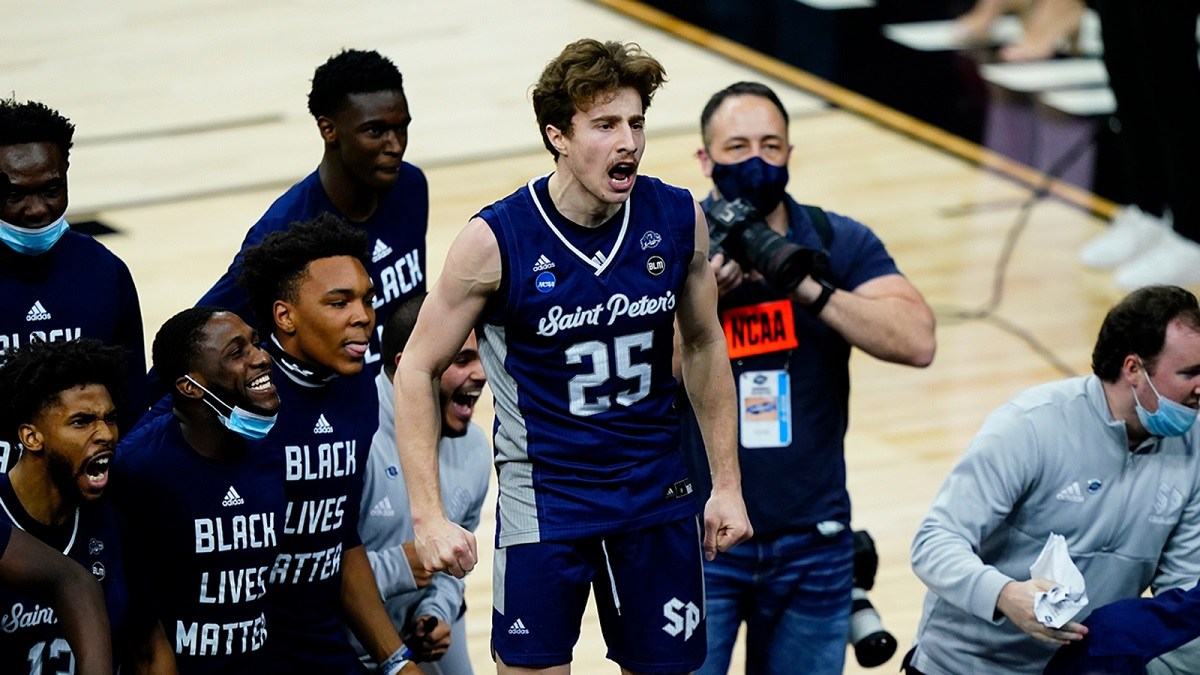 During the 2021-22 NCAA basketball season, sports bettors in New Jersey were unable to wager on games played by Seton Hall, Rutgers, and Saint Peter's. That didn't seem like too much of a hassle during the regular season. However, it became a huge issue as soon as March Madness began and Saint Peter's took on the role of Cinderella and giant killer.
According to ESPN's David Purdum, Saint Peter's opened at 10,000 to 1 odds to win the March Madness championship at the Circa Sportsbook in Las Vegas. Heading into the Sweet 16, Saint Peter's were listed at +3000 odds. With eight teams remaining, Saint Peter's is still the long shot on the board at +4000 odds to win the championship.
Artificial State Barriers Drive Bettors Underground
New Jersey residents had to make a sojourn across the Hudson River to New York City, or drive out to Pennsylvania if they wanted to place a bet on Saint Peter's because of a rule the excludes wagers on local college teams. There was also a third option, which of course is to find a neighborhood bookie, or roll the dice with placing a wager with an illegal offshore sports book.
Out of 31 states with legalized sports betting, a dozen states have some sort of rule in place where bettors are not able to place wagers on collegiate sporting events held within their state lines, or accept wagers on a team that's from that state.
The states intend to protect the integrity of collegiate athletics, but these prohibitions just force gamblers toward the grey and shady areas of the sports betting world.
"DraftKings believes that creating artificial barriers for customers such as restricting markets on in-state college teams and college events hosted within state lines deter bettors from moving to the legal market and ultimately minimizes revenue opportunities for states," said DraftKings in a statement.
So for companies like DraftKings that abide by the rules in New Jersey, there's offshore sportsbooks and local bookies that profit off these "artificial barriers."
Saint Peter's Cinderella Story
Hey, it's March Madness where first-round upsets are the norm. It was a surprise that Saint Peter's upset Kentucky in the first round, but it wasn't a complete shocker. Usually when underdogs and double-digit seeds pull off a first round upset, they can win another game in the second round to secure a spot in the Sweet 16. Saint Peter's followed that blueprint in the second round with a big win against #7 Murray State.
Saint Peter's became only the third #15 seed to secure a spot in the Sweet 16. The so-called experts thought they're run would end after two epic victories, because a #15 seed has ever won a Sweet 16 game. But, even though history was not on Saint Peter's side, they didn't flinch when the Peacocks took the floor against #3 Purdue and won 67-64.
"We're making history and we look forward to making more history," said Saint Peter's guard Doug Edert.
On paper, Purdue seemed superior especially with their size and rebounding ability. Oddsmakers set the line at +13, but Saint Peter's didn't blink. They were underdogs in their first two games and won outright. And when the buzzer sounded on Friday evening, Saint Peter's won a third-straight March Madness game as an underdog. They also made history as the first-ever #15 seed to punch their ticket to the Elite 8. Only North Carolina stands in their way to secure a trip to the Final Four.
New York and New Jersey Stateline Dance
Ever since New Jersey legalized gambling and casinos popped up in Atlantic City, New Yorkers made the trek across bridges and through tunnels to gamble. As soon as New York state finally woke up and legalized online gambling, the state could reap the financial benefits of retain gambling revenue in the Empire State instead of it leaking out to adjoining states like New Jersey and Connecticut.
March Madness is a weird situation because there are college basketball teams in both New York state and New Jersey. In the first round, New York bettors were unable to find the point spread on Arkansas versus Colgate because Colgate was one of the few New York teams in the tournament. However, New Yorkers had the benefit of wagering on Saint Peter's. If you had a DraftKings account, ten you're aware that the sportsbook offered an "odds boost" promotion. It was intended to get New Jersey bettors to head into New York City or drive north over the state border to open their apps and fire away on the Saint Peter's Peacocks.
Of course, once a Cinderella team emerges after the first round, bandwagon bettors jump on it. Plus, America loves an underdog. The deeper a Cinderella goes, the more money that bettors are gonna put down on them. In this case, Saint Peter's had become a popular wager across America from Las Vegas to New York City. Unfortunately, New Jersey residents that wanted to back Saint Peter's were left checking out New Jersey transit schedules for a quick trip into Manhattan.
Newark Airport Blues
If you've ever had a delayed flight, it just sucks. On Monday, I experienced a nine-hour delay thanks to United Airlines. With plenty of extra time on my hands, I fired up the DraftKings app on my phone. Two things struck me: 1) I had access to Oscars betting, and 2) I could not place a wager on Saint Peter's.
After spending the previous four days in New York City visiting family, I wagered on March Madness games with my brother. It's something that we've been doing for nearly 20 years, which started with trips to Las Vegas to bet on games at sportsbooks on the Strip. Even when my brother and I lived in different states, we always planned to meet for March Madness.
This year's March Madness was extra special for two reasons. It was the first time I had seen my brother since the pandemic started, so it was out first March Madness together since 2019. Since I made the trek to New York City, it also marked the first time we could legally bet on March Madness in New York state. We no longer had to fly to Sin City to gamble on the annual college basketball tournament.
We had the benefit of backing Saint Peter's in the first two rounds, but our cousins from New Jersey could not legally place the bets.
However, while in New York state, they did not accept wagers on the 94th Academy Awards. Yeah, it was a little weird, but I got shut out of betting on the Oscars while in NYC. So, it was a bit of surprise to open the DraftKings app at Newark Airport, located in New Jersey, and find the 2022 Oscars betting page.
Different states, different rules.