The 2022 March Madness college basketball tournament continues with the Sweet 16 starting today, and we've compiled 16 deep thoughts about all 16 teams, including the Saint Peter's Peacocks, who are this year's Cinderella. We're also keen on the Houston Cougars who could make a deep run if the 3-point-happy Cougars can survive a tough matchup against Arizona in the Sweet 16.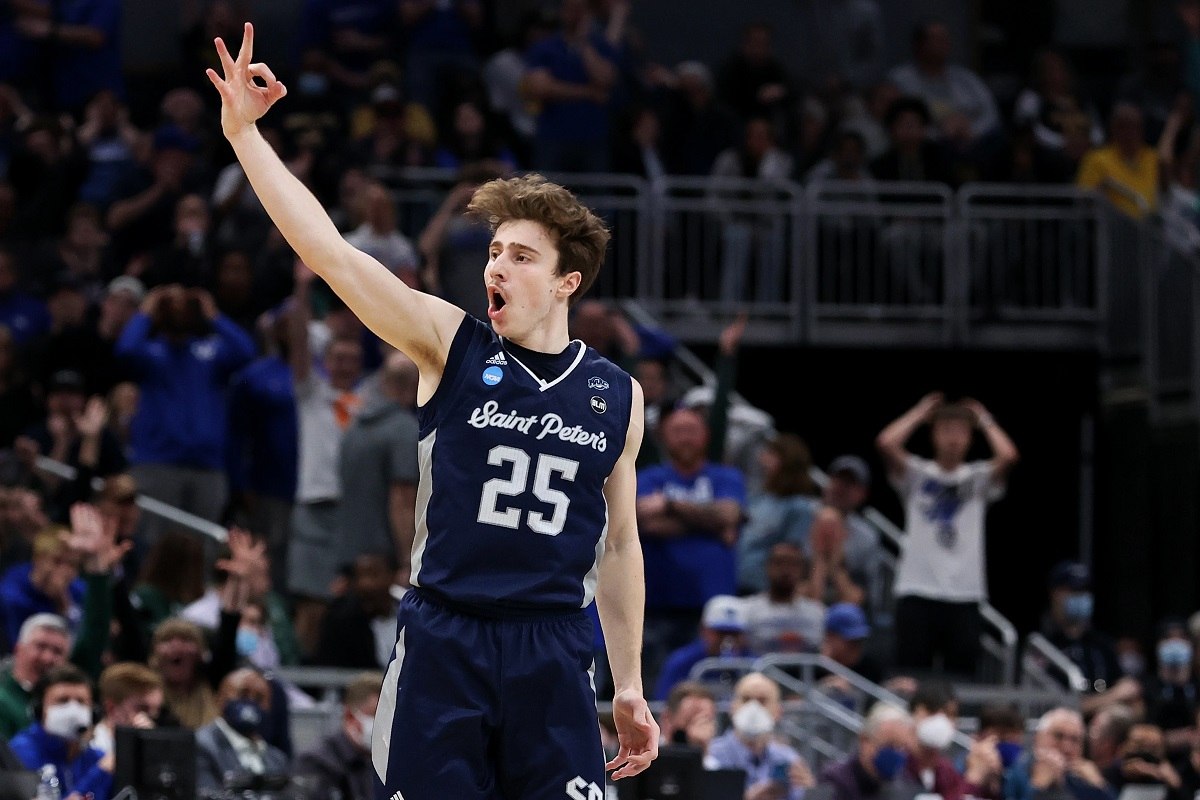 Only one #1 seed busted when Baylor, last year's champion, was picked off by North Carolina in one of the worst officiated games in recent March Madness history. But there is still a trio of #1 seeds remaining, including Gonzaga, Arizona, and Kansas.
Only two #2 seeds survived the carnage in the first two rounds, with Duke and Villanova advancing to the Sweet 16. #2 Kentucky and #2 Auburn were upset, and both SEC teams were sent home early.
#1 Gonzaga
Gonzaga stormed back after being down 10 points against Memphis in the second round thanks to 23 points from senior guard Andre Nembhard and a game-high 25 points from Drew Timme. They're still the team to beat as the top overall seed and favorite at +220 odds to win March Madness, according to a recent update by DraftKings.
#1 Arizona
Arizona survived an overtime scare against TCU in the last round after Bennedict Mathurin and Christian Koloko combined for 58 points and 20 rebounds. Arizona has one of the toughest matchups against a Houston squad that plays hard-nosed defense, so they better not slack off like they did against TCU when they shot a dismal 5-for-27 (18.5%) from 3-point range. Arizona is +550 odds to win March Madness.
#1 Kansas
On paper, Kansas looked like the weakest of the #1 seeds, but as of now, they're the second favorite on the college basketball futures board at +425 odds to win March Madness. Kansas had a tough sweat against Creighton in the last round because they were outgunned from downtown (12 treys from Creighton vs only six from Kansas). However, free throws help teams win March Madness games and the Jayhawks were a near-perfect 19-for-20 for a 95% clip.
#2 Duke
Coach K is just one victory away from 100 wins in March Madness. He'd like to postpone his retirement for one more game, but Duke faces a tough Texas Tech squad that allows only 60.2 ppg. One-and-done stud Paolo Banchero averages 18 ppg in March Madness and looked unstoppable in crunch time against Michigan State. We nicknamed him the 'Italian Jayson Tatum' for good reason because Banchero has serious game. Duke is only +2200 odds to win March Madness because they (presumably) have Gonzaga awaiting them in the regional finals, but perhaps Coach K can work his magic and lead Duke to one more Final Four berth before he retires.
#2 Villanova
Villanova already knocked out one Big Ten team with a 10-point win over Ohio State in the last round. They face a rejuvenated Michigan squad, which comes in as a +5 underdog. Senior Collin Gillespie struggled from long range against Ohio State, but he still gutted out a team-high 20 points. Nova is +1400 odds to win March Madness.
#3 Texas Tech
Texas Tech is one of those teams you don't want to face in March Madness because they will make you work on every offensive possession. The Red Raiders boast one of the fiercest defensive units remaining in the tournament, and they'd love to send Duke home in the Sweet 16. Senior guard Bryson Williams averages 17 ppg in the tournament this year while shooting 58.3% from the floor. You can back Texas Tech at +1300 odds to win March Madness, and right now, they're a pick'em against Duke.
#3 Purdue
Purdue is the fourth-highest team on the futures board at +900 odds to win March Madness, but they have a difficult opponent with #15 Saint Peter's. If you want to go deep in the tournament, you need a bench player to step up. Purdue's Trevion Williams, a 6-foot-10 senior from Chicago, scored a team-high 22 points off the bench in a big performance against Texas. Jaden Ivey is the player to watch, averaging 20 ppg in two tournament games while connecting on 50% of his 3-pointers.
#4 Arkansas
The SEC had a rough showing in this year's tournament. An upset by Arkansas over Gonzaga could help the SEC save face, but the Razorbacks are a +10 underdog. Arkansas struggled against Vermont in the first round, but spoiled New Mexico State's bid at a Sweet 16 berth. Arkansas won both of their games by a total of nine combined points, so they've had to play close games in the first two rounds. Senior guard JD Notae averages 17.5 ppg in the tournament, but he struggled from 3-point land, shooting just 20%. Notae has a chance to shine against the #1-ranked team in the country. Arkansas is a long shot at +6000 odds to win March Madness.
#4 UCLA
This is roughly the same UCLA squad that went to the Final Four last season. Johnny Juzang sprained his ankle late in the season, but just as he looked like he'd returned to form, the Bruins suffered another injury bad beat. Junior forward Jamie Jaquez went down with a sprained ankle against Saint Mary's. He's expected to play, but we'll have to wait and see if the ankle injury slows him down. Point guard Tyger Campbell — who has an uncanny resemblance to Bob Marley — averaged only 11.8 ppg during the regular season, but he scored 16 points in both tournament victories. If Jaquez is slowed down by the ankle, expect Campbell to pick up the scoring slack. UCLA is +1400 odds to win the championship this year, but you can back them at +220 odds to advance to the Final Four in back-to-back seasons.
#4 Providence
Providence can be an erratic team, which makes them scary because they could pick off #1 Kansas or lose by 20 points. Providence knocked off #12 Richmond in the second round and denied the Spiders a trip to the Sweet 16 thanks to stellar perimeter defense. Providence held Richmond to just one 3-pointer all game during a frigid 1-for-22 clip. Now it's Providence's turn to be the underdog at +8. The Friars are one of the long shots on the board at +7000 odds to win the tournament.
#5 Houston
Houston and Arizona play the late game on Thursday's broadcast schedule, but it's must-see TV. One expert thinks the winner of Houston/Arizona will win the championship. It's an interesting theory because if Houston can knock out Arizona, then they can probably beat anyone else left in the tournament. Houston has a deep rotation so they can survive any quick whistles from the zebras if any of their starters get into early foul trouble. Essentially, seven players average double digits, with Marcus Sasser (17.7 ppg) leading the Cougars. He's their mad bomber and jacked up 21 treys so far in the tournament. Sasser is a streaky shooter, but if he gets hot, then Arizona will be in trouble. Kyler Edwards averages 20 ppg in the tournament and he's connected on 50% of his treys (10-for-20). Houston is +900 odds to win March Madness.
#8 North Carolina
UNC defeated defending champion Baylor in the second round to advance to the Sweet 16. The Heels nearly blew a 25-point lead, but held on to win, even after they lost Brady Manek to an ejection. Armando Bacot led UNC with 16.4 points and 12.5 rebounds per game this season and his tournament numbers are nearly the same (16 points, 13 rebounds per game). UNC is the underdog once again at +2.5 against UCLA. You can back them at +2800 odds to win March Madness during Hubert Davis' first season as their head coach.
#10 Miami
There will be at least one double-digit seed in the Elite 8 because #10 Miami squares off against #11 Iowa State in the Sweet 16 on Friday. Miami already picked off #7 USC and stunned #2 Auburn to bust a lot of March Madness brackets. Sophomore guard Isaiah Wong averages 21.5 ppg in the tournament, and he also unleashed a sick dunk over Auburn's Jabari Smith (who will most likely become the #1 pick in the upcoming NBA Draft).
ISAIAH WONG DUNKS ON JABARI SMITH 🤯 pic.twitter.com/pCpFYY86fQ

— Bleacher Report (@BleacherReport) March 21, 2022
#11 Iowa State
Iowa State defeated #6 LSU in the first round, but that was a team in turmoil that fired their head coach, so it wasn't surprising that Iowa State prevailed. Iowa State then pulled off a huge upset over Wisconsin in the second round thanks to Gabe Kalscheur. The senior guard only averages 9.5 ppg, but he scored a team-high 22 points for the Cyclones who only tallied 54 points as a team. Iowa State is a +2.5 underdog against Miami.
#11 Michigan
Let's face it… Michigan, with the #11 seed, was supposed to lose both of their matchups in the first two rounds, but they're alive and kicking in the Sweet 16. The Wolverines are underdogs once again at +5 against Villanova. They pulled off a huge upset with a comeback victory over #3 Tennessee in the second round thanks to big man Hunter Dickinson (27 points, 11 rebounds). You can back a hot Michigan at +6000 odds to win the championship.
#15 Saint Peter's
Every year there's a Cinderella in March Madness. This year, it's the Saint Peter's Peacocks from the MAAC. The squad from Jersey City shocked the world when they became one of the rare #15 seeds to upset a #2 seed when they stunned Kentucky in the first round. Saint Peter's stayed hot when they defeated #7 Murray State in the second round. Doug Edert went viral because of his slick mustache. Edert looks like a character from a Wes Anderson film (e.g., the French Dispatch), but the kid can shoot the rock with 20 points in the upset over Kentucky. Saint Peter's could see their magical run end on Friday night against Purdue. The Peacocks are a +12.5 underdog, but we already saw Saint Peter's topple Kentucky, so they've proven they can also pick off Purdue.
🦚🏀🕺🇫🇷🏍 #MarchMadness pic.twitter.com/0MOLfmlSvO

— Pauly (@taopauly) March 20, 2022