Ciryl Gane has only fought 10 times in his professional MMA career. But he has yet to lose, and that run has earned him a shot at the heavyweight championship against Francis Ngannou at UFC 270 in California on Saturday.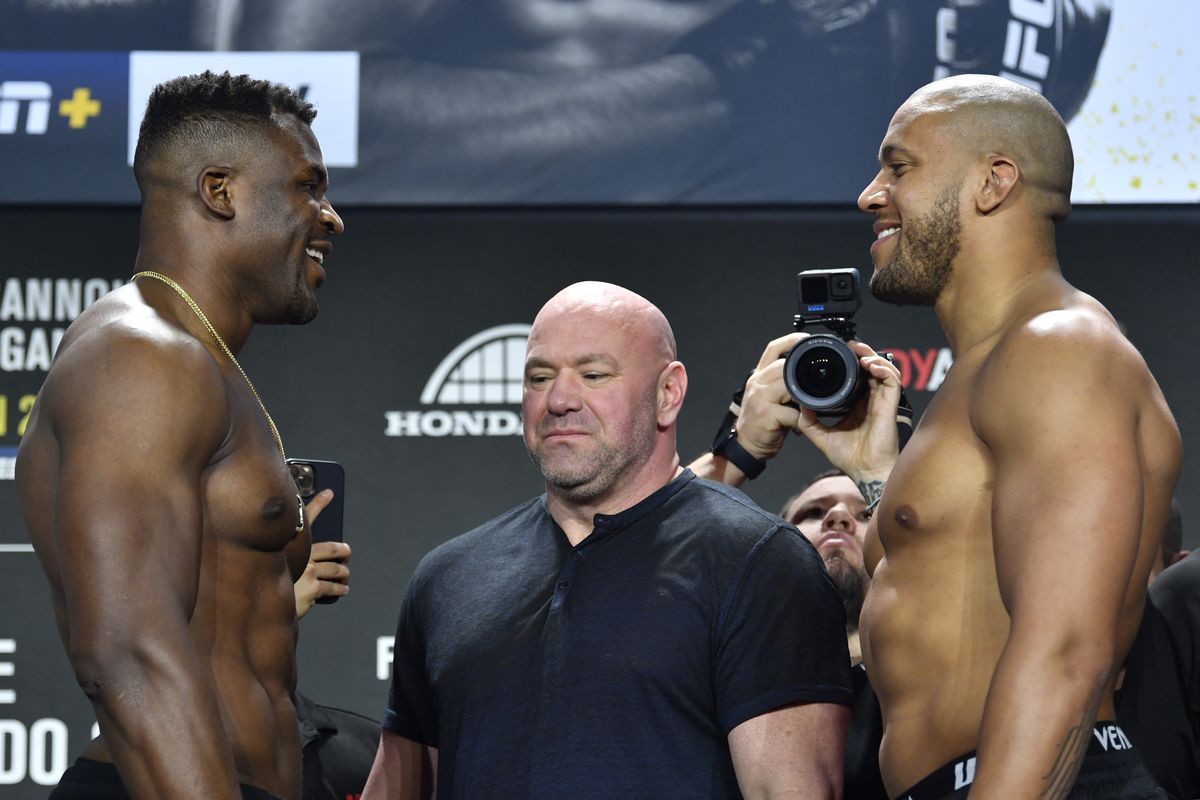 Ngannou and Gane will face off in the main event of UFC 270, and will both bring titles into the Octagon.
Two champions fighting for one belt
Gane (10-0) won the interim UFC heavyweight title in August when he stopped Derrick Lewis in the third round at UFC 265. He has now won seven times in the UFC, utilizing a well-rounded game to earn victories by knockout, submission, and decision during that run.
Ngannou (16-3) won the main heavyweight championship with a second-round knockout over legendary champion Stipe Miocic at UFC 260. That marked his fifth straight win, all of which came by stoppage. He finished his previous four opponents in the first round, with none of those fights lasting more than 71 seconds. He's now fighting in the shadow of a contract dispute that could make this his last bout in the UFC.
Ngannou may be the true champion, but he'll enter this fight as an underdog. DraftKings sees the undefeated Gane as a -145 favorite over Ngannou (+125) heading into UFC 270. Still, Gane doesn't think he can truly take the mantle of favorite until he actually beats the champion in the Octagon.
"I'm the interim champion," Gane told reporters. "I'm not the baddest guy in the world. Today, it's Francis. If I want to be this guy, I must beat Francis."
That won't be an easy task. Ngannou can physically impose himself on opponents, as his string of early knockouts has proven. And while Gane looks to be the more technically proficient fighter, it's not as though Ngannou swings blindly in his bouts.
"It's not like this is one of those fights where you've got a knockout artist vs. a jiu-jitsu guy," UFC president Dana White told Yahoo Sports. "This is striker vs. striker, raw power vs. technique."
Gane, Ngannou spar over sparring session
There's also some bad blood between the two men. Both trained at MMA Factory in Paris, France, and sparred together during that time. Both agree that at one point, Ngannou landed a heavy left kick on Gane. Exactly what that led to is a matter of contention.
"I knocked him out," Ngannou told reporters. "It was an accident…I didn't go there to knock him out. Personally, it's not something that I feel proud of."
While Gane acknowledges the incident, he says Ngannou is exaggerating the outcome.
"It was a beautiful left kick," he said during a press conference. "You hurt me. You see? I'm honest – you hurt me. But you didn't knock me down."
---
Ngannou vs. Gane Odds (via DraftKings Sportsbook)
Francis Ngannou: +125
Ciryl Gane: -145
Method of Victory
Ngannou by KO/TKO: +150
Gane by KO/TKO: +225
Ngannou by Submission: +2200
Gane by Submission: +800
Ngannou by Decision: +1200
Gane by Decision: +250
Draw: +5000
---
White says the sparring story is great for selling the fight. Ultimately, however, the only thing that matters is the real fight on Saturday.
"This whole story is a great story," White said. "But the most important thin is no matter who hit who, who did what, who doesn't like who, on Saturday night, the two biggest, baddest heavyweights in the world are going to fight, and all the questions will be answered. That's all that matters."