Francis Ngannou will defend his UFC heavyweight title against interim champion Ciryl Gane on Saturday at UFC 270. Unless he can come to terms with the company, however, it could be Ngannou's last UFC fight.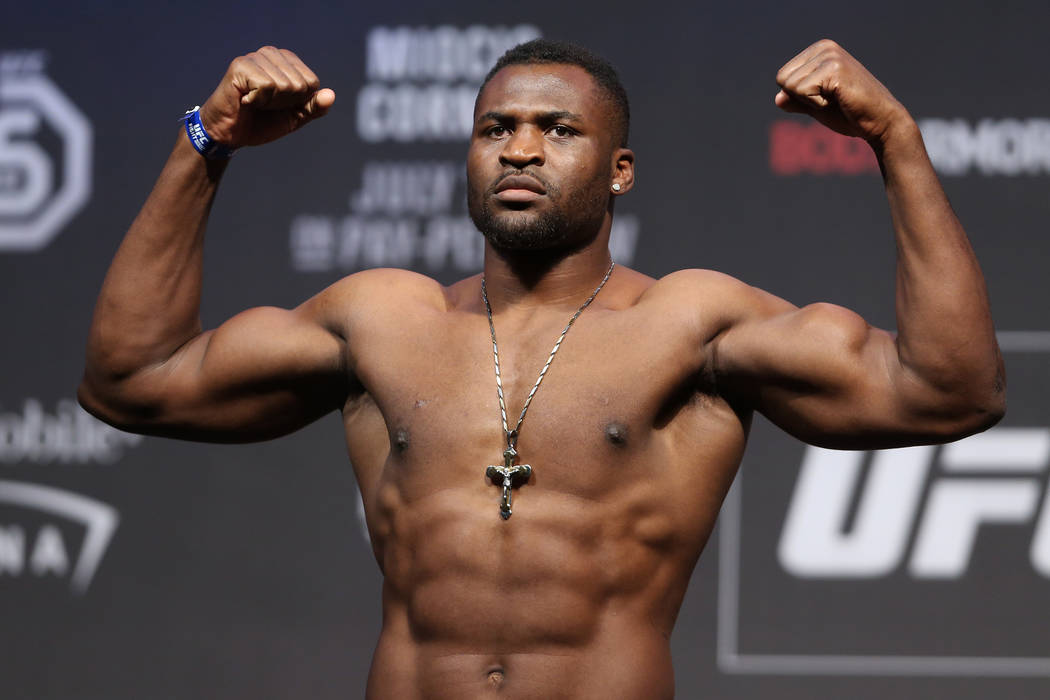 Ngannou (16-3) told reporters that he has no plans to continue fighting under his current UFC deal, which expires following the Gane fight.
UFC could hold onto Ngannou with champion's clause
The UFC could invoke a champion's clause in Ngannou's contract should he beat Gane. In that case, the UFC would keep Ngannou under contract for a minimum of three fights or one year. However, Ngannou says he'll hold out under that scenario, at least until he renegotiates his deal with the promotion.
"I will not fight for $500,000 [or] $600,000 anymore. It's over," Ngannou told reporters. "I took this fight for personal reasons, because I want to make sure that regardless of [if] it's fair, I can make my case that I have completed the fights."
Ngannou would not be subject to that clause should he lose to Gane (10-0). In that case, Ngannou would become a restricted free agent. Gane comes into the fight as a -150 favorite over Ngannou (+130), according to DraftKings Sportsbook.
Fewer COVID tests for vaccinated UFC fighters, staff
The UFC has modified its COVID-19 protocols, beginning with UFC 270 in Anaheim. MMA Junkie reported that fully vaccinated individuals will only need to provide proof of vaccination and take a pre-departure COVID test, meaning they will no longer have to test or quarantine after arriving for the pay-per-view event.
Unvaccinated individuals must still test and quarantine throughout the week of their fights. All individuals must still wear masks, regardless of their vaccination status.
Irish police investigate attack at McGregor's bar
Police in Ireland are investigating an alleged attack on the Black Forge Inn, a Dublin bar owned by Conor McGregor. McGregor wasn't at the pub last Wednesday night when the incident allegedly occurred.
The bar's management released a statement saying that attackers "made an unprovoked effort to inflict damage" on the venue. The Irish national police service confirmed to ESPN that it is investigating an incident on the road where the Black Forge Inn is located. The Independent reported that someone threw a suspected Molotov cocktail at the pub, though the device failed to ignite. McGregor bought the Black Forge Inn for a reported 2 million euros, according to ESPN.
Burns open to Chimaev challenge
Undefeated welterweight Khamzat Chimaev (10-0) called out former title challenger Gilbert Burns (19-4) on his YouTube channel, suggesting the two fight in Burns' home country of Brazil. Burns then replied on Twitter, seemingly accepting the challenge.
Make it happen @danawhite I'm all in! 5 rounds in 🇧🇷 🦍 vs 🐺 Let's grappled! @KChimaev @ufc pic.twitter.com/aBMYaa18lb

— GILBERT BURNS DURINHO (@GilbertDurinho) January 17, 2022
"Make it happen [Dana White]," Burns tweeted. "I'm all in!"
Burns currently ranks as the No. 2 welterweight contender in the UFC, with Chimaev at No. 11.