If your fantasy football team is saddled with injuries, or you must bench key starters due to a bye week, we've pinpointed a couple of players who should be available in most FFL leagues. Consider adding Boston Scott (Philadelphia Eagles), Tim Patrick (Denver Broncos), Keelan Cole (Jacksonville Jaguars), or Dallas Goedert (Eagles) to your waiver wire pickups heading into Week 7. If you didn't pick up Travis Fulgham (Eagles) last week, this might be your last chance to squeeze some value out of him.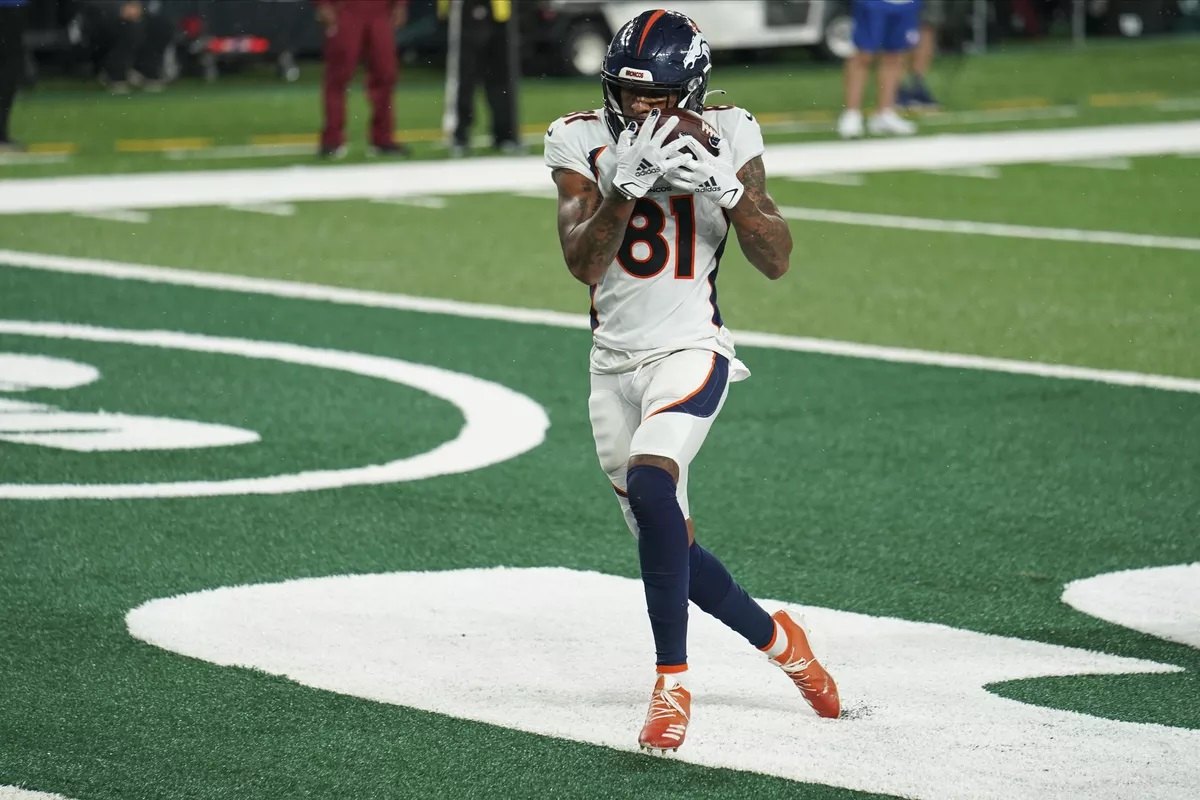 Travis Fulgham makes his second-straight appearance on our fantasy football waiver wire pickups. If you need a wideout this week due to bye weeks or injuries, then check to see if he's still available. DeSean Jackson and Alshon Jeffrey are slated to return to action soon, but before they return to peak form, Fulgham should continue to be Wentz's primary target.
In Week 6, Fulgham caught six passes for 75 yards and a touchdown. Over the last three weeks, Fulgham tallied 18 receptions for 284 yards and 3 touchdowns.
---
Week 7 Waiver Wire Pickups
Boston Scott (RB, Philadelphia Eagles)
Tim Patrick (WR, Denver Broncos)
Keelan Cole (WR, Jacksonville Jaguars)
Dallas Goedert (TE, Philadelphia Eagles)
Travis Fulgham (WR, Philadelphia Eagles)
---
Tight end Dallas Goedert fractured his ankle in Week 3, but he's ready to return to action ahead of schedule. That's great news for the Eagles because starting TE Zach Ertz could miss a month of action with a high ankle sprain, which he suffered against the Baltimore Ravens.
Boston Scott or Tim Patrick?
Philly's RB Miles Sanders will miss this week's Thursday Night Football game against "NFC Least" rival, the New York Giants. Boston Scott is Philly's next man up at running back.
Sanders (434 yards and three TDs) was one of the few highlights on an offense that's decimated with injuries.
Head coach Doug Pedersen said he'd utilize a running back by committee system if Sanders is unable to suit up.
The Denver Broncos cycled through three quarterbacks already this season, including two backup QBs, but the one constant factor had been the steady hands of wide receiver Tim Patrick.
Rookie Jerry Juedy might get more attention, especially on social media, but Patrick has outplayed Juedy thus far in October.
Patrick, an undrafted player out of Utah, caught 20 passes for 310 yards and two touchdowns this season. Most of his production occurred in Week 5 and Week 6. Patrick posted back-to-back 100-yard games with 10 catches and 214 yards in the last two contests.
Keelan Cole to Bailout Minshew Mania?
If it seems like we're targeting Jacksonville wideouts every other week, it's for a good reason: Gardner Minshew. Every week we're awaiting that crazy breakout game in which Minshew Mania goes wild with 350 yards and four touchdowns. For now, the inconsistent Minshew is on the verge of getting benched, so he must produce results in Week 7.
The Jaguars have a trio of solid WRs with Laviska Shenault, Keelan Cole, and DJ Chark, but they haven't all been healthy at the same time.
Keelan Cole is the current Jags wideout to watch. With DJ Chark still nursing an ankle injury, consider adding Cole to your Week 7 waiver wire pickups.
In Week 6, Cole had a breakout game with six catches for 143 yards. In Week 5, Cole caught just two passes, but one went for a touchdown.