The Philadelphia Eagles suffered a huge bad beat when they lost tight end Dallas Goedert indefinitely with an ankle injury. With Goedert down, consider adding Jimmy Graham (Chicago Bears), Mike Geisicki (Miami Dolphins), or Eric Ebron (Pittsburgh Steelers) if you need a fantasy football TE.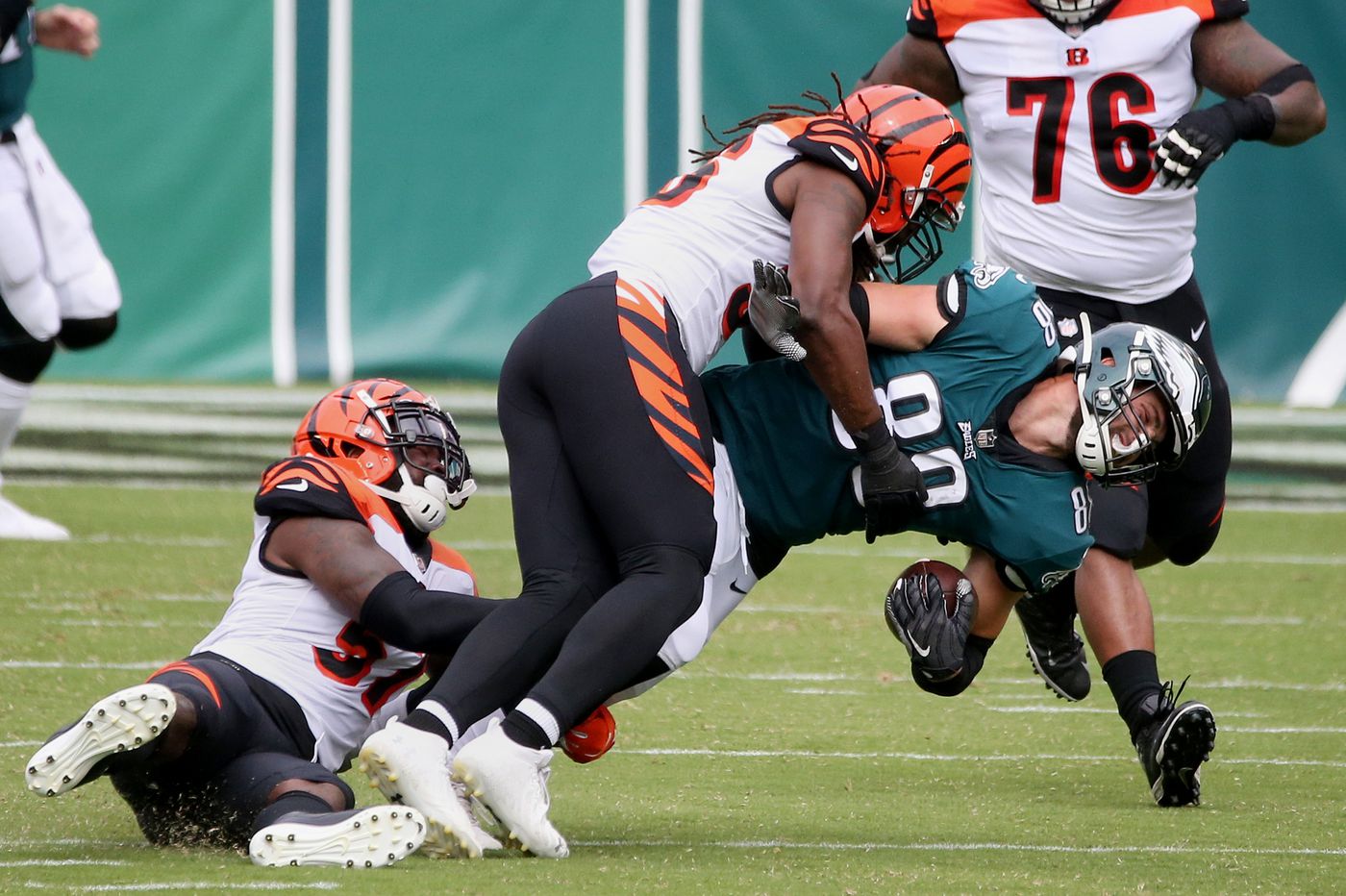 In essentially nine quarters of action, Goedert caught 13 passes for 138 yards and a touchdown. Goedert caught just one pass for seven yards against the Cincinnati Bengals before he limped off the field with an injury.
---
Jimmy Graham (Chicago Bears)
Mike Geisicki (Miami Dolphins)
Eric Ebron (Pittsburgh Steelers)
---
The Miami Dolphins aren't a good team, but they have Ryan Fitzpatrick at the helm, which means they can score in bunches. Miami TE Mike Geisicki should be available in most fantasy football leagues. In three games, he caught 12 passes for 175 yards and two touchdowns. Geisicki recorded a score in each of his last two games.
TE Eric Ebron could be a worthy waiver wire pickup because he emerged as a solid option for Big Ben and the Pittsburgh Steelers. He caught five passes for 52 yards and a touchdown in a comeback win over the Houston Texans. Ebron averages 12.6 yards per catch.
Goedert Eagle Down
Goedert evolved into Carson Wentz's favorite receiver over the first two games of the season. Once he left the game against Cincinnati, the passing game suffered. Wentz really missed Goedert in an ugly and sloppy game that resulted in a 23-23 tie.
Goedert looked like he sprained his ankle in the first quarter, and didn't return to the game. An X-ray on the injury revealed Goedert has a minor fracture, and is out indefinitely.
Goedert and Wentz teamed up in Week 1 against the Washington Football Team. Goedert tallied nine receptions for 101 yards and a touchdown. In the first two games, Wentz threw to Goedert 17 times. Goedert caught 12 passes.
Heading into Week 3, he led the Eagles in receptions and yards. Not bad for a tight end, eh?
"Losing a guy like Dallas that has a huge role in protections and [the] run game, but he's a playmaker with the ball in his hands and down the field," said head coach Doug Pederson. "He's a big part of our game plan every week, and so losing him, we obviously had to make some adjustments on the fly, makes it tough."
The winless Eagles (0-2-1) have been decimated with injuries once again. Alshon Jeffrey has yet to play this season while recovering from a Lisfranc foot injury. Rookie wideout Jalen Reagor, a first-round draft pick from TCU, injured his thumb in Week 2 and is out indefinitely.
Trubisky Benched, Jimmy Graham Time?
Jimmy Graham is old by NFL standards, but he still shows flashes of brilliance. In Week 1, he caught three passes for 25 yards and a touchdown from Mitch Trubisky. In Week 2, Graham caught only one ball, but secured a first down with an 18-yad catch.
This past week, Trubisky got benched in favor of backup QB Nick Foles after the Bears fell behind the Atlanta Falcons. Foles saw his first action as a member of the Bears, throwing three touchdowns to lead them to victory and remain undefeated at 3-0.
"Foles, man, pretty special and he was out there ad-libbing a bit for sure and checking and changing some plays," said Graham. "So, it was pretty cool to see and pretty cool to be a part of."
Graham finished that game with six catches for 60 yards and two touchdowns. Now that head coach Matt Nagy benched Trubisky, you could expect Graham might see his numbers tick up with Foles as the starting quarterback.