NFL Week 7 saw two high-profile players suffer nasty and, potentially, season-altering injuries. The first was a cheap shot on Dallas quarterback Andy Dalton who took the helm just two weeks ago after Dak Prescott suffered a season-ending ankle injury.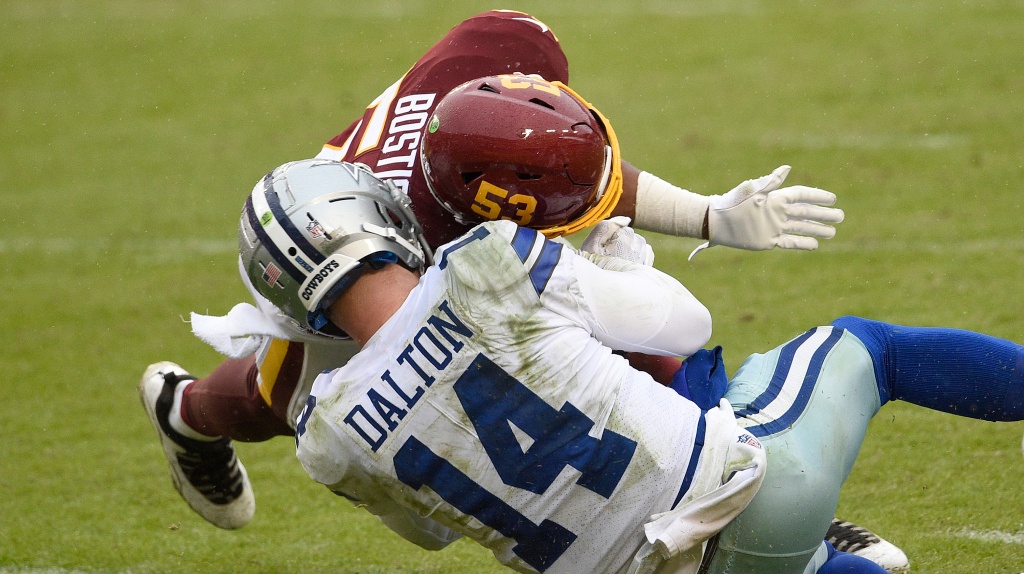 In his first start of the season, Dalton was chased from the pocket in the third quarter and was sliding when Washington linebacker Jon Bostic delivered a cheap shot with his right shoulder to Dalton's helmet.
Really dirty hit; no room for that in football! 🙏 for Andy Dalton

— Bovada (@BovadaOfficial) October 25, 2020
After the play, Dalton laid motionless, and Dallas head coach Mike McCarthy was surprised nobody went after Bostic, who gave Dalton a concussion.
"We speak all the time about playing for one another, protecting one another," McCarthy said. "It definitely was not the response you would expect."
Running back Ezekiel Elliot told reporters there was a reason they didn't go after Bostic.
"But with doing that, you've got to be careful, because we're already down a bunch of guys that if you go in there and throw a punch and you get kicked out the game, you can't help the team from the locker room," Elliot said. "We've got to find a way to not cross that line, but we've still got to protect our guys."
INT Leads to Odell Beckham Jr. Knee Injury
When Baker Mayfield threw an interception midway through the first quarter it led to an even more painful event. His intended target, Odell Beckham Jr. came back to assist on the tackle and was injured.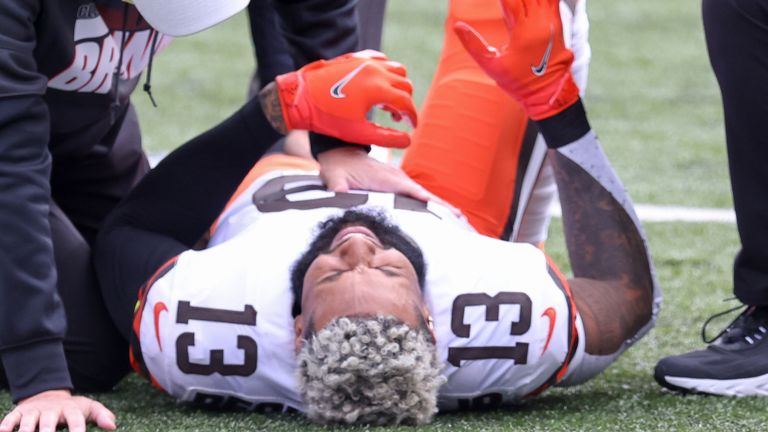 The injury turned out to be a torn ACL, and the star wide receiver is now out for the season.
Oops! I Didn't Want that TD
Todd Gurley must have himself on his fantasy team roster. The Atlanta running back wasn't supposed to score in Sunday's game against Detroit. Instead, he was planning on falling short of the end zone, running out the clock, and securing a victory for the Falcons.
Todd Gurley really scored a touchdown on accident pic.twitter.com/mJGlomdhDU

— Barstool Sports (@barstoolsports) October 25, 2020
That didn't happen, however. He couldn't stop in time and told reporters after the game he was, "mad as hell."
"I was trying not to. My momentum took me in," Gurley said. "It's kind of crazy, the last time I played Detroit, I went down. This time I end up scoring. It's like what goes around, comes around. It's one of them unfortunate situations. I've been, I mean, plenty of those situations my rookie year, six or seven, and I've always got down. It was an unfortunate one right there."
The gaffe allowed Detroit to score and win the game as time expired, 23-22.
Keep Your Hands to Yourself
Pittsburgh wide receiver Chase Claypool and Tennessee cornerback Malcolm Butler had a difference of opinion when it came to where the football should be spotted.
Chase Claypool out there picking on Malcolm Butler pic.twitter.com/OJL8F6keig

— NFL Update (@MySportsUpdate) October 25, 2020
The two decided to take a hands-on approach to the call, and had to have a referee intercede to break up the childish skirmish. Pittsburgh won the game, 27-24.