In a move that Jerry Jones insists has nothing to do with starting quarterback Dak Prescott's contract negotiations, the Dallas Cowboys signed Andy Dalton to a one-year deal worth upwards of $7 million.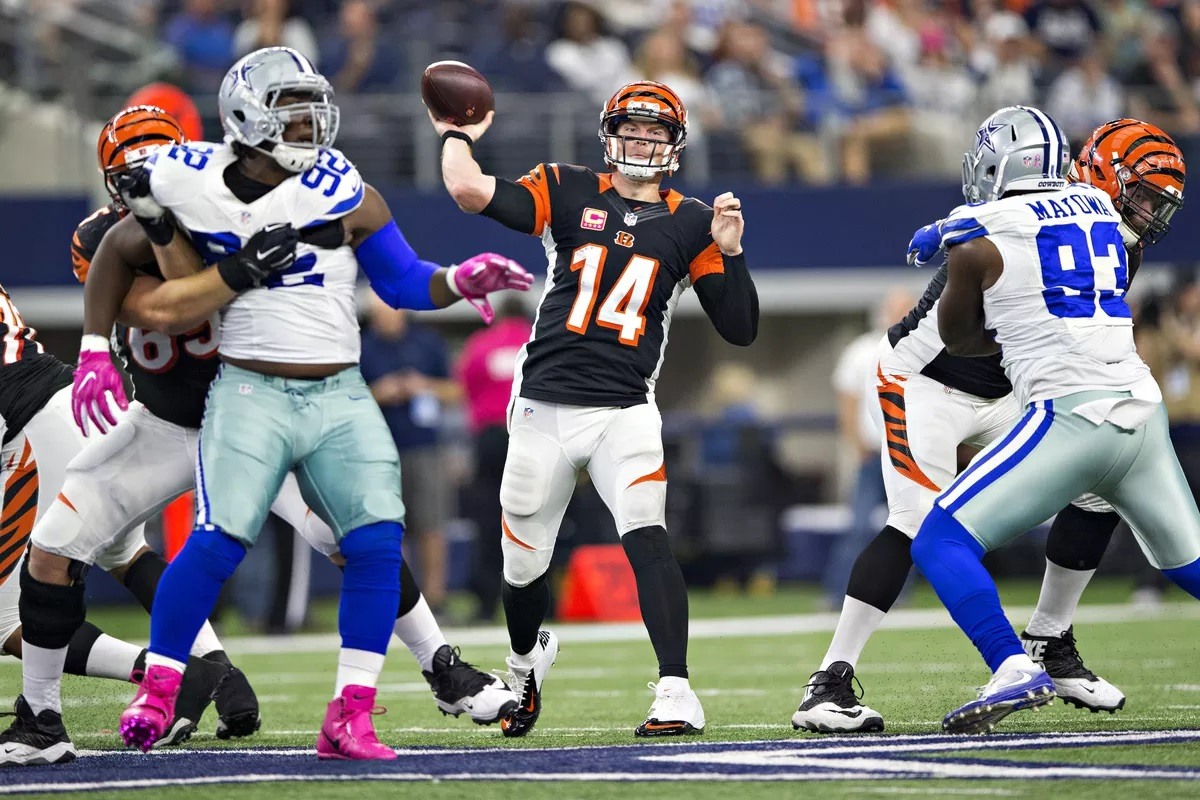 Dalton, 32, turns 33 in October. He's expected to backup Prescott. Both the Cowboys and Prescott have yet to come to terms on a new contract. Prescott wants to become the highest-paid quarterback in the NFL, but Jones has not yielded on his price point.
The Cincinnati Bengals released Dalton one week after they selected LSU's Joe Burrow with the #1 overall pick in the 2020 NFL Draft. With the Bengals heading in a new direction, Dalton needed a new home. He had nearly $18 million left remaining on a six-year contract that had initially been worth $96 million.
The Jacksonville Jaguars and New England Patriots were among the teams that were linked with Dalton. However, the Cowboys' interest sort of came out of nowhere.
Dalton's new deal has $3 million in guaranteed money. You can take Jones' word with a grain of salt, but at face value the Cowboys bought a pricey insurance policy.
"Nothing against Andy Dalton because I think he's a great player," tweeted ex-Cowboys' WR Dez Bryant, "But the cowboys are extremely out of line. Pay Dak. I watched the Cowboys pay Tony (Romo) Twice once without a winning record. Guess the Cowboys viewing the QB position a plug in piece because of the dominant offense."
The Cowboys drafted Ben DiNucci (James Madison) in the seventh round of this year's NFL Draft. They also have QBs Clayton Thorson (Northwestern) on their current roster, who spent time on the practice squad in 2019.
Dozen QBs, Class of 2011
The Cincinnati Bengals selected Dalton out of TCU with an early second round pick in the second round of the 2011 NFL Draft. Dalton started all four seasons at TCU. In his senior year, Dalton threw 27 touchdowns and only six interceptions during a perfect 12-0 season. They finished 13-0 and ranked #2 overall, but Auburn and Cam Newton won the BCS Championship that year.
Newton, who also won the Heisman Trophy, went first overall that year in the 2011 NFL Draft. The Class of 2011 saw four quarterbacks selected in the first 12 picks. Overall, a dozen quarterbacks went in that draft.
Three other quarterbacks were selected ahead of Dalton — Jake Locker (Washington), Blaine Gabbert (Missouri) and Cristian Ponder (FSU).
2011 NFL DRAFT – TOP 5 QBs
RD 1, PICK 1: Cam Newton (Carolina Panthers)
RD 1, PICK 8: Jake Locker (Tennessee Titans)
RD 1, PICK 10: Blaine Gabbert (Jacksonville Jaguars)
RD 1, PICK 12: Christian Ponder (Minnesota Vikings)
RD 2, PICK 35: Andy Dalton (Cincinnati Bengals)
Dalton had a strong rookie season with 20 touchdowns and 3,398 passing yards. He earned a spot on in the Pro Bowl as an alternate and went to Hawaii in place of Tom Brady.
In nine seasons with the Bengals, Dalton played 133 games and completed 204 touchdowns with 118 interceptions. He completed 62% of his passes and racked up 31,594 yards in Cincy.