Arguably, the best highlight of Week 5 in the NFL wasn't an impressive touchdown catch or a gravity-defying throw, but the simple act of a player trotting on the field. The Washington Football Team's quarterback, Alex Smith, returned to the action for the first time since a horrific leg injury two years ago.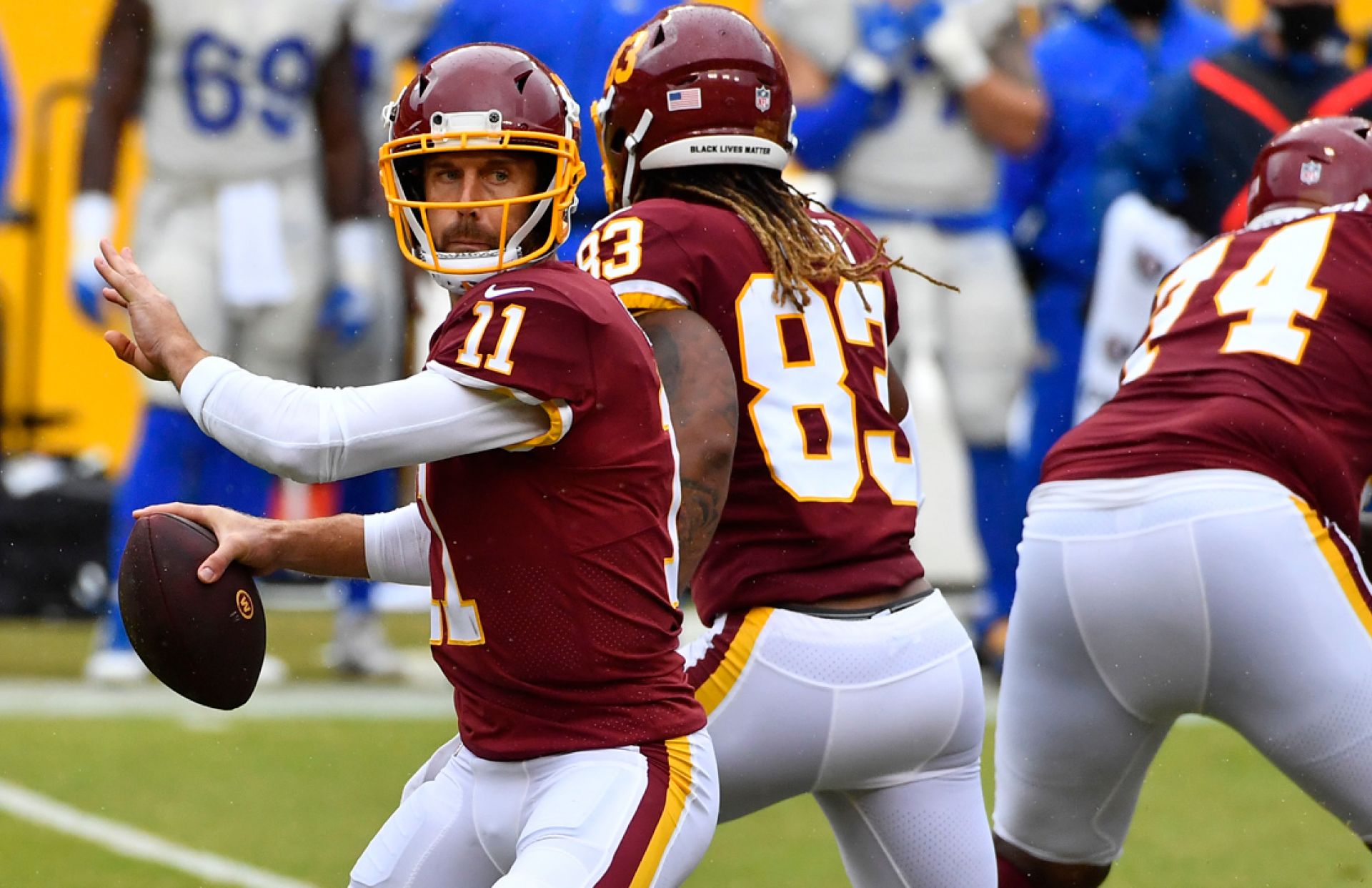 Smith replaced starter Kyle Allen with two minutes remaining in the second quarter. He said the moment was "very surreal" considering all that he's been through on his to return to the game.
Sports are awesome.

(via @WashingtonNFL)pic.twitter.com/lu16y2oqjY

— FanDuel Sportsbook (@FDSportsbook) October 11, 2020
Families were allowed to attend a game for the first time this season, and Smith's wife and three children gave him a standing ovation when he came onto the field.
Smith completed 9 of 17 passes for 37 yards and was sacked six times, but said just being able to play again was what mattered.
"It was great to be out there, the feeling, the range of emotions, the good and the bad," Smith said. "It's why I fought so hard to come back. Sometimes you can take it for granted. Certainly to be away from it for a couple years, I've missed it."
Smith is listed at 12/1 to win the NFL Comeback Player of the Year.
Here is a look at some of the other NFL Week 5 highlights.
Sacked by Teammate
Arizona quarterback Kyler Murray made the mistake of doing a chest bump with one of his offensive linemen. Murray jumped into 6-3, 308-pound Kelvin Beachum and paid the price.
Kyler tried to chest bump an OL to celebrate a TD and it went exactly how you'd expect 😂 @K1 @AZCardinals pic.twitter.com/oexQUiGzS6

— The Checkdown (@thecheckdown) October 11, 2020
Murray was unhurt on the celebration, so long as you don't count his pride.
Dance Like No One is Watching
Jacksonville wide receiver Keelan Cole scored on a 13-yard pass from Gardner Minshew early in the first quarter and decided to hold a dance contest in the end zone with a couple of his teammates. It did wow the judges.
IT'S GRIDDY SEASON 👌 @Jaguars @LAHGRIDDY2x pic.twitter.com/zRR0rVrkib

— The Checkdown (@thecheckdown) October 11, 2020
Cole and friends cut a rug after the touchdown to a (thankfully) near-empty stadium. Don't expect "Dancing with the Stars" to be calling anytime soon.
I Must be in the Front Row!
Jacksonville quarterback Gardner Minshew's father, Flint, must have turned down the VIP tickets because he was sitting in the nosebleeds on Sunday to watch his son play.
Gardner Minshew's dad is a real one, taking in the game from the nosebleeds 😂 @GardnerMinshew5 @Jaguars pic.twitter.com/70WJ4GKUtt

— The Checkdown (@thecheckdown) October 11, 2020
His eyesight must be as good as his son's if he can sit up that high and not even need binoculars.
Toe Dragging for First Down
How sorry is Houston that they don't have wide receiver DeAndre Hopkins anymore? The Arizona Cardinal is frequently making plays like the one below for his new team.
It's just too easy for Hop 🤧 @DeAndreHopkins @AZCardinals pic.twitter.com/HKTcJOdOHY

— The Checkdown (@thecheckdown) October 11, 2020
It was a sideline pass that many in the game couldn't do, but Hopkins made it look easy. He finished the day with six catches for 131 yards and a touchdown.
Spike Stunk, Send in Backup
Los Angeles Ram quarterback Jared Goff is good at his position, but he may need some assistance in learning how to spike the ball.
Jared Goff: Not great at spiking the ball😂 pic.twitter.com/xC9jJAIqGA

— PointsBet Sportsbook (@PointsBetUSA) October 11, 2020
Goff threw the ball across the end zone rather than into the turf. Major loss of style points.