The Arizona Cardinals added future Hall of Fame WR DeAndre Hopkins to their lineup in a trade with the Houston Texans for backup RB David Johnson and a second-round pick. Arizona's young quarterback, Kyler Murray, now has two bona fide Hall of Famers to throw to with Larry Fitzgerald and Hopkins.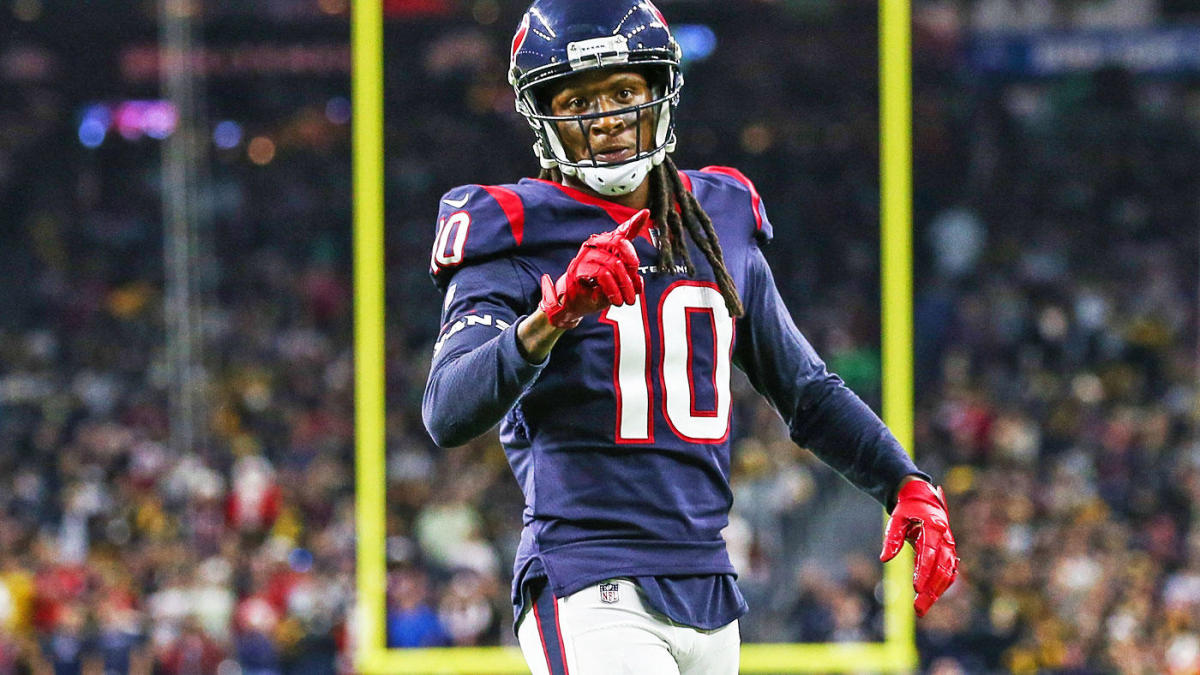 Draft picks for the 2020 NFL Draft are also a part of this Cardinals/Texans trade. It really looks like a steal for the Cardinals on paper. How did the Texans not receive at least a first-round pick for Hopkins?
The Texans will also absorb a $14 million cap hit the next two seasons with Johnson's contract.
Arizona Cardinals Get: WR DeAndre Hopkins, 2020 fourth-round pick
Houston Texans Get: RB David Johnson, 2020 second-round pick, 2021 fourth-round pick
The Texans were shopping for a running back when the Cardinals called them to work out a trade. When Lamar Miller blew out his ACL in the 2019 preseason, the Texans acquired Carlos Hyde and Duke Johnson. Hyde had a sensational season with 1,070 rushing yards, six touchdowns, and a 4.4 yard-per-carry average. However, he's a free agent.
David Johnson joins Duke Johnson, the sole running back remaining on the Texans. The Texans now have a "Double Johnson" tandem in the backfield. Duke Johnson rushed for 410 yards and three touchdowns as Hyde's back up.
Oddsmakers adjusted their 2021 Super Bowl odds based on the Hopkins/Johnson trade. According to William Hill, the Houston Texans are now 50/1 odds to win the Super Bowl after dropping from 33/1 odds. Meanwhile, the Arizona Cardinals improved from 66/1 to 50/1 odds to win the championship.
Hopkins, GOAT Material
A natural athlete, Hopkins excelled in three sports during his high school days in South Carolina. He played basketball and ran track, but football was his passion. He didn't venture too far from home and opted to attend Clemson for college.
During his junior season, Hopkins tore up the ACC. He caught 82 passes for 1,405 yards and 18 touchdowns in just 13 games.
The Houston Texans drafted Hopkins late in the first round of the 2013 NFL Draft. Twenty other teams are kicking themselves in the head for passing on him.
In seven NFL seasons, Hopkins caught 632 passes for 8,602 yards and 54 touchdowns. He averages 13.6 yards per reception. In 2017, Hopkins caught a career-high 13 touchdowns. He passed the 1,500-yard receiving mark twice in 2015 and again in 2018.He passed the 1K mark six times in eight seasons.
In 2019, Hopkins played 15 games and missed only the second game of his Hall of Fame career. He caught 104 receptions for 1,165 yards and just seven touchdowns.
Hopkins will now play with Kyler Murray, the former Heisman Trophy winner and #1 pick in the draft. Expect those two to hook up and produce a double-digit number of touchdowns in the 2020 season.
David Johnson Rebound Year?
Johnson, 28, has played five seasons in the NFL after being drafted out of Northern Iowa by the Cardinals in the third round of the 2015 NFL Draft.
Johnson had a breakout season in his second year in the NFL with 2,000-plus combined yards and 20 total touchdowns. He rushed for 1,239 yards and 16 touchdowns in 2016. He also added 80 receptions for 879 yards and four touchdowns.
In 2017, Johnson broke his wrist in Week 1, missing the remainder of the season.
In 2018, he played a full season for the worst team in the NFL. He still managed to rush for 940 yards, catch for 446 yards, and add 10 touchdowns.
Johnson had a rough season in 2019, missing three games while nursing a bad back injury. His underwhelming stats included only six touchdowns (and only two rushing scores). He generated 715 combined yards from scrimmage with 345 rushing yards and 370 air yards.
With Johnson banged up, the Cardinals traded for Kenyan Drake midseason, and he lit up the opposition with eight touchdowns in eight games. Drake averaged 5.2 yards per carry for 643 yards in only a half-season with the Cards.
After the Cardinals tagged Drake with their franchise tag, it was inevitable that Johnson would seek a new home.
LETS GO HOUSTON!!! See you soon 👀 pic.twitter.com/7Fclzwjse0

— David Johnson (@DavidJohnson31) March 16, 2020