NFL Week 1 is upon gamblers, and with no preseason games, information on how teams will perform on Sunday has been almost non-existent. This will be the first time to see them in action, so handicap at your own risk.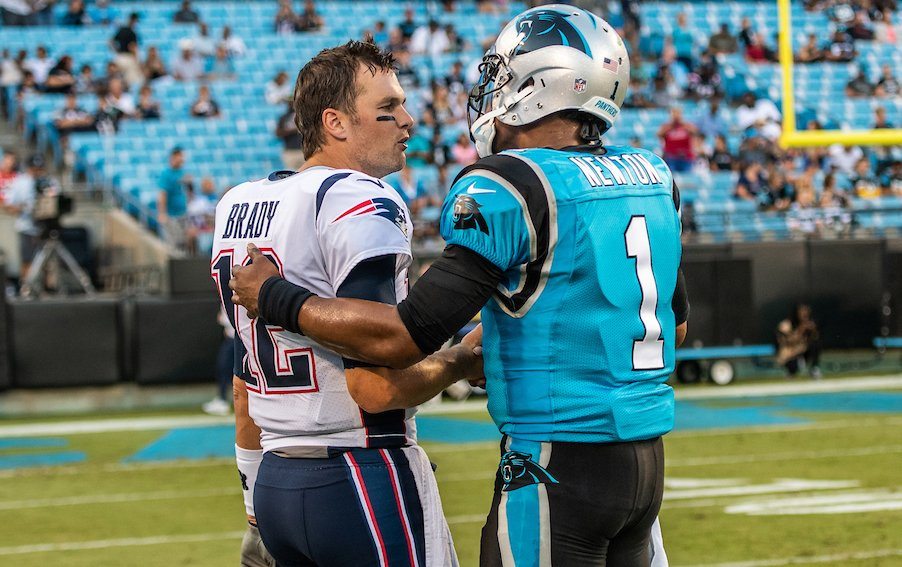 There are several marquee NFL Week 1 games, including Seattle at Atlanta, Green Bay at Minnesota, Dallas at the Los Angeles Rams, and Arizona at San Francisco.
NFL Week 1
| | |
| --- | --- |
| Game/Odds  | Over/Under |
| Miami at New England (-7) |      41.5 |
| Cleveland at Baltimore (-7.5) |      47.5 |
| NY Jets at Buffalo (-6.5) |      39.5 |
| Las Vegas (-3) at Carolina |      47.5 |
| Seattle (-2.5) at Atlanta |      49 |
| Philadelphia (-5.5) at Washington |      42 |
| Chicago at Detroit (-2.5) |      44.5 |
| Indianapolis (-8.5) at Jacksonville |      45 |
| Green Bay at Minnesota (-2.5) |      44.5 |
| LA Chargers (-3) at Cincinnati |      41.5 |
| Arizona at San Francisco (-7) |      48 |
| Tampa Bay at New Orleans (-3.5) |      47.5 |
| Dallas (-2.5) at LA Rams |      51.5 |
| Pittsburgh (-5.5) at NY Giants |      46 |
| Tennessee (-3) at Denver |      41 |
Source: Westgate SuperBook USA
The two biggest games, however, could be Miami at New England, and Tampa Bay at New Orleans. For the first time since 2001, someone other than Tom Brady will be the starting quarterback for New England. Cam Newton begins what he hopes is his own legacy.
Brady joining Tampa Bay has not as much interest at sportsbooks as one would expect. At William Hill, 58 percent of the tickets are on Brady and Tampa Bay, but 55 percent of the money is on New Orleans.
Tampa Bay's Brady Ready for Duel with Drew Brees
Brady going against New Orleans QB Drew Brees will be the first matchup in NFL history between to signal callers over the age of 40, according to NFL Research. It is also the first time since 1950 the top two all-time leaders in passing touchdowns will face each other, and the fourth time two all-time leaders in passing yard will play. In those four games, the home team won all four games.
#Bucs Tom Brady warmly welcomes LeSean McCoy to the team. McCoy impressed with Brady's command in the huddle and his consistent pin-point passes. McCoy said he heard other players whispering "How long do you think he can play?" Bucs are in awe of the GOAT. pic.twitter.com/fxIbbw2v4t

— Kevin ODonnell Fox13 (@ODonnellFox13) August 4, 2020
Tampa Bay general manager, Jeff Licht told reporters Friday that Brady looks better than he remembers.
"One thing that strikes me is that he doesn't look like he's any older," Licht said. "Actually, his arm looks stronger than what we saw last year on tape.
Newton Ready for Rebound in New England
Newton was the choice of New England head coach Bill Belichick to replace Brady when he decided to leave as a free agent. Belichick has had nothing but praise for Newton, who hasn't played in nearly a year. Newton told reporters he is amped for Sunday.
"Excitement level is on a thousand," Newton said. "Excited, happy just to get back into the rhythm of game week — the preparation, just the little nuggets that you can often forget. You have to remember, I've been away from football, really, for a full year."
The Patriots are seven-point favorites over the Dolphins, but Newton knows there might be some rust on his part.
"I haven't really had this whole process for a long time now, so being around, taking notes, watching film, finding out about different players each and every day, locking in," Newton said. "Excited about the game plan and more excited about just trying to get in a routine with the newness of the play-calling, the coaches and even the players."