The Chicago Bears announced Mitchell Trubisky will be their starting quarterback, while Cam Newton was named Tom Brady's replacement in New England. Trubisky was locked in a battle with Nick Foles for the starting job, while Newton was battling Jarrett Stidham and Brian Hoyer for the position.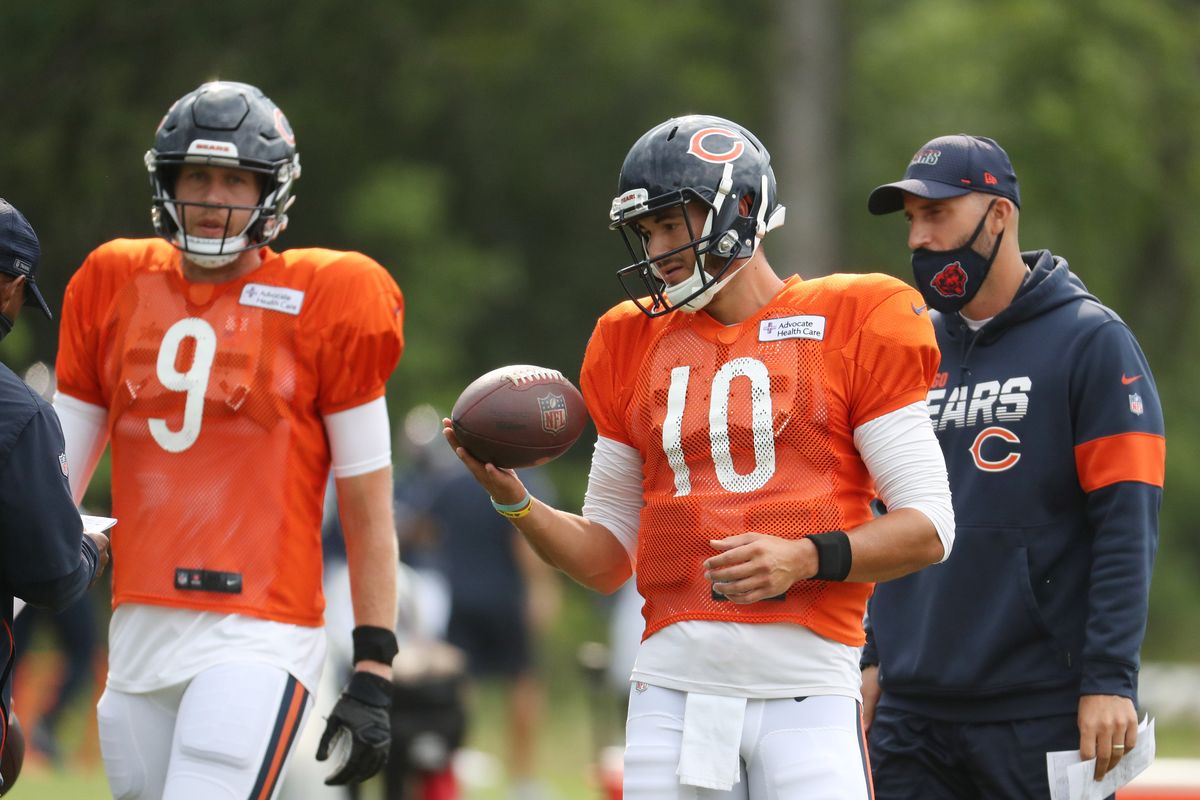 Trubisky had a much more contentious battle than Newton. Trubisky had been under fire by Chicago fans and media for his performance in 2019. Last season his passing yards, completion rate, and touchdowns were all down from his 2018 rookie season. Foles, who was acquired in a trade with Jacksonville in March, was expected to compete with Trubisky for the starting job.
Trubisky Underdog, Newton Favorite for Starting Job
Foles was immediately made the favorite to win the job by BetOnline. The internet sportsbook had Foles at -300 to be the starter, while Trubisky was the underdog at +200.
Bears head coach Matt Nagy, however, said Trubisky would be under center for Week 1. The team travels to Detroit a week from Sunday. Nagy told reporters on Wednesday he hadn't made up his mind.
"It is not easy. It's not clear-cut," Nagy said. "Sometimes people say, 'Well if you have two quarterbacks that means you don't have any.' … But we know what we have in these guys. We feel really good about both of them. Being as brutally honest as I can be, it's difficult."
There wasn't nearly as much drama in New England to find the successor to Tom Brady. The longtime Patriots QB left in free agency to sign with Tampa Bay. Newton was signed as a free agent and DraftKings immediately installed him as the -400 favorite to start. Stidham was listed at +300, and Hoyer was at +2500.
Newton Taking Nothing for Granted
New England head coach Bill Belichick made the decision on Friday, shortly after the news that Newton had been named one of the captains. Throughout training camp, Belichick had talked about Newton's work ethic.
"Cam's a hard-working kid. He really is. He's worked very hard, I'd say, as all of our players have," Belichick said two weeks ago. "I'd say that certainly for all the quarterbacks, at that position, those guys have been locked in, focused and confident in what they're able to do and the information they have to give to the team."
Newton was nothing but humble on Friday when meeting with reporters.
"Words can't even explain my feelings when I heard," Newton said. "A person may see or sense it was almost expected, but not for me though. Ever since I first spoke to any personnel with the team, I wanted to make sure that they understood my drive and that I'm not taking this opportunity for granted. Whether it's showing up as early as I do show up or leave as late as I leave, I know people know that my heart is in the right place."