Just four teams remain in the NFL playoffs, with the Bills and Chiefs playing for the AFC crown and the Buccaneers and Packers facing off in the NFC. Several key players remain questionable late in conference championship week, so keep an eye on injury news before finalizing your DFS lineups.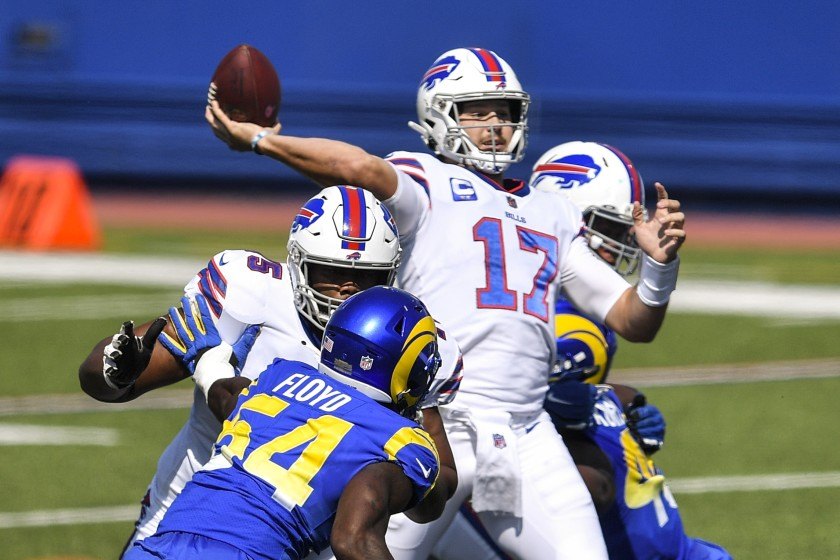 Here are six players to consider for your conference championship slate.
Quarterback
Josh Allen, Bills ($6,900 on DraftKings, $8,500 on FanDuel) – With Patrick Mahomes still on concussion protocol and questionable for the AFC Championship, we turn out eyes to Allen, who could really boost his standing with an upset victory in Kansas City. Allen wasn't called on to do a lot last week as Buffalo grinded out a victory over the Ravens in the divisional round. He should certainly see plenty of action this week, with the Bills as an underdog and likely to pass more often.
Running Backs
Leonard Fournette, Bucs ($5,300 on DK, $7,200 on FD) – Even though previous starter Ronald Jones II returned from a quadriceps injury for the divisional round victory over the Saints, Fournette still got the majority of carries. He enjoyed a productive day, with 17 carries for 63 yards, and five receptions for 44 yards and a touchdown. Jones is still nursing a quad injury, and we could see a repeat of last week in terms of usage.
Darrel Williams, Chiefs ($4,800 on DK, $6,000 on FD) – Clyde Edwards-Helaire has been out since Week 15 with an injured ankle. In his absence, LeVeon Bell picked up most of the work. But, the Chiefs have turned to Williams more lately, and he proved effective in the divisional round win over the Browns, carrying the ball 13 times for 78 yards and catching four passes for 16 yards. Even if Edwards-Helaire makes it back for the conference championship game, Williams should still see his share of snaps.
Wide Receivers
Davante Adams, Packers ($8,000 on DK, $8,900 on FD) – What we save at the running back position, we can spend at the wide receiver slot. Quarterback Aaron Rodgers loves his No. 1 receiver, targeting him at least 10 times in five of the past six games, and 10 of 13 overall during the season. Adams caught nine passes for 66 yards and a touchdown last week, despite going against All-Pro cornerback Jalen Ramsey.
Stefon Diggs, Bills ($7,000 on DK, $8,300 on FD) – Pair Diggs with his quarterback, a connection likely to prove fruitful in the conference championship game. Diggs continued to be a limited participant in practice on Thursday, but observers expect that's just to rest his injured oblique and keep him fresh for Sunday. The Chiefs' top corner, Bashaud Breeland, may miss the game, which would benefit Diggs.
Tight End
Robert Tonyan, Packers ($3,600 on DK, $5,700 on FD) – As with last week, we see a massive gap between Travis Kelce and everyone else at the position. This week, it's an eye-popping $4,400 gap between the Chiefs' tight end and Tonyan on DraftKings (it's less than $3,000 on FanDuel). I'll take those savings and hope for a score or two from No. 85. It's not as if Tonyan is a slouch, averaging 11.7 DFS points per game on DraftKings this season.