The Gonzaga Bulldogs have evolved from a mid-major bracket buster to a fully-fledged title contender over the past two decades, reaching the finals of the NCAA Championship twice in the past five seasons. Now, sportsbooks expect the Zags to finish their ascent.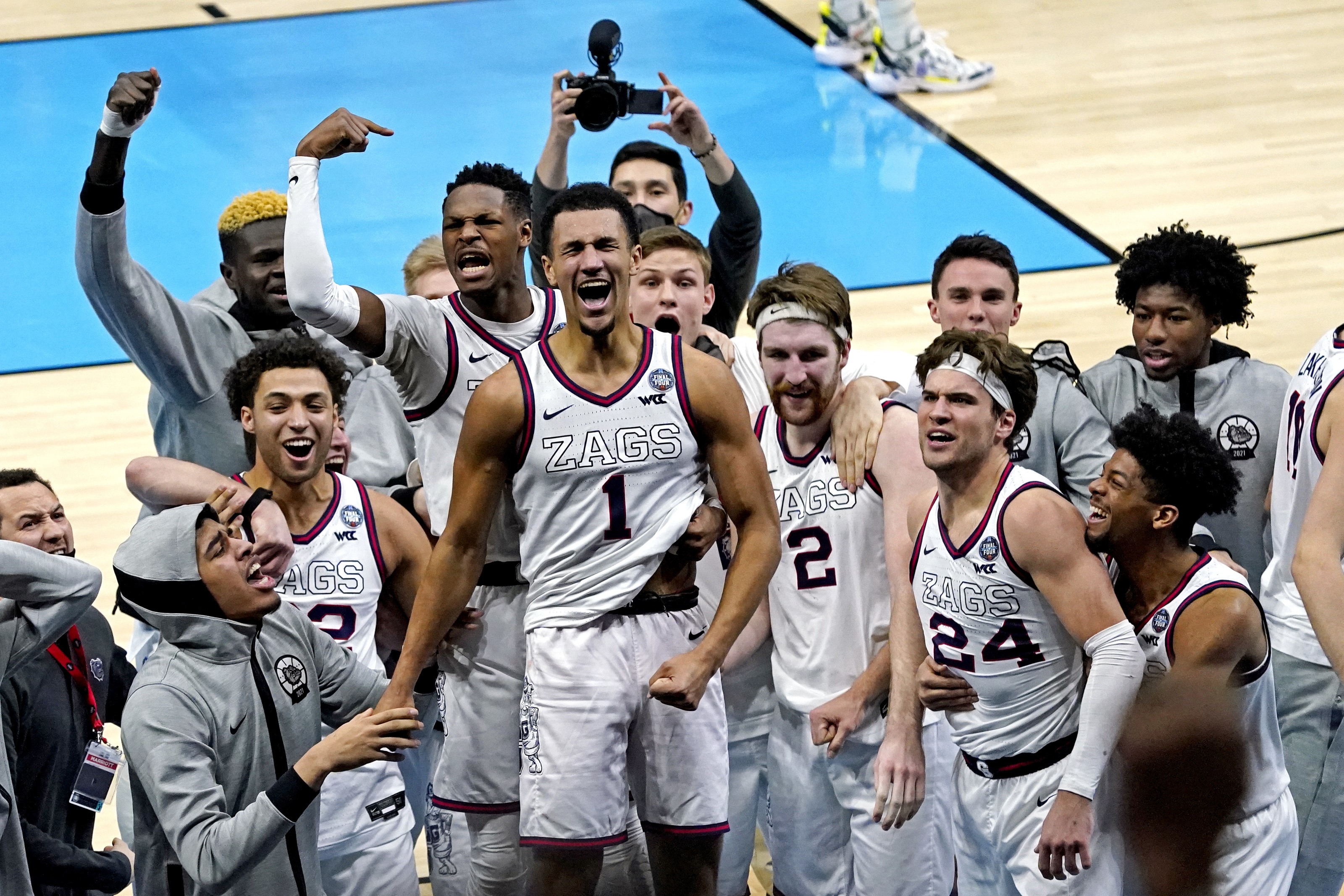 Oddsmakers across the board have made Gonzaga the clear, undisputed favorite to win the NCAA Championship in men's basketball in the 2021-22 season.
Gonzaga returns top scorer, adds new talent
This marks the second year in a row that the West Coast Conference powerhouse will open as the title favorites. Last season, Gonzaga remained undefeated all the way until the national title game, when Baylor upset the Bulldogs to take the title.
FanDuel Sportsbook rates Gonzaga as the +650 favorite to win the NCAA Championship in the coming season. DraftKings and SugarHouse are both offering those same exact odds, with no other team close to challenging the Bulldogs as national favorites. Gonzaga also ranks No. 1 in the preseason Associated Press Top 25 poll.
Gonzaga will start the year on Tuesday against Dixie State. Head coach Mark Few won't lead his team for the opener, as he's serving a one-game suspension for driving under the influence during the offseason.
While Gonzaga has emerged as a perennial contender, there are a couple of major reasons why sportsbooks have put the Bulldogs at the top of the list for the 2021-22 season.
First, the school is returning its top scorer, Drew Timme, among other key players. They've also brought in top prospect Chet Holmgren, a seven-footer from Minneapolis who will play center for the Bulldogs.
Michigan leads long list of challengers
The NCAA Championship poses a notoriously tough challenge for even the best of teams, as the single-knockout format means one bad game can end a potential championship season. That's why Gonzaga is still offering fairly generous odds and why there are many contenders waiting in the wings if the Bulldogs fall.
Michigan comes in as something of a consensus second choice. SugarHouse lists the Wolverines alone in second at +900, while FanDuel and DraftKings both rate Michigan at +1200, alongside other top contenders.
---
NCAA Championship Odds 
FanDuel
DraftKings
SugarHouse
Gonzaga
+650
+650
+650
Michigan
+1200
+1200
+900
Texas
+1200
+1500
+1000
Kansas
+1300
+1600
+1500
Purdue
+1300
+1600
+1500
Villanova
+1400
+1400
+1000
Duke
+1500
+1500
+1400
UCLA
+1500
+1200
+1000
---
Michigan opens the year at No. 6 in the AP Poll, the top spot for any Big Ten team. The Wolverines finished 23-5 under Juwan Howard last year, reaching the Elite Eight in the NCAA Championship before falling to UCLA.
A number of other schools rate alongside or just behind Michigan at top sportsbooks. Texas (+1200 at FanDuel), Kansas (+1300), Purdue (+1300), Villanova (+1400), and Duke (+1500) are among the traditional college basketball powers who enter the 2021-22 season expecting to make deep runs in the NCAA Championship this year.