NBA fans will be treated to several quality, and fun-to-watch, matchups heading into the second weekend of the season, including the best teams in the league such as the Boston Celtics (6-1), Los Angeles Lakers (6-1), Miami Heat (6-2), Denver Nuggets (6-2), and Philadelphia Sixers (5-2).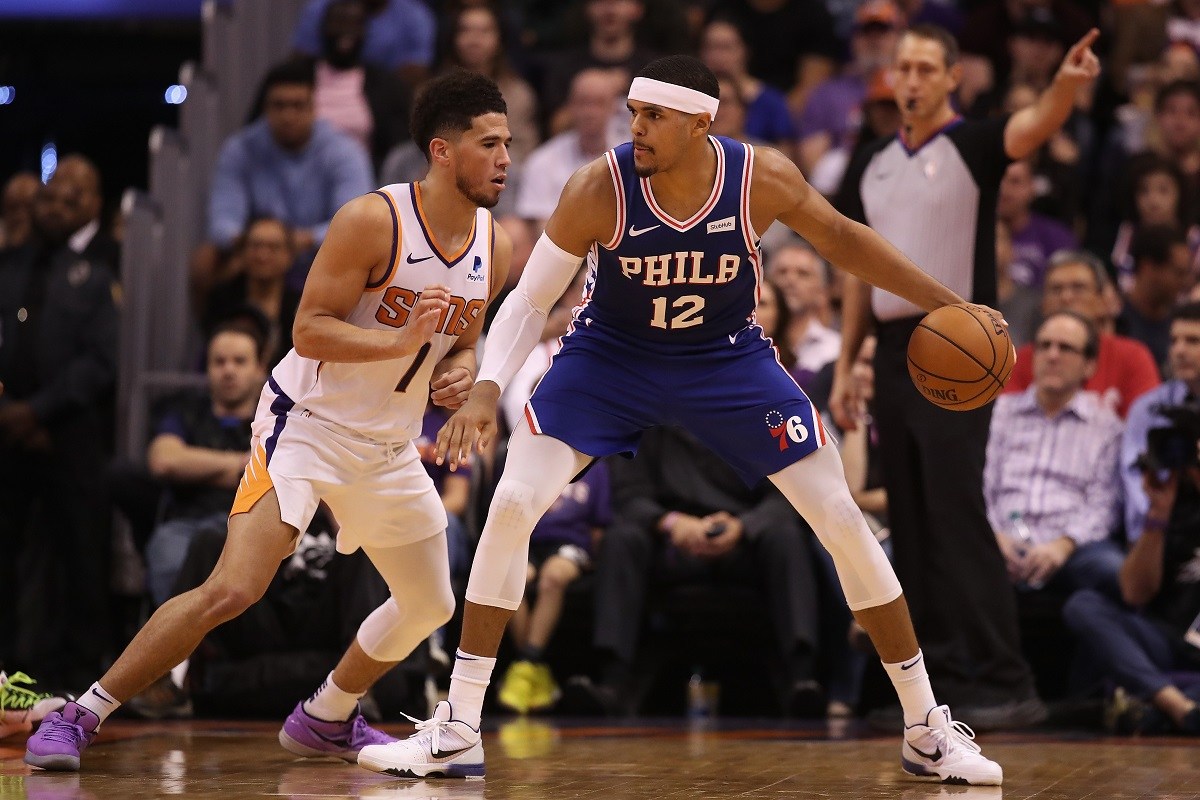 The Sixers and Nuggets are the marquee matchup on Friday night, with one of the best teams in the East up against one of the best in the West. The Sixers started out 5-0. However, the now banged-up Sixers are 1-2 on their current four-game road trip out West. The Sixers have one final game against the Nugs before they go home to Philly after a week on the road.
The other East/West fracas on Friday involves the LA Lakers and Miami Heat. The Heat are the best team in the Southeast Division, while the Lakers top the Pacific Division.
On Saturday, the Celtics and San Antonio Spurs go at it. The Celtics hold the best record in the Eastern Conference, while you can never count out Pops and the Spurs.
FRIDAY, NOV. 8
Sacramento Kings at Atlanta Hawks
New York Knicks at Dallas Mavericks
Philadelphia 76ers at Denver Nuggets
Brooklyn Nets at Portland Trail Blazers
Miami Heat at LA Lakers

SATURDAY, NOV. 9
Boston Celtics at San Antonio Spurs
Dallas Mavericks at Memphis Grizzlies

SUNDAY, NOV. 10
Cleveland Cavs at NY Knicks
Toronto Raptors at LA Lakers
On Sunday, a couple games complete the NBA weekend round up, including a battle of the worst teams in the Eastern Conference. The Knicks (1-7) and Cavs (2-6) are once again fighting for the East basement. At least you can cap off your weekend with the defending champion Toronto Raptors (5-2) battling LeBron James, Anthony Davis, and the first-place LA Lakers, and their revamped defense.
Friday NBA
Philadelphia Sixers (5-2) at Denver Nuggets (5-2)… Ben Simmons is out with a sore shoulder. Not to worry, Tobias Harris (19.7 ppg, 8.6 rebounds) stepped up to lead the Sixers in scoring when Joel Embiid served a suspension. The Nuggets are difficult to beat at home due to the thin air and temptations to sample legal cannabis in the Mile High City this season. The Sixers are +5 underdogs against the Nuggets.
Sacramento Kings (2-6) at Atlanta Hawks (3-5)… Two of the youngest teams in the NBA square off. The Kings top three scorers include De'Aaron Fox (18.4 ppg), Buddy Hield (17.6 ppg), and Harrison Barnes (15.5 ppg). Trae Young (24.2 ppg, 7.5 assists) returned to the rotation after spraining his ankle last week.
New York Knicks (1-7) at Dallas Mavericks (5-2)… The Unicorn (19.0 ppg) hosts his old team when the New York Knicks roll into Dallas. Rookie RJ Barrett (17.9 ppg) leads the Knicks in scoring. Super sophomore Luka Doncic almost averages a triple-double (26.7 ppg, 9.9 rebounds, 9.1 assists).
Brooklyn Nets (3-4) at Portland Trail Blazers (3-5)… Call this the Hipster Bowl. Two of the top scorers in the NBA (not named James Harden) face off with Damian Lillard (30.0 ppg) and the Blazers hosting Kyrie Irving (31.7 ppg) and the Brooklyn Nets.
Miami Heat (6-2) at LA Lakers (6-1)… Jimmy Butler (18.8 ppg) and his new sidekick, rookie Tyler Herro (13.9 ppg), are off to a hot start. Kendrick Nunn (17.4 ppg), a rookie from Oakland, is the biggest surprise on the Heat. Anthony Davis is already paying dividends (26.6 ppg, 11.0 rebounds, 3.0 blocks) for the Lakers. LeBron James (26.1 ppg, 11.1 assists) finally has a monster scorer to help share the offensive workload. The Lakers are 5-point favorites over LBJ's old team.
Saturday NBA
Boston Celtics (6-1) at San Antonio Spurs (5-3)… The Celtics have a trio of 20-point scorers with Kemba Walker leading the way with 24.3 ppg. Jayson Tatum (21.6 ppg) and Gordon Hayward (20.3) quickly adapted to their new teammate. The Spurs are 4-1 at home this season, and are led by DeMar DeRozan (20.0 ppg) and LaMarcus Aldridge (19.0 ppg). Unless you're a Spurs fan or a fantasy geek, you wouldn't know that Bryn Forbes started 81 games for the Spurs last season. The forward started all eight games this year, and Forbes posted career scoring numbers (14.5 ppg) as Coach Pop's third offensive option. Pops is keeping a careful eye on Dejounte Murray, who is back from a knee injury and limited to only 23 minutes of floor time per night. Even with splitting time with Derrick White (11.9 ppg), Murray is still averaging 12.9 ppg and 5.4 assists.
💥 @JaMorant drops 26 PTS in the @memgrizz W! 💥#NBARooks x #GrindCity pic.twitter.com/tqgSTNxlLI

— NBA (@NBA) November 7, 2019
Dallas Mavericks (5-2) at Memphis Grizzlies (2-5)… Luka vs. Ja. There's supposed to be no rooting in the press box, but we adore Memphis' rookie PG Ja Morant. OG has been closely following Morant since he popped up on the radar at Murray State two seasons ago. Morant leads the Griz with 20.4 ppg and 5.3 assists. Morant is on the short list for NBA Rookie of the Year candidates. He is fun to watch, and we can't wait to watch Doncic and Morant go back-and-forth against each other.
Sunday NBA
Cleveland Cavs (2-5) at NY Knicks (1-7)… The bottom feeders of the East face off in a bum fight. Kevin Love (18.9 ppg, 4.1 assists) is a one-man show in Cleveland, but they have an exciting and budding young backcourt with rookie Darius Garland (7.6 ppg, 3.3 assists) starting along with Collin Sexton (17.4 ppg). The Cavs are winless on the road (0-3), but the Knicks will likely find a way to lose this easy home game.
Toronto Raptors (5-2) at LA Lakers (6-1)… The NBA weekend concludes with the Kawhi-less defending champs going to Hollywood to meet King James. Pascal Siakam (25.6 ppg, 9.1 rebounds) has become the Big Dog in the Mighty North. Kyle Lowry (24.0 ppg, 6.7 assists) and Fred VanVleet (15.6 ppg) provided a scoring punch for Raptors' second-year coach Nick Nurse. And it goes without saying that everyone in the OG offices are a huge fan of OG Anunoby. The third-year player out of Indiana posted career highs through seven games with 12.7 ppg and 6.6 rebounds.