Russell Westbrook and James Harden are reunited in Houston after the Oklahoma City Thunder broke up their team and decided to rebuild from scratch. It's funny how a team from one division could alter the trajectory of another division. But you'll see how that narrative played itself out for the Rockets in this preview of the NBA Southwest. And, let's not forget about rookie Zion Williamson. The most sought-after rookie in decades will have to wait up to two months to make his debut with the New Orleans Pelicans while he recovers from knee surgery.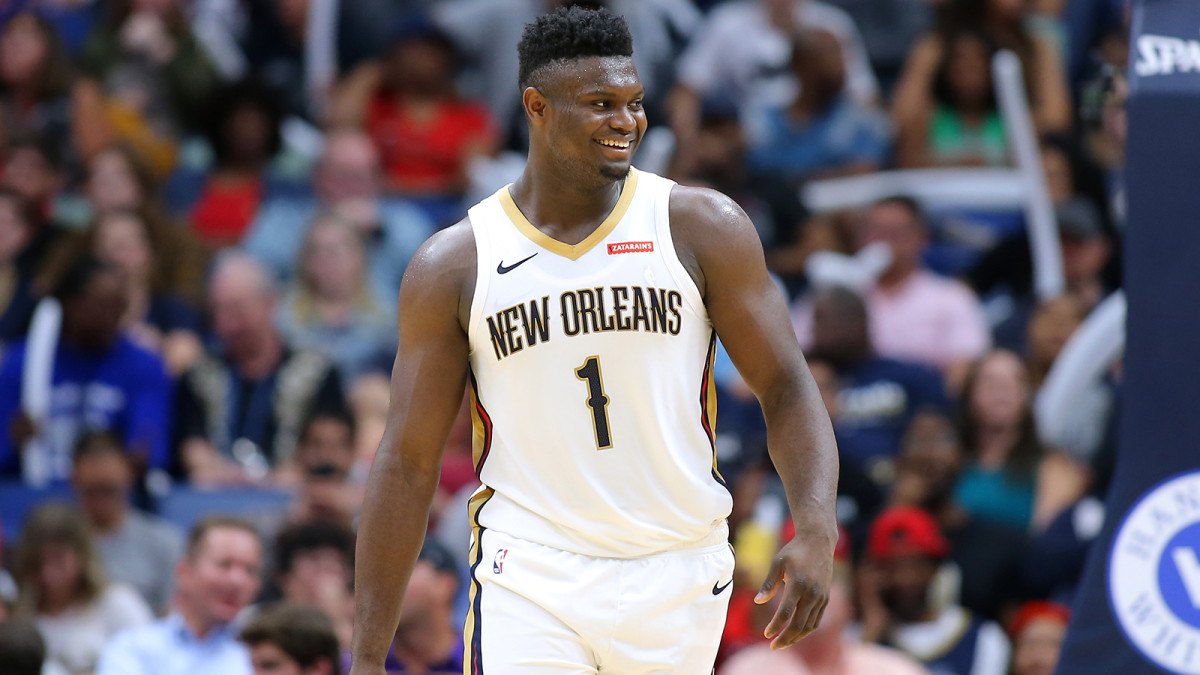 The NBA Southwest shuffled the deck once again after the Oklahoma City Thunder (denizens of the Northwest Division because of their initial ties to the Seattle Sonics) imploded the team and traded their star players. OKC decided it was time to reboot, and they traded Paul George to the LA Clippers, and triple-double machine Russell Westbrook to the Houston Rockets.
2019 NBA SOUTHWEST DIVISION ODDS:
Houston Rockets 1/4
San Antonio Spurs 6/1
New Orleans Pelicans 10/1
Dallas Mavericks 14/1
Memphis Grizzlies 100/1
One of the main narratives of the 2018-19 NBA season involved tanking teams vying to land Zion Williamson in the upcoming NBA draft. Many teams sucked on purpose in an attempt to land Zion. Of course, it wasn't any of the worst teams in the NBA (Knicks, Cavs, Bulls and Hawks) that drafted Zion. The New Orleans Pelicans truly hit the lottery when they were awarded the top pick in the NBA draft.
The Pelicans added Zion after Anthony Davis skipped town, so now what? I guess that depends on Mr. Williamson himself. Will he fail to live up to the insane hype? Or will Zion the rookie quickly adapt and become a beloved figure in New Orleans like Drew Brees, the Neville Brothers, or Pat O'Brien? That's one of the major story lines to pay attention to this upcoming season.
Westbrook and Harden Reunion
The Rockets (53-39) locked up the #4 seed last year with 53 wins. And, even with Russell Westbrook on the squad, the Rockets are only estimated to win 53 games once again this year.
The Warriors eliminated the Rockets from the playoffs once again. They couldn't get over the hump because no one else could score besides Harden, and he didn't want to give up the rock. Chris Paul and Harden had a publicized blow up and break up. The Rockets shipped CP3 out to OKC, so now it's up to Westbrook and Harden to figure out how to finally reach the NBA Finals.
Westbrook is one of the elite players in the NBA, but how will he handle sharing a ball with Harden in crunch time? Harden will gladly let Westbrook pad his stats with easy rebounds and assists back to Harden. But how will Harden and Westbrook get along with just one ball?
So long as Westbrook buys into Mike D'Antoni's system, there will be plenty of offense to go around. The Rockets brought in Carmelo Anthony last season to help with the scoring. However, the Rockets pulled the plug on Melo after just 10 games. This year, the Rockets made a bold move and snatched up a legit scoring threat with Westbrook.
The Rockets are fourth on the board overall as an 8/1 favorite to win the 2020 NBA championship. The Southwest title is theirs to lose, but they have 82 games for Harden and Westbrook to iron out their differences before the NBA playoffs begin.
Projected: Houston 52-30
Pops World
You can easily gloss over the Spurs if you quickly glance at the NBA Southwest preview, because the Spurs are lacking household names. That's what makes them so dangerous this season. Gregg Popovich does his best work when nobody is watching. While all eyes are on his former pupil, Kawhi Leonard, and the Westbrook and Harden reunion, the San Antonio Spurs can fly under the radar in the Southwest.
LaMarcus Aldridge (21.3 ppg, 9.2 rebound) and DeMar DeRozan (21.2 ppg) will be the big dogs for Pops once again this season. Dejounte Murray (8.1 ppg) started 48 games last year at point guard, but he's on the verge of a breakout season. I bet you didn't know that Bryn Forbes (11.8 ppg) started all but one game at point guard for the Spurs last season. Yup. The Forbes/Murray backcourt doesn't get the same attention as other high-profile guard tandems, but keep an eye on them.
Derrick White (9.9 ppg) is still coming into his own, but he's been one of Pops' works in progress. They also have Rudy Gay and Patty Mills coming off the bench.
Projection: San Antonio 45-37
NOLA Zions
The Pelicans is a silly team name. Too bad the New Orleans Jazz relocated to Salt Lake City, because that would be an appropriate moniker. I guess that's what's weird about the NBA keeping names (e.g. Minneapolis Lakers > LA Lakers). If Zion Williamson wins rookie of the year, they should just change the team name to the New Orleans Zions. It just sounds so much cooler than the Pelicans.
Williamson is being set up to fail. It reminds me of a Phish lyric, "Sometimes people build you up just so they can knock you down."
That sounds like Zion to me. There's something special about Zion that makes him immediately likable, which is odd because he played at the most-hated school in the NCAA with Duke. Last season might have been the only time many hoops fans actively rooted for a Duke player, which is a testament to Zion as a person.
There's a legion of non-Pelicans fans rooting for him to rise above the tsunami of hype. Head coach Alvin Gentry has already found ways to help Zion succeed in the preseason. As a rookie, Zion surged to an auspicious start, averaging 23.3 points per game. Even Anthony Davis, the greatest one-and-done player in the brief history of those silly rules, only averaged 14.9 ppg in his rookie preseason.
New Orleans inherited half of last year's LA Lakers team after the Buss family traded the farm for Anthony Davis. That means Lonzo Ball and Brandon Ingram will be playing significant time with Zion this season. Derrick Favors and Jrue Holiday round out the starting five, with JJ Redick and Nickeil Alexander-Walker coming off the bench.
Zion banged his knee in the preseason, but it ended up being a torn meniscus. Williamson underwent surgery but will miss up to 6-8 weeks. The Pelicans will play at least 20 games before Zion makes his NBA debut.
Projection: New Orleans 37-47
Luka and the Unicorn in Dallas
The Dallas Mavericks made a bold move to acquire Luka Doncic, and the move paid off. Doncic won Rookie of the Year and looked like a seasoned veteran, averaging 21.2 points, 7.8 rebounds, and 6.0 assists per game. Too bad the Mavericks sucked and didn't give him any support.
The Mavs acquired the Unicorn after Kristaps Porzingis (17.8 ppg career) demanded out of the dysfunctional Knicks. If the Unicorn looks anything like his old self, then the Mavs should sail north of 30 wins. If the Unicorn pulls up limp, then it's going to be another long year in Dallas. All the Haralabob data can't save the team if they're still in tanking mode.
The rest of the Mavs include PG Delon Wright (12.2 ppg), SF Justin Jackson, PF/C Dwight Powell (10.6 ppg), PG Jalen Brunson (9.3 ppg), SG Seth Curry, swingman Tim Hardaway, Jr., and C Boban Marjanovic.
Projection: Dallas 30-52
Meh Grizzlies
The Memphis Grizzlies (33-49) actually look worse than last season. The team opted to go young, and they traded away Mr. Grizzly, Mike Conley (21.1 ppg) to the Utah Jazz. They're trying to rebuild around rookie Ja Morant which, in theory, sounds like a good plan, but they'll be stuck in the NBA Southwest basement until Morant matures.
Morant will be playing with C Jonas Valanciunas, swingman Kyle Anderson, shooting guard Dillon Brooks, and PF Jaren Jackson, Jr. Last season, JJJ started 56 games with the Griz and averaged 13.8 points in his rookie season.
Valanciunas saw his playing time and numbers rise when the Raptors traded him to Memphis (12.9 ppg to 19.9 ppg and 10.7 rebounds). He's the best player on a team filled with inexperienced players and inexpensive vets.
The Jazz also ditched Grayson Allen in the Conley trade, so now the Grizzlies are stuck with the hated Duke alum riding their pine.
Projected: Memphis 25-57
If you enjoyed the NBA Southwest Preview, then take a look at other 2019 NBA divisional previews.