The rash of injuries to All-Stars in the NBA postseason continues after Giannis "Greek Freak" Antetokounmpo from the Milwaukee Bucks suffered a hyper-extended knee injury in the second half of Game 4 against the Atlanta Hawks.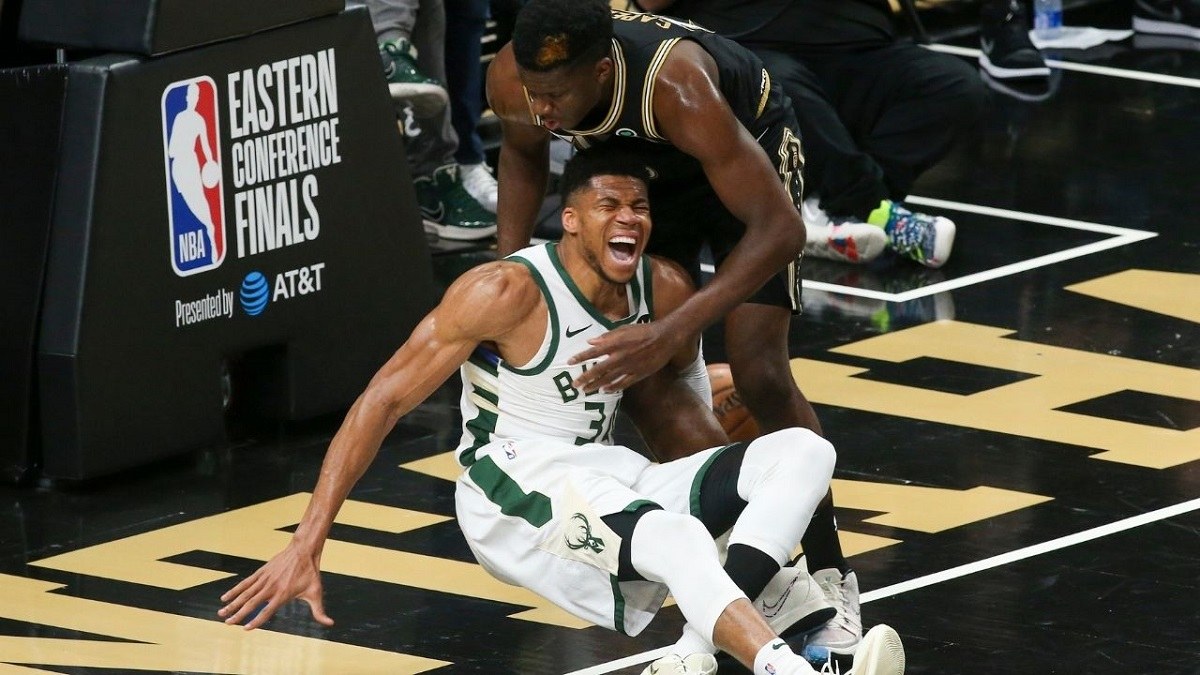 Without Antetokounmpo, the Bucks were unable to mount a comeback against the short-handed Hawks, who were playing without their leading scorer, Trae Young. Young didn't suit up for Game 4 because he's nursing a sprained ankle and bone bruise after he stepped on an official in the second half of Game 3.
The Bucks were up 2-1 heading into Game 4 and trying to extend their series lead. However, disaster struck and the Hawks won in a blowout, 110-88, tying the series at 2-2.
Antetokounmpo will undergo testing and an MRI on Wednesday morning back in Milwaukee. Game 5 is slated for Thursday evening at Fiserv Forum, but his status is still unknown. Antetokounmpo entered Game 4 averaging 30.6 ppg against the Hawks. He tallied just 14 points before he went down with the injury with seven minutes remaining in the third quarter.
Giannis appears to have suffered a serious knee injury after this awkward landing 🙏 pic.twitter.com/0in8nooI6s

— ESPN Australia & NZ (@ESPNAusNZ) June 30, 2021
Outlook: Unknown for Game 5
Halfway through the third quarter, Antetokounmpo attempted to break up an alley-oop to Clint Capela. The two were tangled up and fell to the hardwood. Antetokounmpo immediately grabbed his knee and was in obvious pain. He remained on the court for several minutes before his teammate and younger brother, Thanasis Antetokounmpo, assisted him off the court.
"It just looked like their legs got tangled up," said Milwaukee head coach Mike Budenholzer. "They both landed awkwardly. That's what I saw live. I haven't seen anything else."
"I just hope it's not serious," said teammate Khris Middleton.
The injury looked similar to something that happened to Joel Embiid during the regular season when the Philadelphia 76ers' big man landed awkwardly on his knee and hyperextended it. Embiid missed a couple of weeks with a bone bruise. The best-case scenario for the Bucks — and Antetokounmpo — is a hyper-extended knee and bone bruise, while the worst-case scenario is a torn ACL.
The Bucks saw their NBA championship odds slip a bit to +400 odds, but both oddsmakers and bettors eagerly await the status of his MRI. The Hawks saw their title odds improve to +550.
Check out more coverage of the 2021 NBA Playoffs.