With Game 2 of the Western Conference Finals set to tip-off on Tuesday evening in Phoenix, two stars won't be suiting up with Kawhi Leonard from the Los Angeles Clippers and Chris Paul from the Phoenix Suns both listed as out on their respective team's injury report.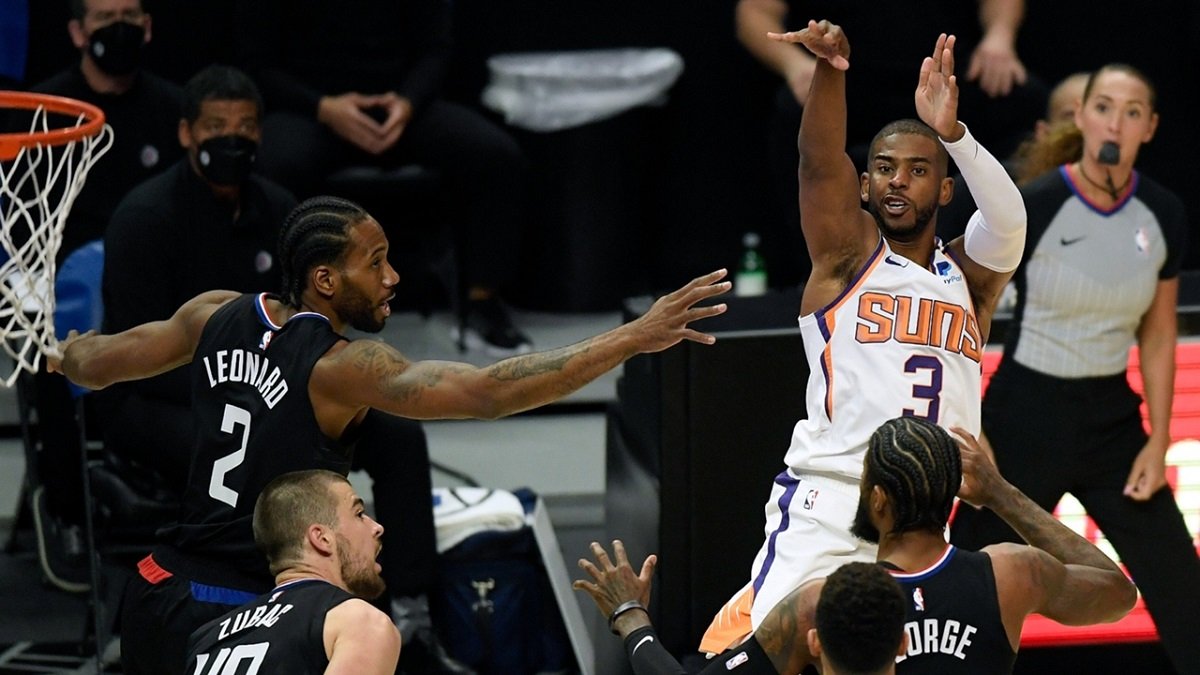 Leonard has a sprained ACL and didn't travel with the Clippers to Phoenix. He's back home in LA getting treatments on his knee. His status for the remainder of the postseason is in doubt.
Paul is out for Game 2 due to the NBA's health and safety protocol after testing positive for coronavirus last week. The Suns hope their starting point guard can return to the lineup for Game 3 on Wednesday in LA.
Meanwhile, the Clippers could be down another starter with a knee injury if Marcus Morris is unable to play in Game 2 along with Kawhi. Morris saw limited action in the second half of Game 1 and will be a game-time decision. If he can't play, expect big man Ivan Zubac to return to the starting lineup. If head coach Ty Le opts for a small-ball lineup, then Luke Kennard could slide into the starting five.
CP3 still out with COVID
Paul tested positive for coronavirus last Wednesday after the Suns completed a sweep of the Denver Nuggets. The NBA's health and safety protocol says he must sit out at least 10 days unless he can provide multiple negative PCR tests within a certain time period. The asymptomatic Paul had been vaccinated earlier in the season.
"There's no update on Chris," said head coach Monty Williams. "Nothing's changed."
Paul is currently under quarantine at his family home in LA, but he FaceTimed his teammates within moments of the Suns securing a victory in Game 1. "We talked every day about our team and what we're seeing in other playoff games, and just trying to improve," added Williams. "I'm not sure if he called or somebody else called him, but when I walked in, he was on FaceTime. So, he became a part of the locker room."
"He was holding up this, finger one, it was one game," said Jae Crowder. "We did what we were supposed to do. We held them down and we made plays on both ends of the court. But he was very excited. He had a smile on his face. But he's eager to get back."
Without Paul for Game 2, backup point guard Cameron Payne is ready to start for the Suns once again. Payne scored 11 points in Game 1's victory.
Every teammate counts. 

📱@CP3 on the line with the fellas after the win. More to do, more to come. pic.twitter.com/DoRuBvK89k

— Phoenix Suns (@Suns) June 20, 2021
Kawhi: Future unknown
Even though he's back home in SoCal due to the knee injury, Kawhi has still been a vocal leader via calls, FaceTime, and group texts.
"Just being able to hold guys accountable, talking to guys, talking to the players, what we need to do better on what he sees," explained Clippers coach Ty Lue. "If he knows the game plan, then he can definitely do that. Kawhi talked to the guys every day, as well. Not just the coaching staff. He's very engaged and that's what you need from your players. He's locked in and still in tune."
The Clippers lost Game 1 by six points. Despite the injury, a deeply-involved Kawhi wanted to make sure his teammates would be ready for Game 2.
"He's still being that leader for the team, using his voice," said teammate Boogie Cousins. "And obviously the situation sucks that he's in, but he's engaged as much as he can be."
Unlike the Suns, who have high expectations that Paul will return soon, the Clippers aren't as hopeful about Kawhi and his knee injury. They have a much foggier picture when they try to peer into their crystal ball and attempt to read the future.
Check out more coverage of the 2021 NBA Playoffs.