Karl-Anthony Towns from the Minnesota Timberwolves erupted for a league-high, career-high, and franchise-high 60 points during a 139-129 shootout victory against the San Antonio Spurs.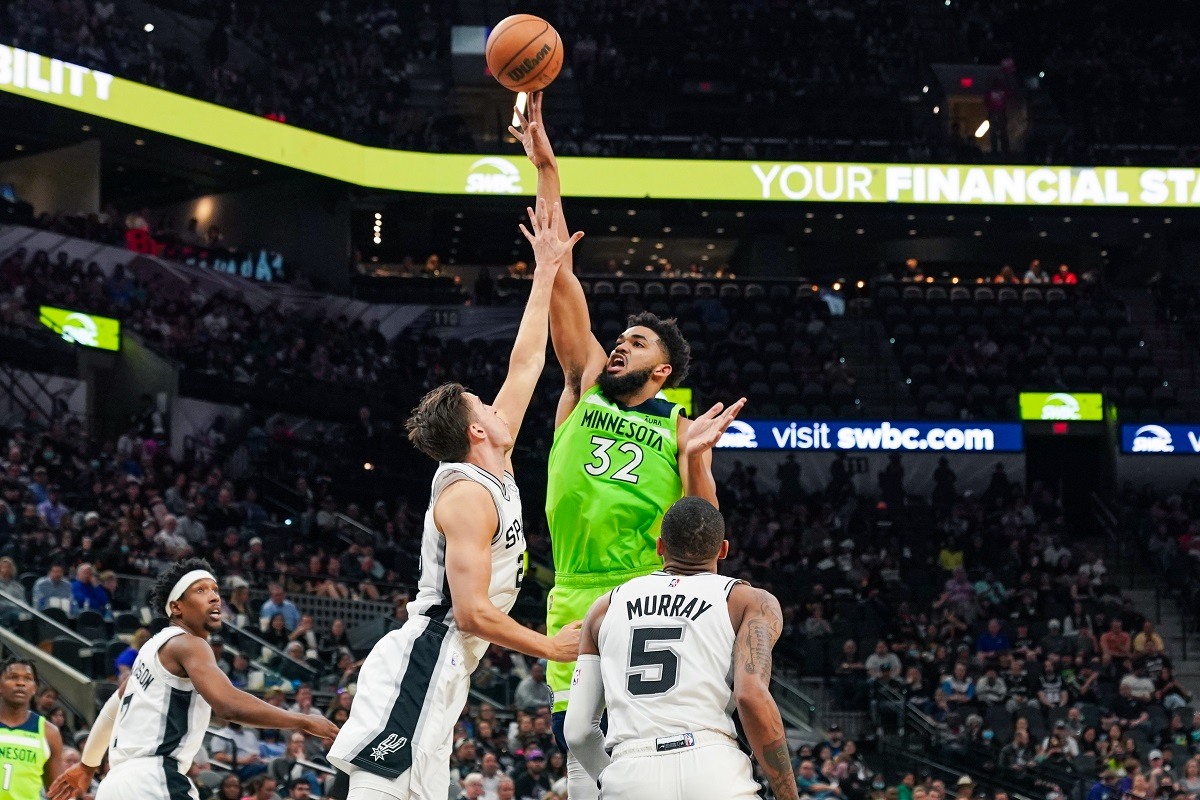 The Timberwolves improved to 40-30 on the season and hold down the #7 seed in the Western Conference playoff hunt. They're chasing the Denver Nuggets for the #6 seed to avoid participating in the play-in tournament.
"I told Coach Finch before the game, 'Listen, we need this win. I'll do whatever it takes… 44 or 48 minutes,'" explained Towns. "That was kind of the mindset I came in with. Had to dominate. I had to be my best."
The Spurs were also in a must-win situation. They're on the bubble and fighting for the last spot as the #10 seed in the play-in tournament. With the loss, the Spurs slipped to #12. The Spurs now dropped two games in a row since Gregg Popovich set the NBA record for most wins as a head coach.
KAT was on fire last night! 32 PTS in the 3rd quarter on his way to 60 points 🔥

Season-high in points by any player this season✅
A @Timberwolves franchise-record✅#RaisedByWolves pic.twitter.com/cuQGSetG6V

— OGCOM (@OGambling) March 15, 2022
Towns: 60 Points
The Timberwolves were fired up since the opening tip, and tallied 40 points in the first quarter, with 14 of them from Towns. He added ten more points in the second quarter and went into halftime with 24 points.
Towns went on an absolute heater in the third quarter when he unleashed 32 points. He added just four points in the fourth quarter due to foul trouble, but Towns still reached 60 points despite having five fouls.
"I just went out there, tried to be really aggressive," said Towns.
"The whole team was happy," said teammate D'Angelo Russell. "Everybody was being selfless about it. I think that was more of what I appreciated. The performance was amazing, but everybody wanted to see it."
"Karl was fantastic," said San Antonio's Popovich. "He drove it, he shot it. Always plays hard. A hell of a player. It's not like it was a surprise, but tonight he was special."
Towns shot 19-for-31 from the floor, including 7-for-11 from 3-point range for the 2022 NBA 3-Point Shooting Champion. Towns also shot 15-for-16 from the free-throw line to help reach 60 points. He played just 36 minutes, which makes his output even more impressive.
"I just feel like I was set up for success this year after everything I've been through, just having this group of guys around," said Towns. "I've never had that kind of camaraderie and unity and chemistry since college."
KAT Records
Towns also hauled down 17 rebounds in the victory to add to his 60 points. He became the first NBA player in 22 years with at least a 60-15 game. Shaquille O'Neal from the LA Lakers was the last player to achieve that rare feat with 61 points and 23 rebounds back in 2000.
Towns became the seventh player in NBA history with a 60-15 game. He joined an exclusive club that includes Michael Jordan, Wilt Chamberlain, George Mikan, Shaq, Karl Malone, and James Harden.
Towns also became the first center to drop 60 points since Shaq's 61-point performance 22 years ago. Only three other centers scored more points in a game. Of course, Chamberlain holds the record with his insane 100-point performance, but David Robinson once scored 71 points and Shaq set his career-best with 61.
With 60 points, Towns set the new season-high mark. LeBron James and Trae Young were previously tied for the season-high total with 56 points each.
March Madness spilled over into the NBA. Monday evening was oddly special because it became the first time in NBA history when three players scored at least 45 points in a game. Steph Curry dropped 47 points and seven treys for the Golden State Warriors against the Washington Wizards. Trae Young led the Atlanta Hawks to a big win over the Portland Trailblazers with 46 points and 12 assists.
KAT tonight:

60 PTS (franchise record)
17 REB
19-31 FG
7-11 3P

He joins Shaq and Wilt as the only centers in NBA history with a 60/15 game. pic.twitter.com/BCsLobl51O

— StatMuse (@statmuse) March 15, 2022
Check out more video highlights and installments of NBA High Guys.