Giannis "Greek Freak" Antetokounmpo suited up for the first game of the 2021 NBA Finals despite a lingering hyperextended knee injury. But even his presence for the Milwaukee Bucks wasn't enough to thwart Chris Paul and the Phoenix Suns from jumping out to a 1-0 series lead after a 118-105 victory in Game 1.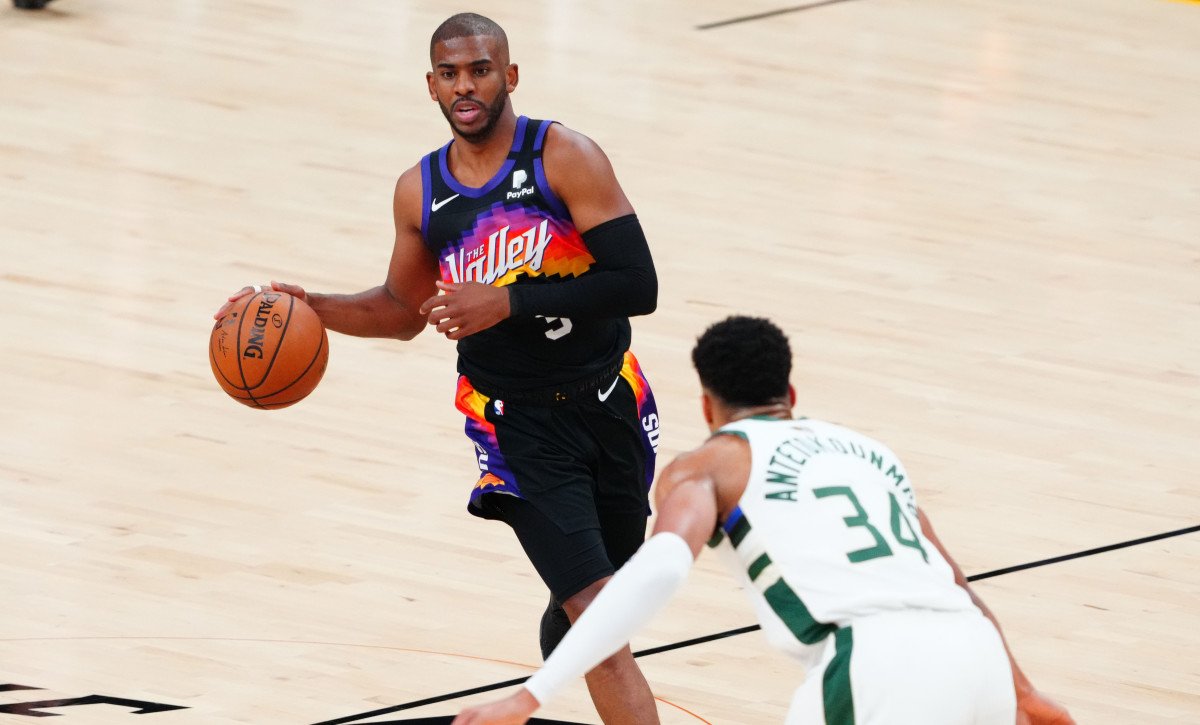 Paul, playing in his first NBA Finals in 16 seasons in the league, lead all scorers with 32 points. He also dished nine assists for the Suns in front of a frenzied home crowd in Phoenix.
Antetokounmpo scored 20 points and added 17 rebounds in an impressive and inspiring effort. He didn't look like a guy who missed the previous two games with a knee injury. Even though the Bucks lost Game 1, at least they know they have the Greek Freak for the rest of the NBA Finals. Without Antetokounmpo, the Bucks knew their title chances were slim to none.
"I'm just happy that I'm out there and able to help my team in any way possible and participate in my first NBA Finals," said Antetokounmpo.
Then again, the Bucks aren't freaking out about losing the first game. The Bucks dropped Game 1 in the previous two rounds against the Brooklyn Nets and Atlanta Hawks, yet fought back to win the series after falling into a 0-1 hole.
The Suns are now -345 odds to win the 2021 NBA championship, according to a new update by DraftKings. The Bucks are +270 odds to win their first title in 50 years.
PHX power trio: D-Book, CP3, Ayton
The Suns prevailed because their power trio of Paul, Devin Booker, and Deandre Ayton combined for 81 points and shot a perfect 20-for-20 from the charity stripe. The Bucks were unable to slow down Booker and Paul, and they couldn't keep Ayton off the boards.
Booker scored 27 points, including 12 points in the first quarter to start the game. He shrugged off an awful night from 3-point range with a 1-for-8 effort from downtown. The Suns were outgunned from 3-point range — 16 treys for the Bucks vs. 11 for the Suns — and shot just 32.4% from beyond the arc, yet still won by double digits. Jae Crowder scored just one point on 0-for-8 shooting, including missing all five of his 3-point attempts.
Paul became the first player since Michael Jordan to score 30-plus points and dish eight assists in his NBA Finals debut. Paul scored 16 points — half of his game-high 32 points — in the third quarter as the Suns expanded their lead from eight to 18 points.
"Every time he shoots it we think it's going in," said Booker.
Meanwhile, Ayton etched his name in the history books alongside a trio of Hall of Fame legends. Ayton scored 22 points and hauled down 18 rebounds while shooting 8-for-10 in Game 1. He joined Kareem Abdul-Jabbar, Bill Russell, and Wilt Chamberlain as the only other players in league history to post 20-plus points, 15-plus rebounds, and shoot 80% or better from the floor in an NBA Finals game.
"We've been building all season long for these moments," explained Paul. "We're going to keep playing. This is just one game. We've got to stay locked in."
Bucks' rough 3Q
The Bucks fell behind early and chased the Suns all night. The Bucks trailed by eight points at halftime, but a sluggish third quarter put them behind by nearly 20 points. The Suns held off a late surge from the Bucks in the fourth quarter, but it was too little and too late.
Khris Middleton led the Bucks with 29 points. His backcourt mate, Jrue Holiday, scored just 10 points and drew the tough defensive assignment of trying to cool down a sizzling-hot Paul.
"We know it's not going to be easy and know it's going to be tough," said Middleton. "There's times where we're going to be down in this series. But this series isn't over. We're down. We've still got to keep competing and just playing."
Paul and the Suns picked apart the Bucks' defense, which led to easy buckets.
"Their pick-and-roll game is tough to guard," said head coach Mike Budenholzer. "We've just got to keep getting better. We'll look at the film. See how we can maybe take away some of the rhythm."
After a slow start in the Eastern Conference finals against the Atlanta Hawks, the Bucks made the proper adjustments and figured out how to defend Trae Young and the pick-and-roll. The Bucks opened as a +5.5 underdog for Game 2 of the NBA Finals, which is slated for Thursday evening in Phoenix.
Check out more of OG's coverage of the 2021 NBA Playoffs.