Bam, Bobby, and Bags.That sounds more like a band or a hip-hop group than a trio of high-flying NBA players. But Bam Adebayo, Bobby Portis, and Marvin Bagley III are among of this year's crop of NBA fantasy sleepers.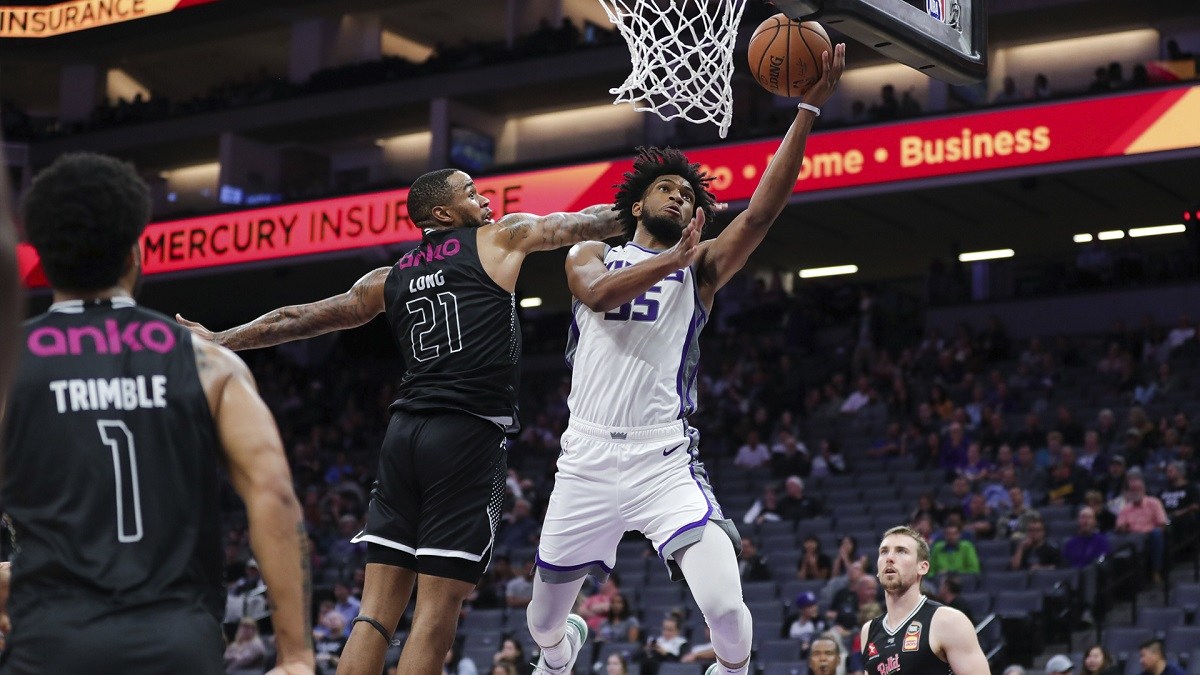 A trio of big men are expected to see an uptick in minutes and responsibility, which makes them ideal sleeper material. Marvin Bagley III, the former #2 pick in the 2018 NBA Draft, secured a starting job in Sacramento under new head coach Luke Walton. Bam Adebayo will also start for the Miami Heat this season after coming off the bench last year behind Hassan Whiteside.
NBA FANTASY SLEEPERS:
Bobby Portis (PF, C NY Knicks)
Bam Adebayo (PF, C Miami Heat)
Marvin Bagley III (PF, Sacramento Kings)
Bobby Portis came off the bench during his first four seasons in the NBA before he finally got a chance to start when the Chicago Bulls traded him to the Washington Wizards. After the Knicks were unable to land Kevin Durant in free agency, they tapped Julius Randle and Portis to anchor the front line. Porits will start at center for the Knicks at Madison Square Garden this season.
Bags Groove
It's not easy being the #1 pick in the NBA draft. It's not any easier being #2 either. Despite the heavy expectations on the second overall pick in the 2018 NBA Draft, Marvin Bagley III is ready to step up his game in his second season with the young and upstart Sacramento Kings.
Bagley emerged as one of the latest group of one-and-done players at Duke. He had a heck of a freshman year in Durham, averaging 21.0 points and 11.1 rebounds per game under Coach K. Deandre Ayton went first in the 2018 NBA Draft, while Bagley went second overall.
Bagley, 20, had a promising rookie campaign with the Kings while still a teenager. He averaged 14.9 points per game while coming off the bench. Lou Williams is Mr. Six Man, and will probably hold that title until he retires, but the young Bagley put up impressive numbers in only 25 minutes of action per night.
Bagley finished the season on a strong note, a time when most rookies run out of gas. He averaged 18 points and 9 rebounds per game in the last month of the season.
Bags kicked off the preseason on a positive note with three consecutive double-doubles. He even turned heads during a 30-point explosion, while hauling down 14 rebounds. New head coach Luke Walton is excited at what the future holds for Bagley.
"Marvin can be everything," said Walton. "Watching the way he moves around the floor, and his size and versality defensively, the potential is there. There's a lot of room for us to become a very good defensive team and a lot of that begins with Marvin's development."
Bags diligently worked on his perimeter shooting in the offseason.
"It's going to be an all-around game coming into the season," said Bagley. "You can expect to see a lot more threes and jumpers. But still being able to play my game, which is being aggressive, and attacking and trying to draw fouls to get to the (free throw) line."
South Beach Bam Bam
The Miami Heat traded Hassan Whiteside to the Portland Trail Blazers in a multi-team deal. They let Whiteside go by the wayside because they had faith in young Bam Adebayo.
Adebayo, 22, is a 6-foot-9 center/power forward who was a high school standout in North Carolina. Adebayo got named as North Carolina Mr. Basketball in 2016. The heavily-recruited Adebayo went to Kentucky for a one-and-done season, where he averaged 13.0 points and 8.0 rebounds per game for Coach John Calipari.
The Heat drafted Adebayo with the 14th overall pick in the 2017 NBA Draft. In his rookie season in Miami, Adebayo started 19 games, but primarily came off the bench to average 6.9 points and 5.5 rebounds.
Last season, Adebayo played in all 82 games and started in 28 of them. On only 23.3 minutes of action per game. Adebayo averaged 8.9 points, 7.3 rebounds, and 2.2 assists while backing up Whiteside.
With Whiteside joining the Blazers, Adebayo steps into the starting role. He'll be logging significantly more minutes and is expected to average a double-double this season. If you're seeking value in the middle rounds of your NBA fantasy draft, then Adebayo offers up a lot of bang for the buck as a sleeper with his projected numbers.
Bobby Broadway
Bobby Portis flew under the radar in many NBA fantasy drafts, which makes him an excellent sleeper pick. Why? Because he played for two terrible teams last season (Bulls and Wizards), and now plays for the NY Knicks. Being a member of the Knicks is like being invisible when it comes to fantasy basketball. That's why Portis offers up tremendous value.
Portis played his college ball in Arkansas, where he won the SEC Player of the Year in 2015. The Chicago Bulls drafted him with the #22 pick in the 2015 NBA Draft.
Portis came off the bench during his time in Chicago. He averaged 14.1 points per game last season as the sixth man for the Bulls before he sprained his MCL. He missed 32 games last season while recovering from the injury. The Bulls traded Portis and Jabari Parker to the Washington Wizards for Otto Porter in midseason.
In his short stint in Washington, Portis averaged 14.3 points and 8.6 rebounds per game as a starter.
The Knicks signed Porter in the offseason to bolster their front line. At 24-years young and with four seasons under his belt, Porter is one of the "old guys" on the extremely young team.