The Milwaukee Bucks and Brooklyn Nets are the top two teams in the Eastern Conference once again this season, with the Nets eying the conference crown and looking to end the Bucks' reign as the NBA champions.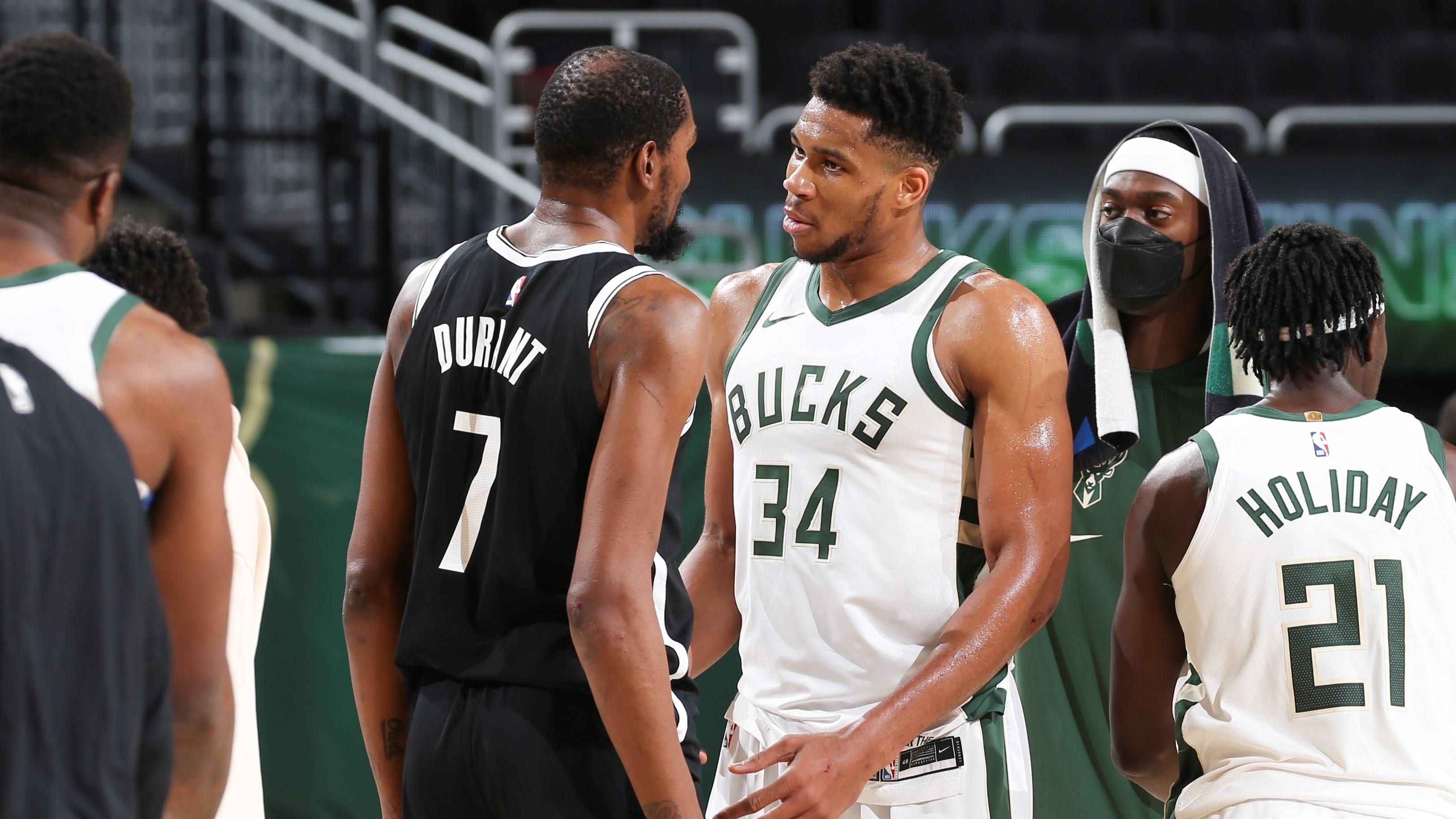 Kyrie Irving's vaccination status is one of the two key stories in the Eastern Conference, and the Nets began the season without their starting point guard due to his unwillingness to get the vaccine despite a health mandate from New York City.
---
| | | | |
| --- | --- | --- | --- |
| | Title Odds | Win Totals | 2020-21 Record |
| Brooklyn Nets | +200 | 55.5 o/u | 48-24 |
| Milwaukee Bucks | +900 | 54.5 o/u | 26-26 |
| Philadelphia 76ers | +2000 | 50.5 o/u | 49-23 |
| Miami Heat | +2500 | 48.5 o/u | 40-32 |
| Atlanta Hawks | +3500 | 46.5 o/u | 41-31 |
| Boston Celtics | +4000 | 46.5 o/u | 36-36 |
| Chicago Bulls | +8000 | 43.5 o/u | 31-41 |
| New York Knicks | +10000 | 42.5 o/u | 41-21 |
| Indiana Pacers | +10000 | 42.5 o/u | 34-38 |
| Charlotte Hornets | +18000 | 38.5 o/u | 33-29 |
| Washington Wizards | +25000 | 33.5 o/u | 34-38 |
| Toronto Raptors | +25000 | 33.5 o/u | 27-45 |
| Detroit Pistons | +10000 | 25.5 o/u | 20-52 |
| Cleveland Cavaliers | +10000 | 27.5 o/u | 22-50 |
| Orlando Magic | +10000 | 22.5 o/u | 21-51 |
---
Ben Simmons' future is also a big question mark. He asked the Philadelphia 76ers to trade him, showed up late and then unexpectedly to training camp, and then got kicked out of practice and suspended for the season opener. The first game didn't even tip-off and the Simmons drama is in full effect in Philly.
Contenders: Nets or Bucks?
The Brooklyn Nets could probably win a title with just Kevin Durant and a healthy James Harden. However, Gotham's relentless media will hound Irving and the Nets until he gets vaccinated. Until then, it's another three-ring circus in Crooklyn.
Will the Milwaukee Bucks become a one-and-done champion, or will they defend their title and begin to build a dynasty? We'll see how Antetokounmpo and company respond to a target on their back this season.
Until the Philadelphia 76ers dump Simmons, they're a team in limbo. Then you have to consider the health of Joel Embiid. He stumbled through another postseason all banged up, but if he can remain healthy, then the 76ers could challenge the Nets and Bucks for the Eastern Conference title.
Jimmy Butler and the Miami Heat were the big surprise team inside the NBA Bubble two postseasons ago. The Heat added Kyle Lowry in the offseason, along with PJ Tucker, which strengthens their already strong defense. If you're looking to take a flier on a non-favorite, then consider the Miami Heat at +900 odds to win the Eastern Conference.
Everyone laughed at the Atlanta Hawks when they traded Luka Doncic to the Dallas Mavericks for Trae Young. But the Mavs have yet to win a playoff series, while the Hawks marched all the way to the Eastern Conference finals and even kept up with the Milwaukee Bucks for six games before an injury to Young led to their elimination.
Hopefuls: Knicks another stellar run?
Brad Stevens joined the front office as the new GM of the Boston Celtics and he quickly churned and burned as many players as he could to help build a stronger team around Jayson Tatum, Jaylen Brown, and Marcus Smart. Kemba Walker, Evan Fournier, and Tristan Thompson are out, but Dennis Schroder, Josh Richardson, and Juancho Hernangomez are now in.
The Chicago Bulls are ready to become a regular playoff participant with a strong core featuring Nikola Vucevic, Zach LaVine, Lonzo Ball, DeMar DeRozan, Patrick Williams, and Coby White.
The New York Knicks shocked everyone last season with a #4 seed, but they weren't prepared for the postseason. They added Kemba Walker and Evan Fournier to provide additional scoring around Julius Randle and RJ Barrett. The Knicks have one of the best second units in the NBA led by Derrick Rose, Immanuel Quickley, Obi Toppin, Alec Burks, and Nerlens Noel.
The Indiana Pacers added Rick Carlisle as their head coach after he bailed from a dysfunctional Dallas Mavericks team. The Pacers are led by All-Star Domantas Sabonis, who is one of my favorite fantasy basketball players. The Pacers have problems with injuries though, including Caris LeVert, Malcolm Brogdon, Myles Turner, and TJ Warren. If they can remain somewhat healthy, then they could pose problems for the upper echelon in the East.
The Charlotte Hornets are always on the cusp of turning the franchise around. Their season will ride or die based on the health of Gordon Hayward. If he's saddled with injuries once again, at least they have one of the most exciting players in the league with the reigning Rookie of the Year LaMelo Ball.
Better luck next year
It's going to be a long season for the bottom third of the Eastern Conference, including the Washington Wizards, Toronto Raptors, Detroit Pistons, Cleveland Cavaliers, and Orlando Magic.
The Wizards traded Russell Westbrook to the Los Angeles Lakers, so they're back to being a one-man show in DC with Bradley Beal.
The Raptors will see what life is like without Kyle Lowry on the team, but they're excited to return to Canada to play home games this year. The Raptors are led by Fred VanVleet, Pascal Siakim, and our favorite NBA player, OG Anunoby.
The Pistons won 20 games in the last two seasons, but they hope #1 pick Cade Cunningham can help them end their losing ways despite missing most of the preseason with a twisted ankle. Keep an eye on Saddiq Bey, who is poised to have a breakout season.
The Cleveland Cavs are finally ready to turn their franchise around after winning 19 games three seasons ago, 19 games two seasons ago, and 22 games last season. Sound familiar? They have a strong backcourt with Collin Sexton and Darius Garland, but are loaded with too many power forwards.
The Orlando Magic might have too many young and talented guards, which sucks unless they play an ultra-small unit with five guards. They added Jalen Suggs in the draft even though they already had Markelle Fultz, Cole Anthony, and Michael Carter-Williams.