The Cincinnati Bearcats are undefeated and hold a notable road win over Notre Dame. But those accolades weren't enough for the College Football Playoff committee to place them in the top four of the initial CFP rankings, jeopardizing Cincinnati's national championship hopes.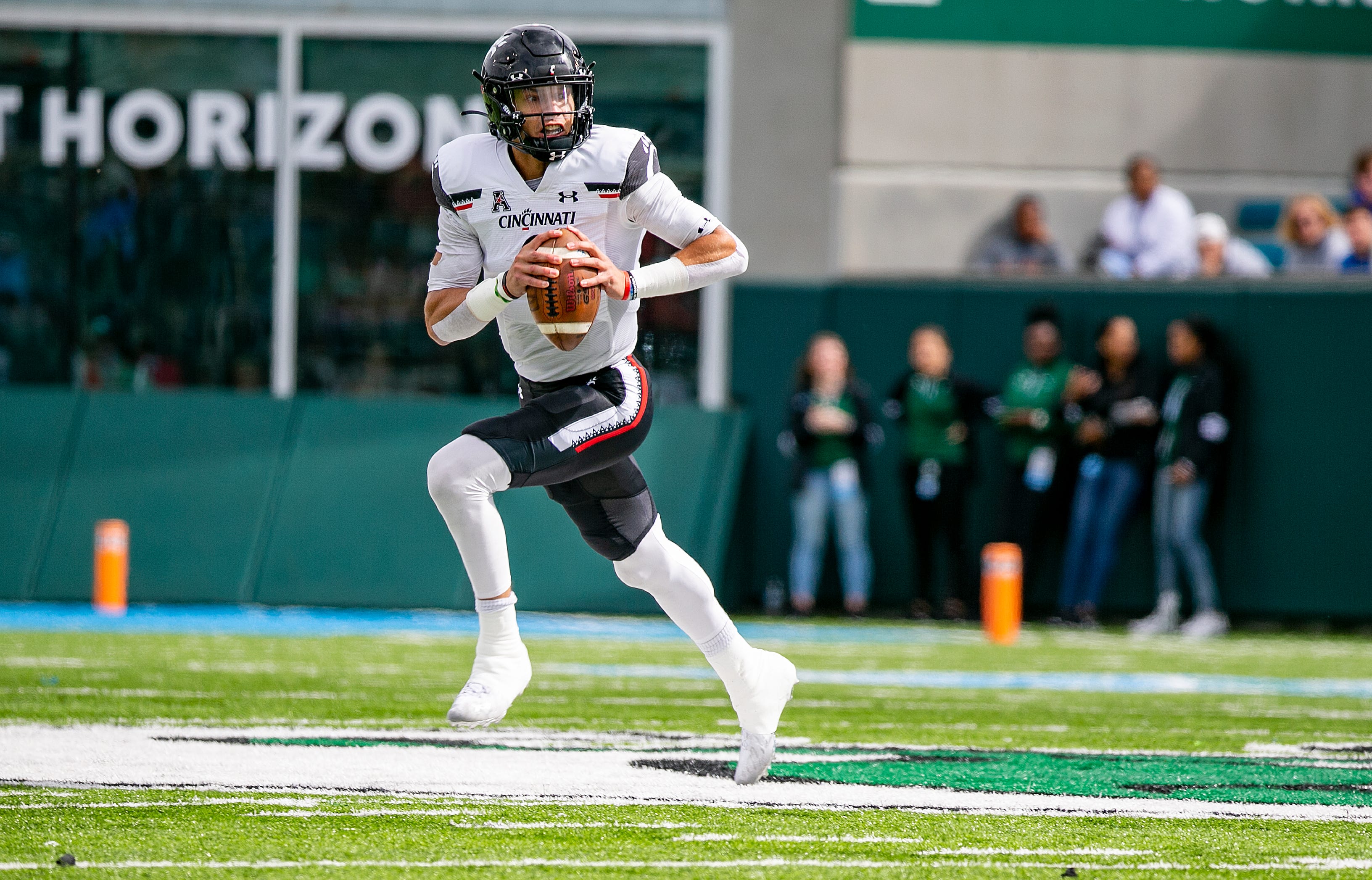 Cincinnati came in at No. 6 on the committee's initial list, which will inevitably change as the season moves forward.
Aresco blasts 'indefensible' rankings
That means Cincinnati holds the highest ranking ever for a Group of 5 team in the CFP list. Only four teams will play for a national championship, and the committee says that if the season ended right now, the Bearcats wouldn't be among them.
"The committee has great respect for Cincinnati. The win at Notre Dame was a really impressive win," committee chairman Gary Barta said during ESPN's rankings release show on Tuesday. "But who else did they beat? Looking at the big picture, we feel six is the right spot for Cincinnati."
American Athletic Conference commissioner Mike Aresco blasted the rankings and Cincinnati's placement.
"These rankings, the more you look at them, they're indefensible," Aresco told ESPN. "I'm disappointed that Cincinnati wasn't ranked higher. Some of the teams ahead of them don't appear to deserve to be ahead of them. The goalposts always seem to move. They have high-quality, non-conference wins, and they've won their games."
Cincinnati sees national championship hopes fade
The news hurt Cincinnati's standing at sportsbooks. FanDuel Sportsbook now has the Bearcats at +5000 to win the national championship. That's still the sixth-best odds on the board, but longer than the +4000 Cincinnati fetched before the news. The Bearcats rank No. 2 in both the AP Poll and the Coaches Poll.
---
College Football Playoff Rankings (Odds via FanDuel Sportsbook)
Record
National Championship Odds
No. 1 Georgia
8-0
-110
No. 2 Alabama
7-1
+350
No. 3 Michigan State
8-0
+8000
No. 4 Oregon
7-1
+3000
No. 5 Ohio State
7-1
+400
No. 6 Cincinnati
8-0
+5000
---
Georgia (-110) claimed the No. 1 spot in the CFP rankings, the same position it holds in both major polls. Alabama (+350) came in at No. 2, followed by Michigan State (+8000), Oregon (+3000), and Ohio State (+400). While the Buckeyes are currently out of the playoff picture, they still have head-to-head matchups with both Michigan State and No. 7 Michigan (+8000). Both games will carry significant playoff implications for those teams.
Oklahoma (+2000), Wake Forest (+10000), and Notre Dame (+20000) round out the top 10.
Cincinnati supporters can point to a number of the teams ahead of them and make cases for jumping up in the CFP rankings. In particular, many point to Alabama and Ohio State as teams coasting on reputation – or perhaps perceived talent – more than their resumes.
Alabama's best win this season was at home over No. 16 Mississippi and it lost to No. 14 Texas A&M. Ohio State's only loss was at home to Oregon, but the Buckeyes have only beaten one team in the CFP top 25 so far, No. 20 Minnesota.
There's still time for Cincinnati to rise in the CFP rankings over the next month. For now, though, it looks like the Bearcats may need teams above them to lose – some of them potentially twice – in order to compete for a national championship this year.