Cincinnati now sits just one spot away from the #1 position on the AP Top 25 Poll after former No. 2 Iowa lost to Purdue on Saturday. Yet oddsmakers still see the Bearcats as a long shot to win the college football national championship this winter.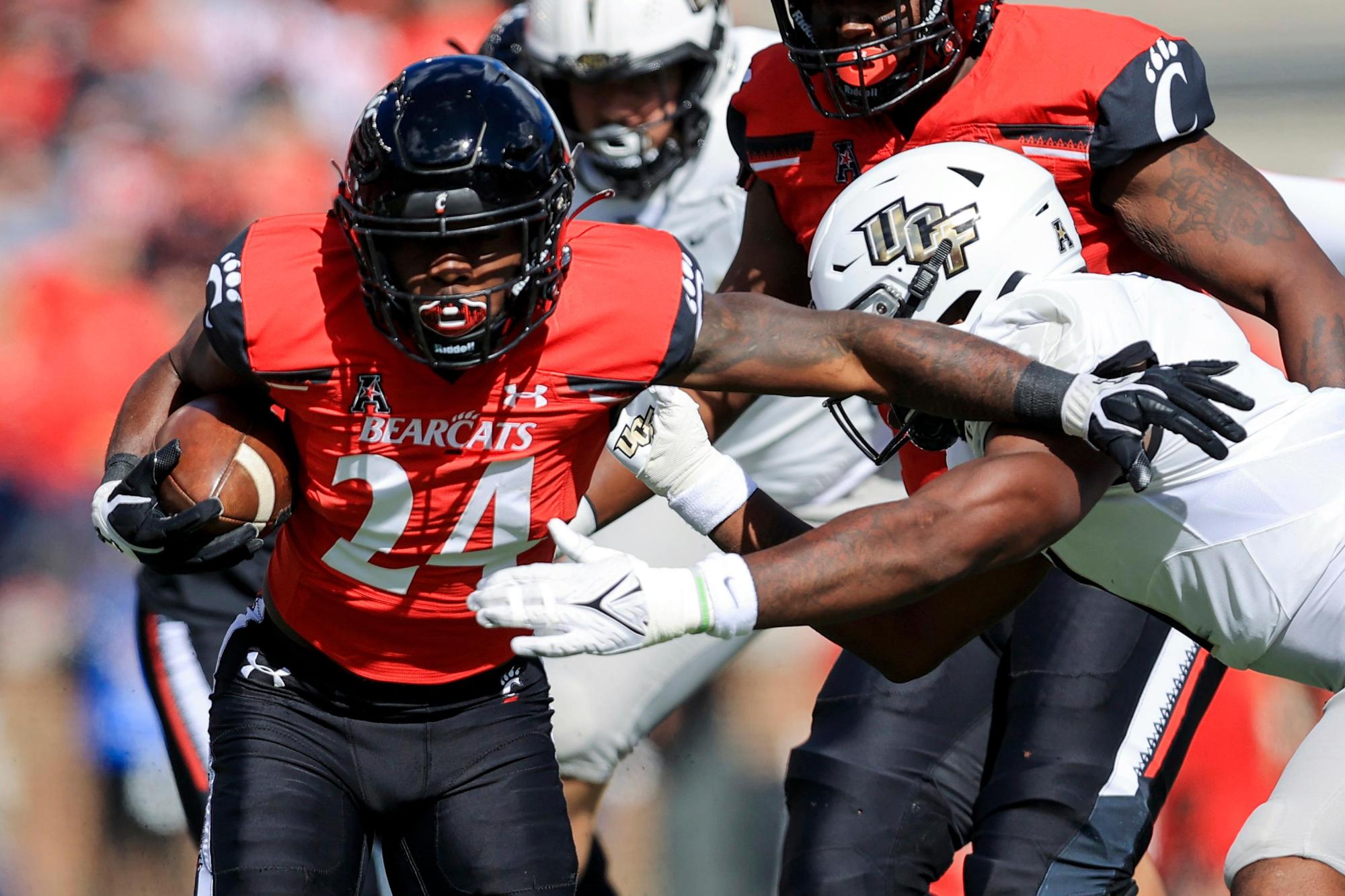 The Bearcats eased past UCF with a dominant 56-21 win on Saturday, further solidifying Cincinnati as the class of the American Athletic Conference.
Bearcats see path to the playoffs
That was enough to move Cincinnati (6-0) up to No. 2 in the AP Poll. The Bearcats didn't earn a single first-place vote, but remained comfortably ahead of No. 3 Oklahoma (3-0) in the latest rankings. Cincinnati has a marquee win over No. 13 Notre Dame (5-1) on its record, which has helped the Bearcats earn more respect than other recent undefeated Group of Five powerhouses.
It's still unclear how the College Football Playoff committee sees Cincinnati. The committee will release its first preliminary rankings on Nov. 2, and it has previously been unkind to mid-major powers looking to fight their way into the playoffs.
The Bearcats may present a strong enough resume to avoid that pitfall. However, oddsmakers aren't putting too much stock into a Cincinnati national championship run just yet. FanDuel Sportsbook rates Cincinnati as a +3000 pick to win the title, making the Bearcats the fifth choice on the board.
Those odds reflect three factors. First, the Bearcats will need to go undefeated – a scenario that is likely, but not entirely guaranteed. Secondly, the College Football Playoff committee must select Cincinnati to make the field of four teams. At the moment, that seems probable if the school runs the table, but once again, isn't quite a sure thing. Finally, Cincinnati would need to win two of the toughest games in school history to claim the national championship.
Georgia, Alabama still top national championship odds
Georgia (7-0) remains at the top of the AP Poll and the national championship odds boards after a dominant 30-13 victory over No. 15 Kentucky (6-1). The Bulldogs have looked the part of the strongest team in college football this year, and rate as the +115 favorite to win a title this year.
---
AP Poll Rankings – Week 8 (Odds via FanDuel Sportsbook)
Record
National Championship Odds
No. 1 Georgia
7-0
+115
No. 2 Cincinnati
6-0
+3000
No. 3 Oklahoma
7-0
+1600
No. 4 Alabama
6-1
+250
No. 5 Ohio State
5-1
+700
No. 6 Michigan
6-0
+5000
No. 7 Penn State
5-1
+15000
No. 8 Oklahoma State
6-0
+6000
No. 9 Michigan State
7-0
+12000
No. 10 Oregon
5-1
+10000
---
Two teams that have already lost a game this year follow Georgia on the board. No. 4 Alabama (6-1) bounced back from its loss to Texas A&M with a sold 49-9 win over Mississippi State. FanDuel lists the Crimson Tide as a +250 second choice, though Alabama will likely have to run the table to make the College Football Playoff – and that could mean beating Georgia in the SEC title game.
No. 5 Ohio State (6-1) must also win out to have any hope of making the College Football Playoff. But sportsbooks have plenty of faith in the Buckeyes should they get that far, with FanDuel giving them +700 odds of winning the national championship this year. Meanwhile, No. 3 Oklahoma (7-0) sits at +1600 to win the title, with other undefeated schools like Michigan (+5000) and Oklahoma State (+6000) further back.