When the Topps MLB NFT market launched earlier this week, Mike Trout cards promised to be the most valuable collectibles on the platform. On Thursday morning, the most exclusive Trout card in the Series 1 set sold for 420,000 WAX, or about $87,600, according to data tracked by CryptoSlam.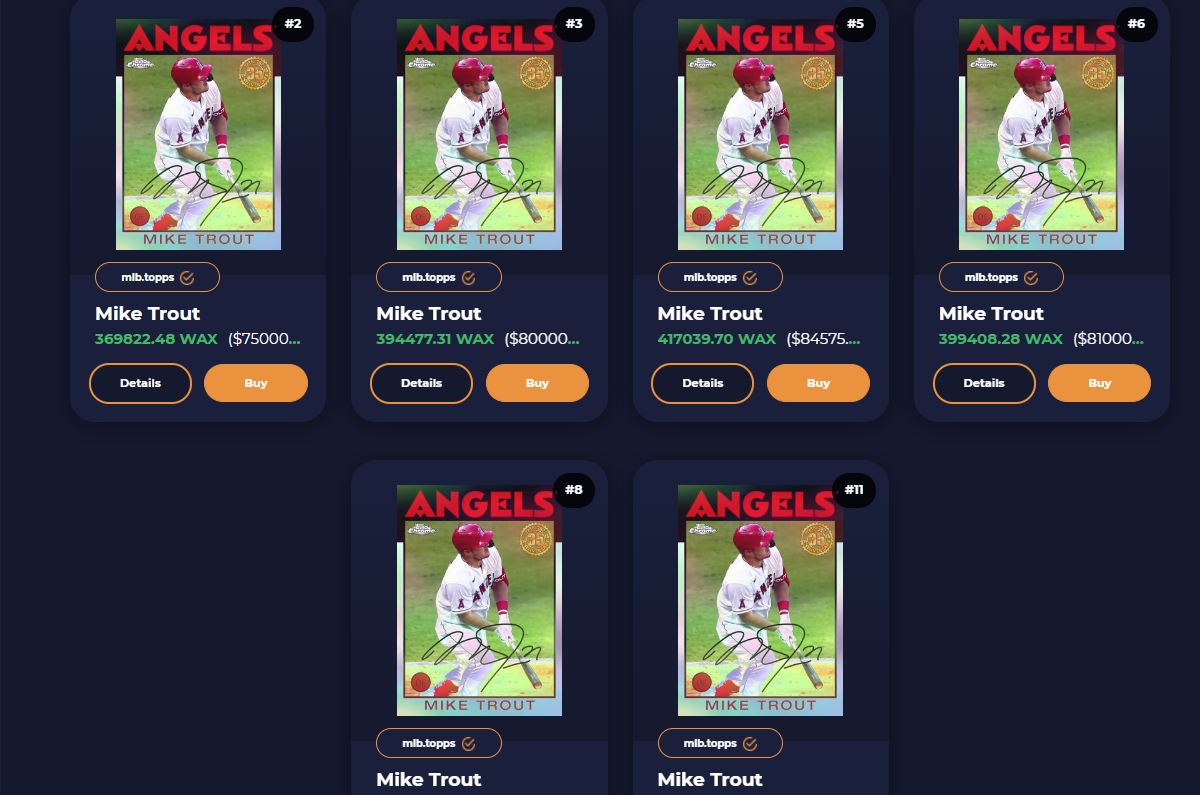 The sale was the first to eclipse the $10,000 mark for a Topps MLB NFT, with at least one more card breaking that total later in the day.
Trout NFT shatters previous record sale
The Trout card in question is a Legendary Exclusive collectible in a retro 1986 Topps border. Only 11 of these cards exist at current, though that number is not necessarily capped as of yet.
Given how new the market is, collectors have had trouble buying and selling these Legendary Exclusive cards, as pricing is highly uncertain. But just after midnight on Thursday, April 22, serial No. 1 of the Trout Legendary Exclusive sold for the record-breaking amount.
---
Top Five Topps MLB NFT Sales (via CryptoSlam, as of 4/22)
Mike Trout Legendary Exclusive No. 1: 420,000 WAX ($87,670)
Alec Bohm Legendary Exclusive No. 1: 50,000 WAX ($10,400)
Clayton Kershaw Opening Day Event Exclusive No. 22: 35,000 WAX ($7,300)
Mike Trout Rare No. 1: 30,000 WAX ($6,100)
Bryce Harper Legendary Exclusive No. 1: 28,000 WAX ($5,700)
---
"Record-breaking" might be an understatement for this sale. Prior to the Trout sale, an Opening Day Exclusive Clayton Kershaw card – minted in his jersey number of 22 – held the record for the largest sale at 35,000 WAX, or about $7,300. A No 1 Alec Bohm Legendary Exclusive has since also beat that mark, selling for 50,000 WAX ($10,400) on Thursday.
Of the top 10 sales of Topps MLB NFT cards so far, Bryce Harper accounts for four, Trout and Bohm for two each, with Kershaw and Jo Adell cards rounding out that group.
Sales picking up after rocky start
The big sales show that there is interest in the Topps MLB NFT product, despite the rocky opening for the product earlier this week. On Tuesday, Topps Digital pushed out its 2021 Series 1 NFT collectibles, offering up 50,000 standard packs and more than 24,000 premium packs to prospective buyers.
As if we didn't already know @MikeTrout was a complete stud! This Mike Trout 1986 Anniversary Chrome Facsimile Signature #NFT sold for over $87,000 and is only 1 of 11! To see how other collectibles from Series 1 are moving check out @cryptoslamio: https://t.co/jfUMtWHD65 pic.twitter.com/IQpmtjE5rv

— Topps Digital (@ToppsDigital) April 22, 2021
Collectors flooded to the offering, and the site seemingly couldn't handle the traffic. Buyers ran into errors, apparent purchases, and chargebacks, leading to massive frustration for many who wanted to invest in the new product.
The 29-year-old Trout has established himself as the consensus best player in baseball, with many observers believing he will go down as one of the greatest players in the game's history. He's won three American League MVP awards in his career and played in eight All-Star Games. So far in 2021, Trout is hitting .393 with six home runs in his first 16 games.