Leo Messi (33) told those around him that he's going to extend his stay at Camp Nou until 2023.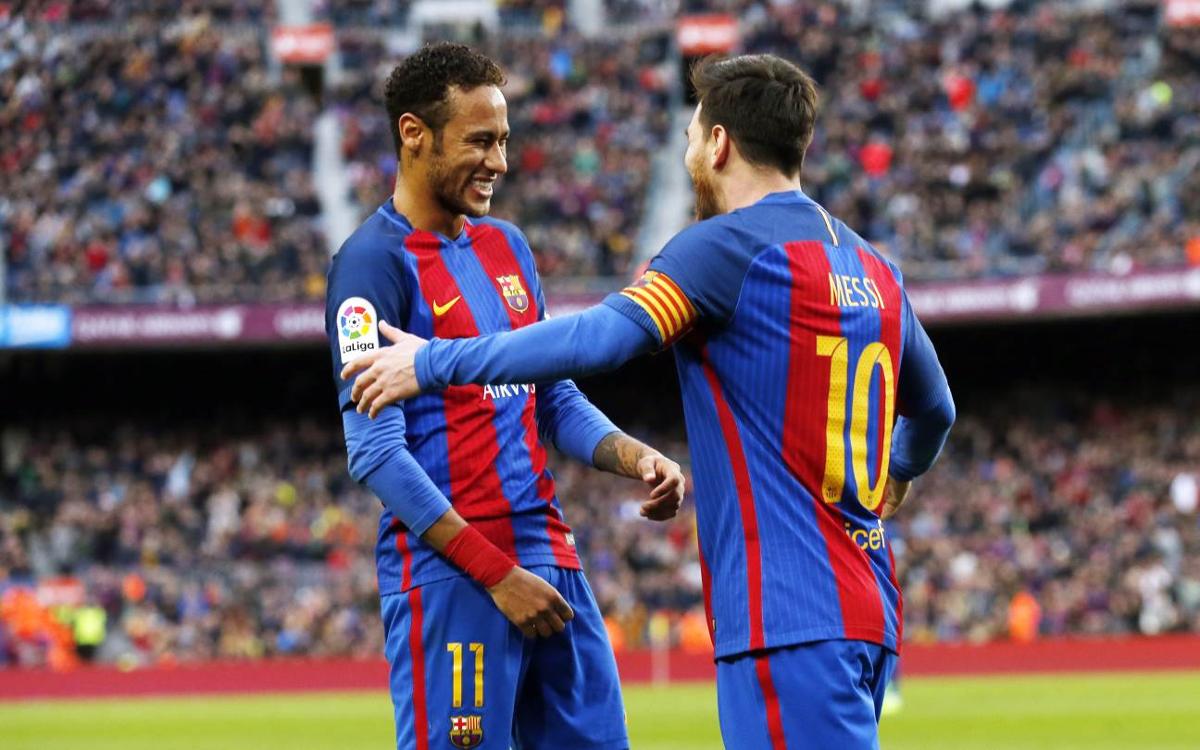 Messi asked his father to keep in contact with the club's hierarchy while he focuses on helping the team win La Liga this season. Messi (33) had offers from Manchester City and PSG on the table, but put both big spenders on hold as he's convinced his immediate future lies with Barcelona.
The difficult relationship he had with former Barcelona president Bartomeu and the lack of perspective he saw in the club's strategy took Messi one step away from leaving in 2020. A change of fortunes in the team's results and the election of Joan Laporta as Barca's new president put a smile back on Messi's face, however. According to ESPN Argentina, Messi will stay for two more years at Camp Nou.
Messi wants Neymar next to him and the feeling is mutual
The same source points out that Messi is trying to push Barca into re-signing Neymar. The Brazilian is out of contract at PSG in 2022, so he could be bought this summer at a much lower price than his real market value.
Neymar (29) has made no secret of his desire to play with Messi again. The South-American superstar was acquired by PSG in 2017 after his $267 million release clause at Barcelona was triggered. Four years on, Neymar's transfer is still the biggest ever made in football. Financially, there's a "before and after" era concerning Neymar's galactic move. Prices went up to an unprecedented level, with just the pandemic taking them back to some sort of decency.
Although PSG made a substantial financial effort to sign Neymar, the relationship between him and the club was complicated in its first two years. Rumors regarding his discontent started quickly, with agents and friends linking him with a fast move back to the Spanish La Liga, though not to Barcelona. Neymar first held talks with Real Madrid around a move that didn't happen.
The 2019-2020 season marked a return to normality in the relationship between Neymar and PSG. There were strong signs that he was ready to extend his $44 million per year contract; rumors that the club's hierarchy and Neymar himself encouraged.
"There will be news that I think will make us all happy very soon," PSG sports director Leonardo told the media last month when asked about the contract extensions for Mbappe and Neymar, who are both out of their deals in 2022.
Just how possible is a Messi – Neymar reunion?
Once it became obvious that Messi is considering extending his stay at Barcelona, Neymar himself started feeling nostalgic. His wish to play with Messi and to win the Champions League with the Catalonian giants is so great, that Neymar put all negotiations with PSG on a break for the time being. His agents' strategy seems to indicate that he'll wait until the summer to make a firm decision on his future, as he hopes Messi will persuade president Laporta to bring him back to Camp Nou, where he believes he has unfinished business.
Messi is at -500 to stay at Barcelona, with a move to City now at +200 and a transfer to PSG at +500. If Neymar is to move, Barcelona is clearly his top option, at +200. Real Madrid is surprisingly close, at +300, and Manchester City comes next at +600.
Messi, Neymar, and Luis Suarez have been a terrific offensive force at Barcelona, and a hard-to-break trio off of the pitch. The three forwards enjoyed quality time on and off the playing field, with their families all being close friends. With Suarez gone to Atletico in 2020, Messi hopes to have Brazilian friend Neymar as a regular guest at his family's barbecues as soon as possible.