Messi changed his mind on leaving FC Barcelona and has informed president Joan Laporta that he intends to extend his contract. He asks for signings that would strengthen the team and put it back on the Champions League favorites' plate.
Leo Messi runs out of contract at Camp Nou in 60 days. At this point, he could leave for free at the end of the season, if he wanted to. But his situation is 180% opposite to what it was nine months ago. Back then, Messi was unhappy with the hierarchy, the structure of the club, and the way it was run. The projection of his future in the Barcelona shirt was blurry. Things changed once Laporta got elected president in March and Messi, now 33, seems to have forgotten about his plans to break one of the most profound relationships in world football, that between him and FC Barcelona.
At the end of August last year, the six-time 'Ballon d'Or' winner asked Barcelona by fax to allow him to move on. Former president Bartomeu didn't accept Messi triggering his termination clause, which is valid before the end of each season. He threatened with a long legal battle, which Messi, for the sake of the club he loves, was not willing to take. There were talks with Manchester City and PSG, but only at an informal level, as Bartomeu insisted that any club which wants to sign Messi must pay his enormous release clause of $840 million in full.
Messi is ready to lower his salary but asks for firm commitments
Leo changed his mood on the rhythm Barcelona changed its fortunes throughout the campaign. The dismal start to the season was followed by a consistent string of games which brought Barca back to their usual status of La Liga contenders. The Catalan giants won the Cup and are well-placed in the fight for the league, with five games left to play.
Messi feels the good vibe in the team and wants to be part of this transformation. More than anything, though, he wants to leave Barca in the light, and not in a hollow
According to Spanish national TV station TVE, Messi informed Barcelona he's ready to sign an extension. His position is clear. Messi understands the financial troubles at the club and is ready to lower his salary. But asks for a commitment from the club's bosses that certain transfers will be made. Messi wants Barcelona to play in the final stages of the Champions League again, after quick exits in the past two years. Leo's father, Jorge, who also acts as his agent, has met Laporta to send his son's message.
Messi is currently on a $168.5 million per season contract before tax. The sum includes image rights but excludes some bonuses which could get the financial deal much higher. The financial details of his relationship with Barcelona were revealed by Spanish paper El Mundo, in a leak which caused havoc in world football.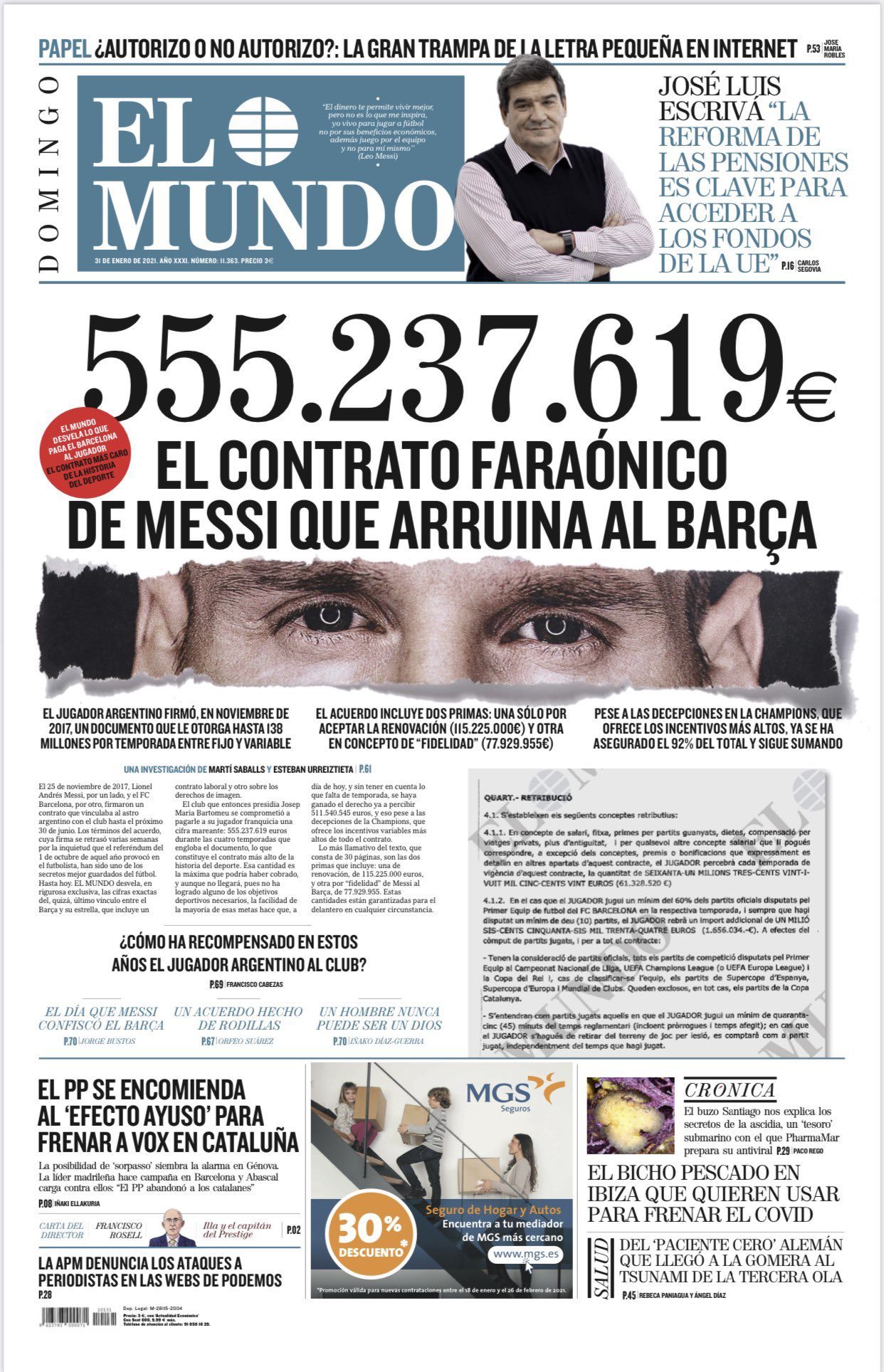 How good was Messi for Barcelona this season?
Since the start of 2021, Messi scored 24 goals in 25 games, more than every professional player in the world. Bayern's Lewandowski (23), PSG's Mbappe (23), and Dortmund's Haaland (20) are behind him. Barcelona's performances this year were empowered by Messi's fantastic run of form. Apart from his goals, Messi also contributed with nine assists. He is averaging 0.96 goals per game in 2021.
Talking about the goals Leo has scored in 2021 – many of them were special. The Argentinean put five balls into the net from outside the box, also scoring two wonderful free-kicks. Messi scored 23 goals with his left foot, one with his right, but none with his head. This season alone, Messi has a total of 34 goals in 43 games for Barcelona. His career numbers are inhumane: 668 goals in 774 games to date in a Barca shirt.
The bookies have Messi at -333 to stay at Barcelona, with City at +200 and a move to any club in the MLS at +900.
In the race for the 2021 'Ballon d'Or', Messi is behind Mbappe in the virtual race. Barcelona's star is at +370, with the French diamond at +330. Lewandowski is at +400, with Ronaldo at +800, Haaland at +900, and Bruno Fernandes at +1000.
💪🔵🔴 pic.twitter.com/G7hnHzCfrV

— FC Barcelona (@FCBarcelona) April 25, 2021