In the latest NBA rumor involving Melo, the Brooklyn Nets are linked with Carmelo Anthony, who has been without a team ever since the Houston Rockets ended the Melo Experiment after only 10 games.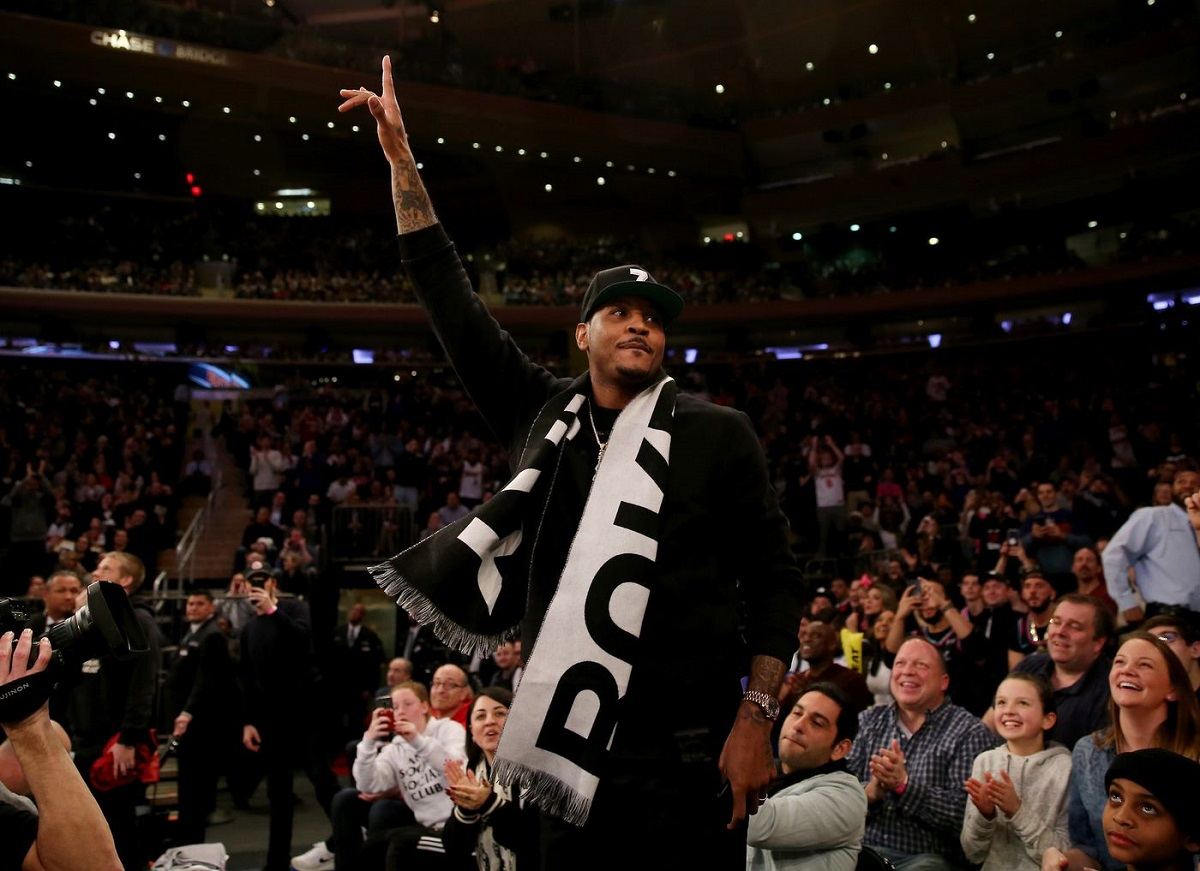 The Brooklyn Nets are on the upswing ever since they added free agents Kevin Durant and Kyrie Irving. Both KD and Irving snubbed the Knicks in favor of the Nets. But will adding Melo to the mix help or hurt the Nets chances at an NBA title? Or is the Melo to Nets just another rumor in the long list of Melo rumors?
Most recently, Melo and the LA Lakers were linked. LeBron James and Melo are supposedly tight friends. However, even though they are BFFs, LBJ didn't invite Melo to be one of his minions. On the surface, it's a money thing because the Lakers payroll ballooned out of whack with the addition of Anthony Davis. But below the surface, LBJ knows that Melo's best days are behind him. Melo lacks a consistent spot-up jumper to hold his mud in the modern NBA.
Things got so bad for Melo that Coach Pops didn't want him to join a super-thin and inexperienced Team USA during the FIBA World Cup. Melo had been one of the key members of Team USA in the past, but even all his good Olympic juju couldn't garner him an invite to Team USA, or even Team USA Select.
Melo Fizzle
Once Melo left the New York Knicks, it was all downhill. Overall, Melo's career numbers are very impressive with 24 points, 6.5 rebounds, and 3 assists per game. The only time he scored under 20-points per game occurred when he tried to become a role player.
In his lone season in OKC, Melo only averaged 16.2 points per game behind Russell Westbrook. Melo barely played in the playoffs due to his lack of defense and underwhelming perimeter shooting. Melo lasted only 10 games in Houston. He averaged a very-un-Melo-like 13.4 points per game with the Rockets.
Melo once averaged 29 points per game with the Denver Nuggets back in the mid-2000s. During Peak Melo in NYC, he lit up the Garden for nearly 29 points per game in 2012-13. One of the greatest ISO-players, he couldn't be stopped until the game changed and Melo found himself unable to adapt in an era of increased scoring.
Did Melo become a dinosaur or did he get blackballed? Vince Carter is still playing in the NBA at age 42. The Atlanta Hawks brought in Carter to help mentor young guard Trae Young and provide overall veteran leadership in the locker room. If Melo is blackballed, then it's just a silly rumor about a return to NYC with the Brooklyn Nets.
Melo is best off playing with a team that wants to tank for next season. That way, he can score 30 points per game and not play defense, and no one would care. What are the Phoenix Suns or Charlotte Hornets up to these days?