The Baylor Bears are one victory away from winning their first-ever March Madness men's college basketball championship, but face a tough challenge against the undefeated Gonzaga Bulldogs.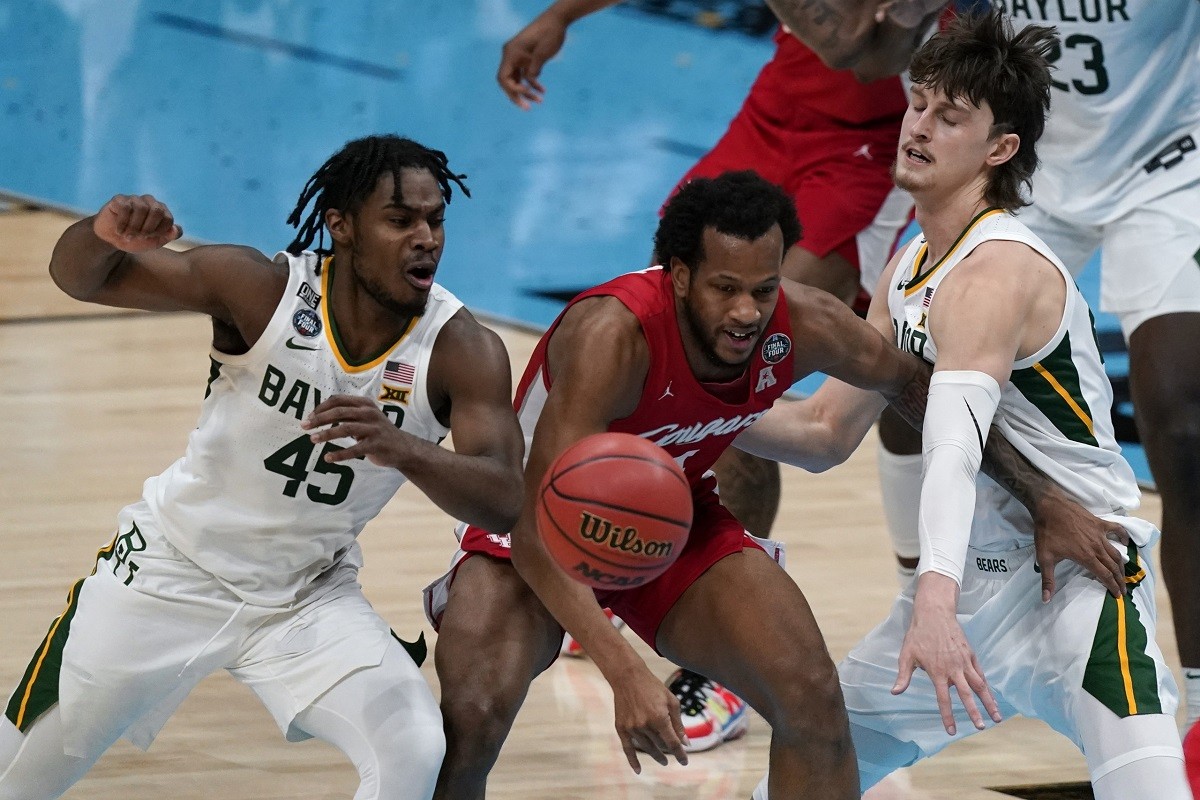 Baylor won every March Madness game this year by double digits, and didn't break a sweat in their Final Four matchup against #2 Houston. In a battle of two Texas schools, Baylor easily won their showdown at high noon. Houston fell behind by double digits early on thanks to stellar defense from Baylor, and clutch sharpshooting from the Bears.
---
#1 Baylor Bears (27-2) at #1 Gonzaga Bulldogs (31-0)
Tip-off: 6:20 pm PT on CBS
Point Spread: GON -4.5
Total: 159.5 o/u
Money Line: GON -200 / BAY +175
---
Oddsmakers pegged Gonzaga as the consensus favorite in the championship game against Baylor. The line in the March Madness final is currently +4.5, with early money backing Baylor; the line opened at +5.
Baylor is 4-1 ATS in March Madness, but they covered their last four games in a row. Overall this season, Baylor posted an 18-11 ATS record.
The Westgate SuperBook in Las Vegas listed Baylor at +250 odds to win the championship at the start of the Final Four. Baylor was the second favorite on the futures board, ahead of Houston and UCLA.
Inevitable Showdown: Baylor and Gonzaga
For the last two seasons, college basketball fans anticipated a showdown between Baylor and Gonzaga to vie for the March Madness championship. Last season, the two were among the top teams in the nation before the pandemic shuttered and canceled 2020 March Madness. This season, both programs picked up where they left off and headed into 2021 March Madness as #1 seeds.
Baylor started the season 18-0 before they finally lost a Big-12 conference game after a two-week pause to contain a COVID-19 breakout. Heading into the start of March Madness, Baylor was ranked #3 overall in the nation behind #2 Illinois and #1 Gonzaga. All three were awarded #1 seeds along with Michigan.
By the time the Final Four rolled around, Gonzaga and Baylor were the only #1 seeds remaining after Michigan was upset by #11 UCLA in the Elite 8, and Illinois fell by the wayside after a second-round upset by #8 Loyola Chicago.
Neither Baylor nor Gonzaga have won a college basketball championship before, so we'll have a first-time March Madness champion this evening.
Baylor had a prominent college hoops program shortly after WWII when the Bears advanced to March Madness twice in 1948 and 1950. In the 1948 March Madness championship game, Kentucky defeated Baylor.
Sic'em Bears
When you think college basketball in Waco, Kim Mulkey comes to mind. Since 2005, Mulkey and the Lady Bears won three women's championships, with her last one occurring in 2019. Under Mulkey, Baylor has become one of the most prominent programs in women's college basketball over the last two decades.
Now, Scott Drew has a chance to put Baylor men's basketball on the map. Under Drew, Baylor secured their first trip to the Final Four in 71 years.
Drew has a pretty simple game plan for Baylor: slow down Gonzaga and hit your treys.
No one shot treys better than Baylor this season; they're the top sharpshooting team in the country at 40.1%. They averaged 82.8 ppg this season and ranked #11 overall in offense.
Baylor also has a stellar defense and quick guards who can defend the 3-pointer. The Bears allow only 65.3 ppg this season. In the tournament, they held three teams under 59 points. Overall, Baylor's defense allowed only 60 ppg in March Madness. Baylor's D will be tested against the second-best offense in the nation. Gonzaga's high-octane offense cranks out 91.6 ppg this season, and averaged 89.2 ppg in March Madness.
In the first two rounds, Baylor won easy matchups against #16 Hartford and #9 Wisconsin. In the Sweet 16, Baylor knocked off #5 Villanova by 11 points. In the Elite 8, Baylor defeated #3 Arkansas by 11 points.
Experts thought #2 Houston's stifling defense would pose problems for Baylor, but the opposite happened. Houston struggled to find good looks against Baylor's smothering defense. Baylor won by 19 points, but the way the Bears mauled Houston, it felt more like an early-round matchup and not a Final Four game.
Baylor's Triple-Guards and Mullet Guy
Against Houston, Jared Butler finally broke out of his shooting funk. He shot 4-for-5 from 3-point range and led Baylor with 17 points. The Bears need a solid performance from Butler if they expect to knock off Gonzaga. He'll also be tasked with slowing down Gonzaga's Jalen Suggs.
Butler (16.6 ppg) makes up one-third of Baylor's triple-guard attack along with MaCaio Teague (15.8 ppg) and Davion Mitchell (14.1 ppg).
Teague is a senior and the team's emotional leader. After a sensational game against Arkansas with 22 points, Teague had an off night against Houston in the Final Four.
The high-energy Mitchell is the guy who finds the hot shooter. He dished 11 assists in the victory over Houston on Saturday.
Matthew Mayer (8.3 ppg) emerged as Baylor's top reserve in the tournament. Mayer, a huge fan favorite and cult hero from Austin, rocks a cheesy mustache and mullet, which appeals to the "Keep Austin Weird" mantra. Don't let the mullet fool you, Mayer can hoop it up. He provides Baylor with an offensive lift off the bench. With Butler slumping in the tournament, Mayer stepped up with a couple of big games.