The shirt worn by Diego Maradona in the match against England at the 1986 World Cup is up for sale. Auctioneer Sotheby's says the jersey could end up costing more than $5.2 million. The auction opens on April 20.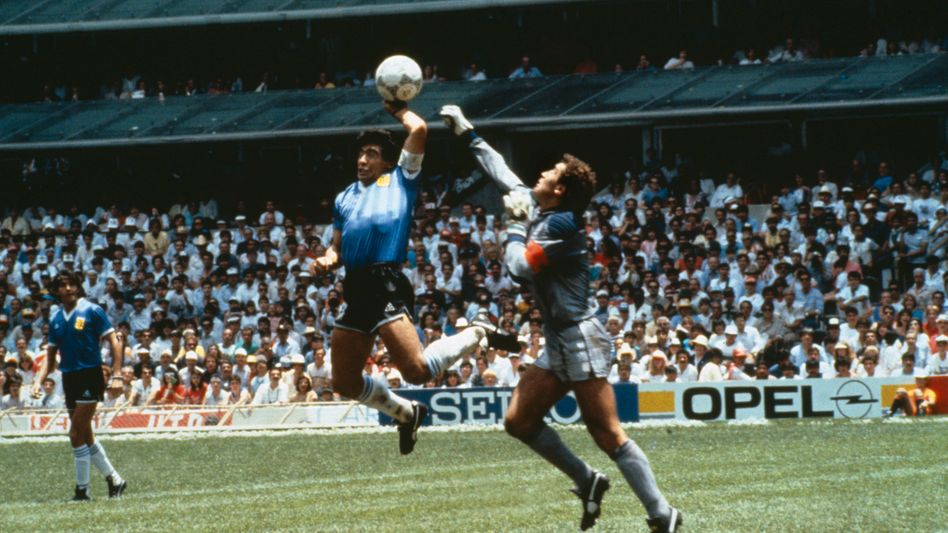 Brahm Wachter, the head of streetwear and modern collectibles at Sotheby's, described the shirt as being "on a small list of the most important sports memorabilia items in the world." Wachter said he will "never get to handle anything this good again." He regards Maradona's illegal goal, which finally stood after not being spotted by any of the match officials, as an "iconic moment in the history of sports".
What happened to the shirt after the game?
In the World Cup quarterfinal clash in Mexico City, Maradona scored both of Argentina's goals in a dramatic 2-1 win in front of England. Diego's first was ruled a header, despite the ball clearly touching his fist before bouncing into the net.
Asked for comment after the game, Maradona said the goal was scored "a little with the head of Maradona, and a little with the hand of God."
The Argentinian star's second goal won global acclaim. Maradona dribbled past opponents before beating English goalkeeper Peter Shilton to put Argentina through. Maradona's unstoppable sprint toward the goal, followed by his neat finish, was voted goal of the century in a FIFA poll in 2002.
After the match, Maradona swapped shirts with Steve Hodge. The former England midfielder kept the shirt and loaned it to England's National Football Museum in Manchester until now. Hodge decided to cash out, saying he felt "that the time is just right" to sell.
Could Maradona set a new record?
Maradona died in November 2020, just days after going through brain surgery. He was 60.
When sold, his shirt from the Argentina vs England match in 1986 could beat the record for a piece of sportswear, which is currently held by Babe Ruth's New York Yankees jersey at $5.64 million. The manifesto that launched the modern Olympic movement keeps being the most expensive sports item ever bought at $8.8 million. Maradona's shirt will be on display at Sotheby's showroom in London from April 20 to May 4.
Ahead of the 1986 tournament, Argentina was the second-favorite to triumph in the eyes of the bookies, only behind South-American arch-rivals Brazil at +200. Argentina was ahead of Uruguay at +500 and host-nation Mexico at +900.
1986 was Argentina's last World Cup title. Leo Messi is desperate to win his nation a gold medal in his [probably] final World Cup appearance. According to the odds published after the World Cup group stage draw last week, Argentina (+400) is now the fifth favorite to win Qatar 2022 behind Brazil (+250), France (+275), England (+300), and Spain (+350).