Diego Maradona died on 25 November, aged 60.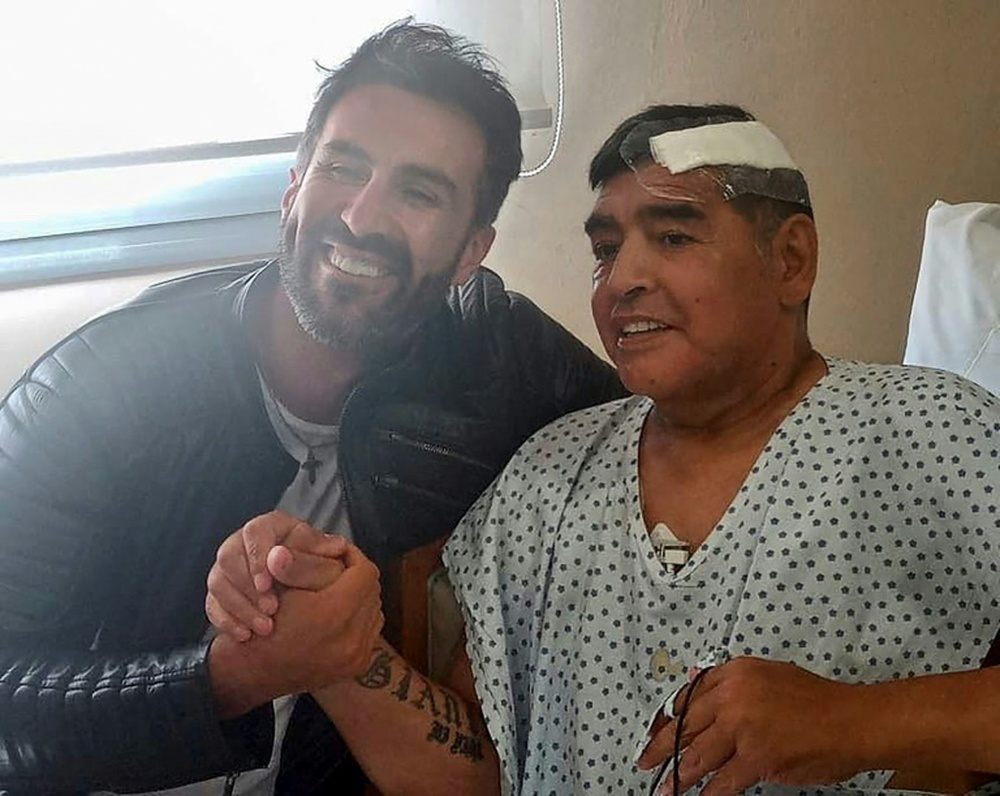 Maradona, who was one of football's greatest icons, battled addiction and bad health for years. At the beginning of November 2020, the Argentinian superstar was admitted to the hospital. Doctors said he was suffering from anemia and dehydration, but later found a brain blood clot that needed to be removed as soon as possible. Maradona was transferred to a clinic in La Plata, where he was operated on by his personal doctor, Leopoldo Luque, who is a neurosurgeon.
With recovery going well and even exceeding the doctors' predictions, Maradona insisted on leaving the hospital early. He had a house rented for him close to the Olivos clinic, where he underwent surgery. The idea behind the plan was to put Maradona in a safe environment and at the same time make sure he's under permanent medical surveillance.
His death came just 12 days after being released from the hospital.
What went wrong?
According to witnesses, Maradona performed his daily routine on the morning of 25 November. Then, he went to his room to rest, only to be found unconscious by a nurse hours later. Several ambulances made it to the scene, but there was no way Maradona's life could be saved. Days of mourning followed and, after his burial, hundreds of questions regarding his actual condition remained unanswered. The official cause of death was 'an acute pulmonary edema secondary to exacerbated chronic heart failure with dilated cardiomyopathy', basically an accumulation of fluid in the lungs, caused by congestive heart failure.
In March, the Justice Ministry in Argentina appointed a medical board to check if Maradona was taken care of in a professional manner. And the findings contradict everything that was known so far, including the statements made by those taking care of him in his final days.
"The action of the health team in charge of treating DAM [Diego Armando Maradona] was inadequate, deficient and reckless," the report dated April 30 noted, according to Reuters. The following details in the report are shocking.
"He presented unequivocal signs of a prolonged agonizing period, so we conclude that the patient was not properly monitored from 00:30 on 11/25/2020," the document reveals.
Maradona's doctor, investigated for involuntary manslaughter
Maradona's family accused doctor Luque and his team of negligence right after 'D10S', as Diego was nicknamed, passed away. Luque was investigated for involuntary manslaughter in connection to Maradona's death, with raids at his house and his clinic. The doctor defended himself in front of the prosecutors, then organized a press conference where, between tears, presented his version of the events. "If I'm guilty of something, then I'm guilty of taking care of Diego, of loving him, and of doing the best I could to serve him," Luque sighed.
Sources inside the medical team tried to make Maradona look like a very tough-to-handle patient. There were even unconfirmed rumors that between Luque and Maradona a physical conflict arose, which ended with the medic being pushed out on the front door of the house rented for Diego.
A close friend of Maradona's said the football god fell from his bed and injured his head just days before his death, but nobody performed any tests to check his condition. The same source compared Luque to "a five-year-old driving the most expensive Ferrari and destroying it."
Maradona was one of the best players in the history of football, having won the World Cup with Argentina (1986), the leagues in Italy -with Napoli, and in his home country – with Boca Juniors. Maradona also played for FC Barcelona between 1982 and 1984. He won the 'Ballon d'Or' for his service to football in 1995. Throughout the years, Maradona fought cocaine and alcohol addictions. The autopsy performed after his death showed no sign of either in his body.