World Chess Champion Magnus Carlsen barely avoided disaster on Tuesday, winning his final round-robin game to secure one of the eight quarterfinal slots in the FTX Crypto Cup.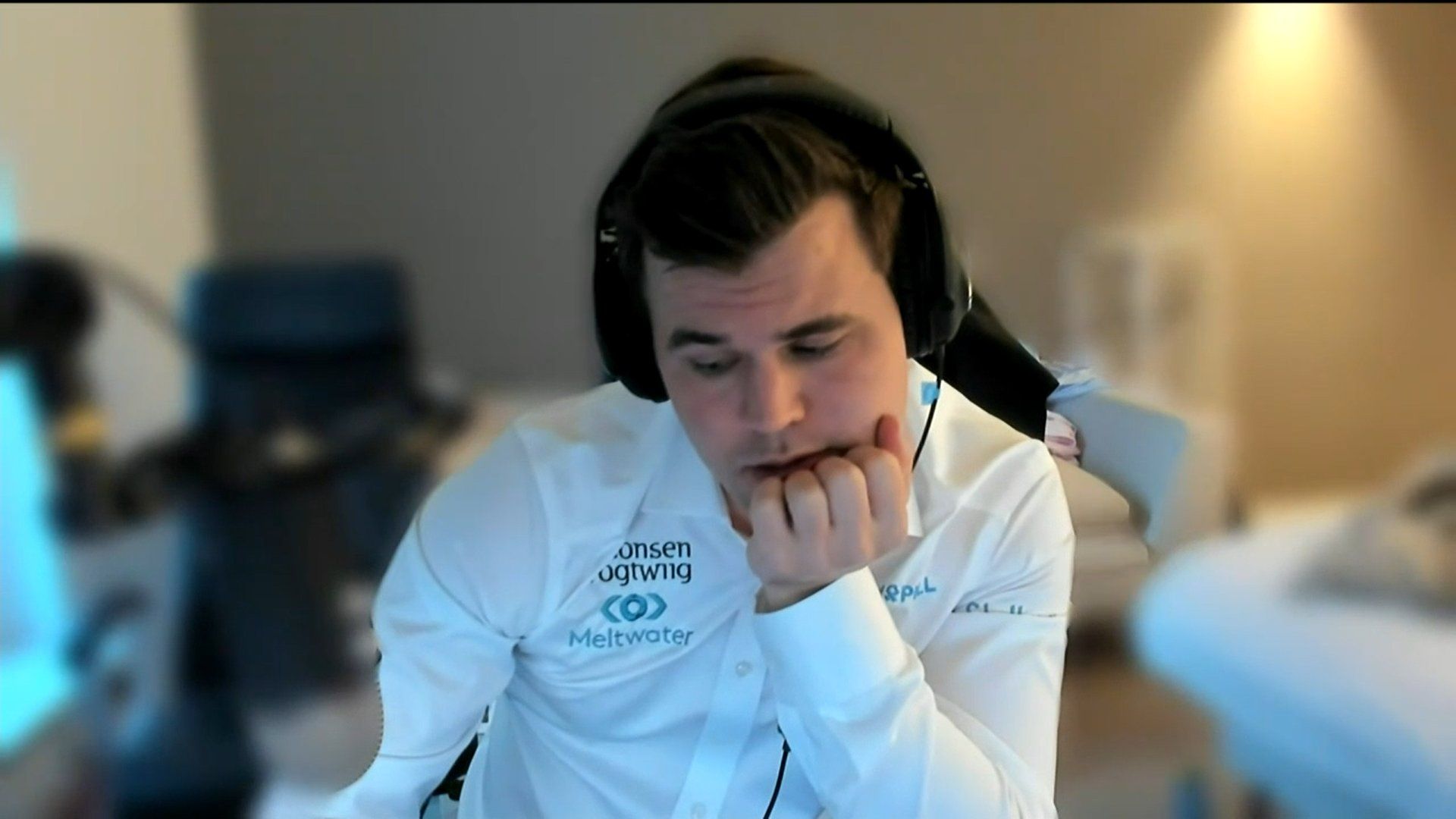 Carlsen ended the preliminary stage with 8.5 points after 15 rounds, securing the No. 6 seed heading into the quarterfinals.
Carlsen relieved to reach knockout stage
By his standards, Carlsen struggled during the first two days of the FTX Crypto Cup. He started off with an even score on Day 1, then put up a modest score on Day 2, securing three points to move to 5.5/10. That left the Norwegian in ninth place and outside of the knockout rounds.
Carlsen started Day 3 with four straight draws, keeping him in contention, but still on the bubble for advancement. Finally, he scored a critical win with White against Teimour Radjabov to secure his quarterfinal spot.
"Obviously it's a massive relief," Carlsen said afterward.
By making the quarterfinals, Carlsen booked a date with his chief speed chess rival, Hikaru Nakamura. The American finished with the No. 3 seed to set up a rematch of the New in Chess Classic final – not to mention the last round of numerous other online events. Unibet posted Carlsen as a -200 favorite over Nakamura (+140) in their quarterfinal match.
Nakamura was one of four players who finished a full point back of American Fabiano Caruana, who led the Crypto Cup preliminaries with a 10/15 score. Caruana shined in his first Champions Chess Tour event, winning six games against just one loss to show he can compete with the best in online chess.
An excellent score by @FabianoCaruana in his @Meltwater Champions Chess Tour debut, and the American wins the #FTXCryptoCup preliminaries a full point ahead of @anishgiri, @GMHikaru, @Vachier_Lagrave & Wesley So on 9 points! #ChessChamps pic.twitter.com/EEdKm9VvwV

— Champions Chess Tour (@ChampChessTour) May 25, 2021
"After the first day it went as well as I could possibly have hoped for," Caruana said after Tuesday's play. "I was a bit nervous that my form wasn't good on the second day. I was concerned. But after that, it all went very smoothly, and also today it all went very smoothly."
Challengers Clash in FTX Crypto Cup Quarterfinals
The top-seeded Caruana is a former world championship challenger. In the quarterfinals, he'll take on Ian Nepomniachtchi, who will challenge for Carlsen's title this year. Nepomniachtchi grabbed the number eight seed on tiebreaks over Levon Aronian. Caruana comes into their quarterfinal as a -134 favorite over Nepomniachtchi (-106).
The other two FTX Crypto Cup quarterfinal matchups see Anish Giri (-139) taking on Radjabov (+100), while Wesley So (-167) faces Maxime Vachier-Lagrave (+120).
---
FTX Crypto Cup Odds – To Win Tournament (via Unibet)
Magnus Carlsen: +100
Wesley So: +600
Anish Giri: +700
Hikaru Nakamura: +800
Fabiano Caruana: +900
Teimour Radjabov: +900
Ian Nepomniachtchi: +1100
Maxime Vachier-Lagrave: +1100
---
The Crypto Cup features a unique prize pool that combines $220,000 in cash with 2.1825 Bitcoin. While Bitcoin is among the many major cryptocurrencies that has dropped in price over the past two weeks, it has rebounded a bit since the tournament began. As of Tuesday night, the Bitcoin portion of the prize fund is worth approximately $86,000.
Carlsen remains the +100 favorite to win the FTX Crypto Cup, ahead of So (+600), Giri (+700), and Nakamura (+800).