World Chess Champion Magnus Carlsen spurred the growth of elite online chess tournaments during the pandemic when he lent his name to the Magnus Carlsen Invitational last April. Now, the second edition of that event begins on Saturday, this time as a major on the Champions Chess Tour.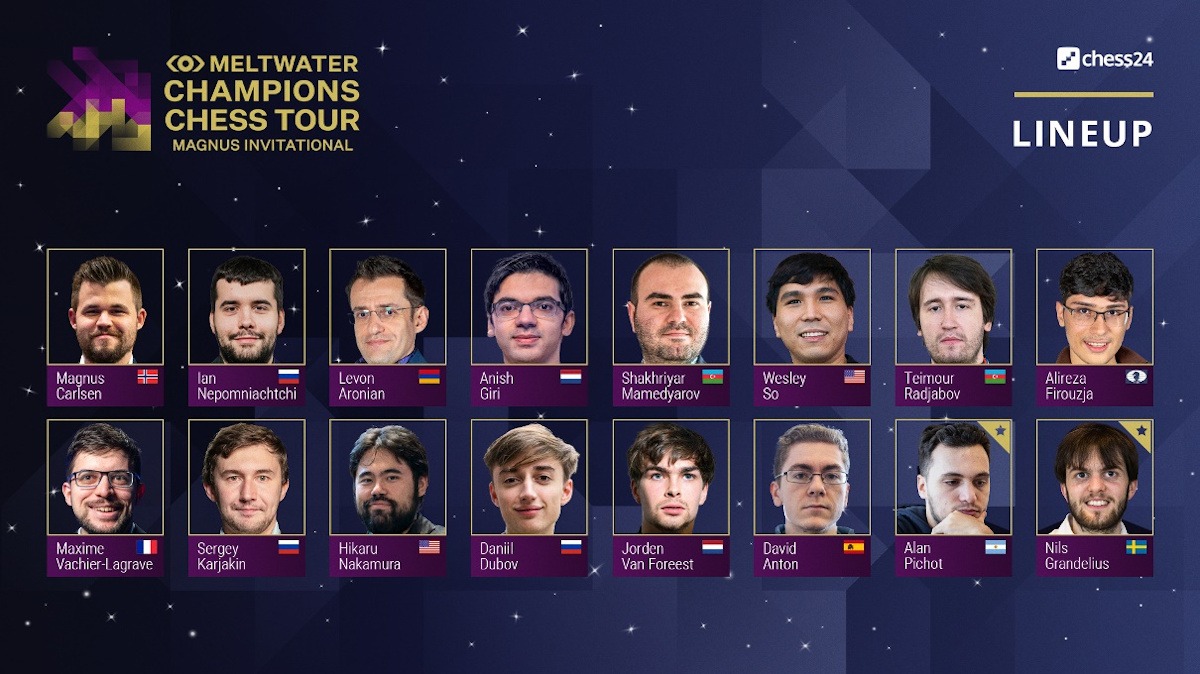 Carlsen comes into the Magnus Carlsen Invitational as the favorite to win his first tour title this season, though his odds have been lengthening as he's struggled in recent events.
So thwarts Carlsen in two finals
Struggling is a relative term for the World Champion, who still sits third in the Champions Chess Tour standings. He's made the final of two of the first three events, losing to Wesley So on both occasions.
Who is excited about #MagnusInvitational, presented by Breakthrough Initiatives and Breakthrough Junior Challenge? #ChessChamps #ChessinSpace https://t.co/eqhmr4g3Py pic.twitter.com/MHezbExzdJ

— Champions Chess Tour (@ChampChessTour) March 11, 2021
That's been enough for sportsbooks to offer a little more to bettors who want to back Carlsen. The World Champion enters as a +135 pick to win the Magnus Carlsen Invitational, according to Unibet, with So (+500) solidly positioned as the second choice.
Organizers have made a notable change when compared to the first major on tour. Only 12 players qualified for the Airthings Masters, though eight still made the quarterfinals. That created an incentive for everyone to play conservatively, since a .500 score would almost certainly be sufficient to go through to the knockout rounds.
This time, the Magnus Carlsen Invitational field has expanded to 16 competitors, including the top eight players on tour along with a handful of invited guests. Two players also reached the field through a qualifier tournament, with Argentina's Alan Pichot and Sweden's Nils Grandelius picking up those two valuable spots over Aryan Tari and Max Warmerdam.
Alan Pichot gives mate and has qualified to the #MagnusInvitational with a round to spare! https://t.co/BUTrykZYfy #c24live #ChessChamps #ChessInSpace pic.twitter.com/a5FXuSvgnc

— chess24.com (@chess24com) March 9, 2021
Both qualifiers face long odds to win the Magnus Carlsen Invitational, with Pichot at +25000 and Grandelius at +15000.
Deep field defines Magnus Carlsen Invitational
Meanwhile, the regular list of top contenders will look to make deep runs and, potentially, claim the $60,000 top prize. French grandmaster Maxime Vachier-Lagrave is still looking for his first tour victory and comes in as the third choice at +900.
Hikaru Nakamura sits right behind him at +1100. Nakamura rates as perhaps the best speed chess player in the world – especially in online chess – but has yet to win one of the Carlsen-organized tour events, despite several close calls. Russian GM Ian Nepomniachtchi also stands at +1100.
---
Magnus Carlsen Invitational Odds (via Unibet)
Magnus Carlsen: +135
Wesley So: +500
Maxime Vachier-Lagrave: +900
Hikaru Nakamura: +1100
Ian Nepomniachtchi: +1100
Levon Aronian: +1400
Anish Giri: +1400
Teimour Radjabov: +1400
Daniil Dubov: +2000
Alireza Firouzja: +2000
Sergey Karjakin: +3000
Shakhriyar Mamedyarov: +5000
Jorden van Foreest: +5000
David Anton Guijarro: +15000
Nils Grandelius: +15000
Alan Pichot: +25000
---
Behind the leaders, Unibet is offering a trio of players at +1400. That group includes Levon Aronian – who is changing his national affiliation from Armenia to the United States – along with Anish Giri and Radjabov, the co-leader in the tour standings.
The Magnus Carlsen Invitational features a total prize pool of $220,000. The tournament begins on March 13, with the players competing in a full round-robin to determine the eight knockout qualifiers. The survivors will then face off in knockout matches, culminating in the tournament final on March 20 and 21.