Magnus Carlsen overpowered Ian Nepomniachtchi on Tuesday, defeating the Russian grandmaster 2.5-0.5 in the second set of their finals match to win the Legends of Chess online tournament.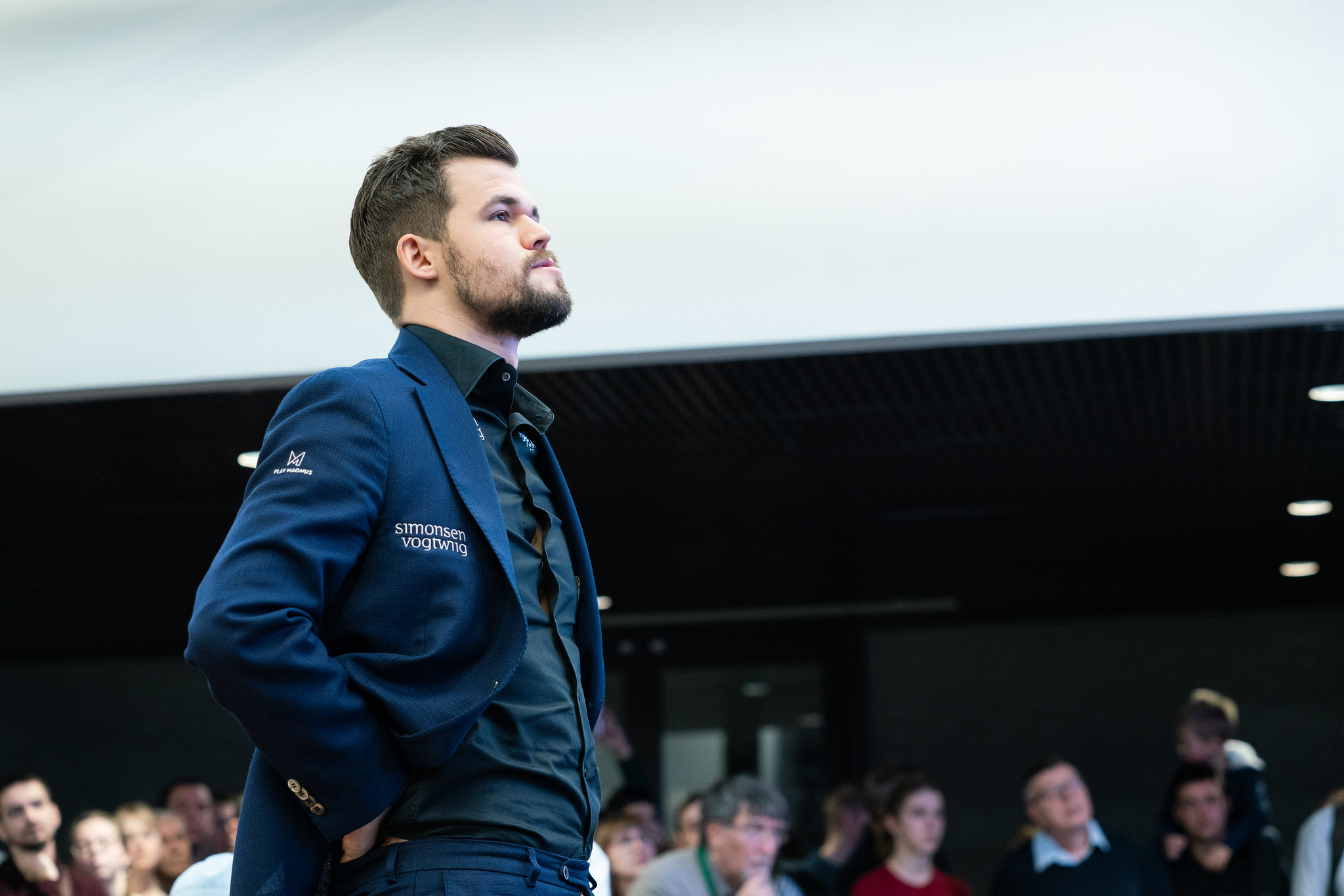 Carlsen won a $45,000 first prize, and claimed his third title in four events on his Magnus Carlsen Chess Tour.
Carlsen Finishes Undefeated in Legends of Chess
Nepomniachtchi pushed Carlsen to the limit in the Monday's first set. Carlsen jumped out to an early lead, winning Game 1 with Black to seemingly take control of the mini-match. But Nepomniachtchi struck back in Game 3, and draws in Carlsen's two White games left the match tied at 2-2 after regulation.
Judit Polgar spotted a way for Nepo to draw the 1st blitz game, missed by Jan, Grischuk… and then Nepo himself – "We are patzers!" (Grischuk) https://t.co/9acIFvkbp8 #c24live #ChessLegends pic.twitter.com/A6ocbFfnuH

— chess24.com (@chess24com) August 3, 2020
But Nepomniachtchi missed a tactic that would have drawn the first blitz game, and Carlsen retook the lead. Carlsen then held a difficult endgame in the second blitz contest, eventually winning the position to close out the set by a 4-2 score.
Tuesday's second set generated far less drama. Carlsen built up a dominant position in Game 1, and while he was only down a pawn, Nepomniachtchi resigned in frustration – and in a completely lost position – after just 27 moves.
Carlsen followed that up with a slick technical win in Game 2, maneuvering through an endgame up an exchange to grab a win with Black. That left Nepomniachtchi needing to win twice just to force tiebreakers. But Carlsen easily shut down any counterplay in Game 3, reaching a comfortable rook-and-pawn endgame, and taking a draw to put away the match by a 2.5-0.5 score.
"It was clear he didn't really have it today," Carlsen said of Nepomniachtchi.
Carlsen put together his most dominant performance of the tour during the Legends of Chess. The World Champion won all nine of his round-robin matches, then won both his semifinal and final confrontations without dropping a set.
Top Four on Tour Meet in Kiva Finals
Carlsen has now won three of the four events on his namesake tour. But the 29-year-old says there's still room for improvement.
"I have lost one match, against Nakamura," Carlsen said, speaking of his semifinal loss in the Lindores Abbey Rapid Challenge. "In my mind, that's too many!"
Carlsen now heads into the tour's Kiva Finals as the top seed. Daniil Dubov takes the second position as the winner of the Rapid Challenge, while Hikaru Nakamura and Ding Liren grabbed the two remaining slots based on their overall tour performance.
Carlsen's victory, his 3rd in 4 events on the tour, means Ding Liren qualifies for the finals, starting Sunday! https://t.co/zqymZlkWiG

It's Carlsen-Ding and Dubov-Nakamura this Sunday, as they begin best-of-5 matches, with a $140,000 top prize at stake! #ChessLegends #c24live pic.twitter.com/7EUaLDyzBP

— chess24.com (@chess24com) August 4, 2020
The Kiva Finals begin on Aug. 9 with the semifinal matchups. Carlsen faces Ding, while Dubov and Nakamura battle in a rematch of the Rapid Challenge final. Each semifinal match consists of five sets, with the winners moving on to face off in the seven-set final.
Given his dominance throughout the tour, Carlsen enters the last event as a prohibitive favorite. Unibet lists Carlsen as a -182 pick to win the Kiva Finals, ahead of Nakamura (+350), Ding (+600), and Dubov (+900).