WBA and WBO lightweight champion Vasiliy Lomachenko will put his status as one of boxing's top pound-for-pound fighters on the line on Saturday when he takes on IBF lightweight champion Teofimo Lopez in a title unification bout at the MGM Grand Conference Center in Las Vegas.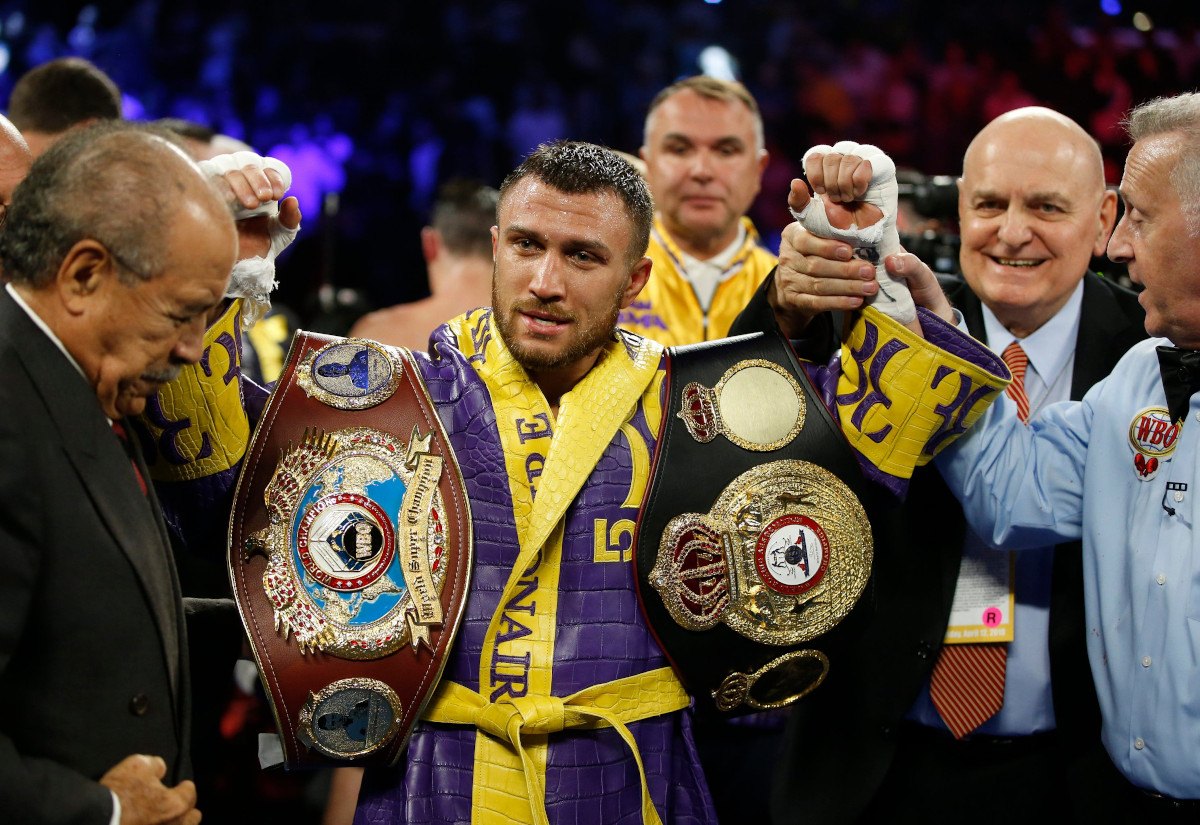 ESPN ranks Lomachenko as the top pound-for-pound boxer in the world, while The Ring places the Ukrainian second behind middleweight champion Canelo Alvarez.
Lopez Seeks Career Defining Win
Few dispute that Lomachenko (14-1, 10 KOs) and Lopez (15-0, 12 KOs) are the two best lightweights in the world. Whether you look at rankings from ESPN, The Ring, or the BoxRec ratings, they land in the No. 1 and No. 2 spots, with Lomachenko always taking the top position.
That's something that Lopez hopes to change on Saturday.
"That's what it takes to go from a good fighter to a great, all-time fighter," Lopez said during Wednesday's pre-fight press conference. "You gotta do things like this. We've spoken about this for a while now. Why am I gonna go back on my word? I talk the talk and I walk the walk. I believe that I can and I know I will become undisputed world champion."
Lopez has looked dominant throughout his professional career. But Lomachenko still comes into the fight as a massive -455 favorite, according to PointsBet.
---
Lomachenko vs. Lopez Odds (via PointsBet)
Fight Result (Draw No Bet)
Vasiliy Lomachenko: -455
Teofimo Lopez: +325
Will the Fight Go the Distance?
Yes: -167
No: +125
---
That's because Lomachenko remains, hands down, the most technically proficient boxer on the planet. He built those skills on the back of an extensive amateur career, going an incredible 396-1 before turning pro, including winning gold medals at both the 2008 and 2012 Olympics.
With the exception of a split decision loss to Orlando Salido in his second professional fight, Lomachenko has translated those skills brilliantly to prize fighting. Nobody has come close to beating him in recent years, thanks in large part to an incredible ability to control distance and choose troublesome angles unlike almost any other fighter.
Loma Dismisses Questions Over Age, Size
That said, Lopez holds some cards of his own. At just 23 years old, he's much younger than the 32-year-old Lomachenko – and that's without considering the fact that Lopez doesn't hundreds of fights fewer under his belt. He's also quick to point out that he's larger than Lomachenko, who is a bit undersized as a lightweight.
But that issue has never bothered Lomachenko before, and he doesn't expect it to be a problem on Saturday.
"I heard this a lot of times from a lot of boxers," Lomachenko told reporters. "But then you come in the ring, and you forgot your words. You forgot your promise. You just try boxing, you just try fighting. For me, it's just trash talk. It's just words. We'll see what happens."
What it comes down to it, Lomachenko says, Lopez hasn't experienced anything like fighting him in his career.
"I don't think he fully gets it," Lomachenko told reporters. "It seems to me that he doesn't understand. I hope to drag him into deep waters, down to the bottom, and keep him underwater without air."