England's women's team beat Germany 2-1 after extra time at Wembley to win its first European trophy. Tens of thousands of fans joined the Lionesses at London's Trafalgar Square on Monday to celebrate.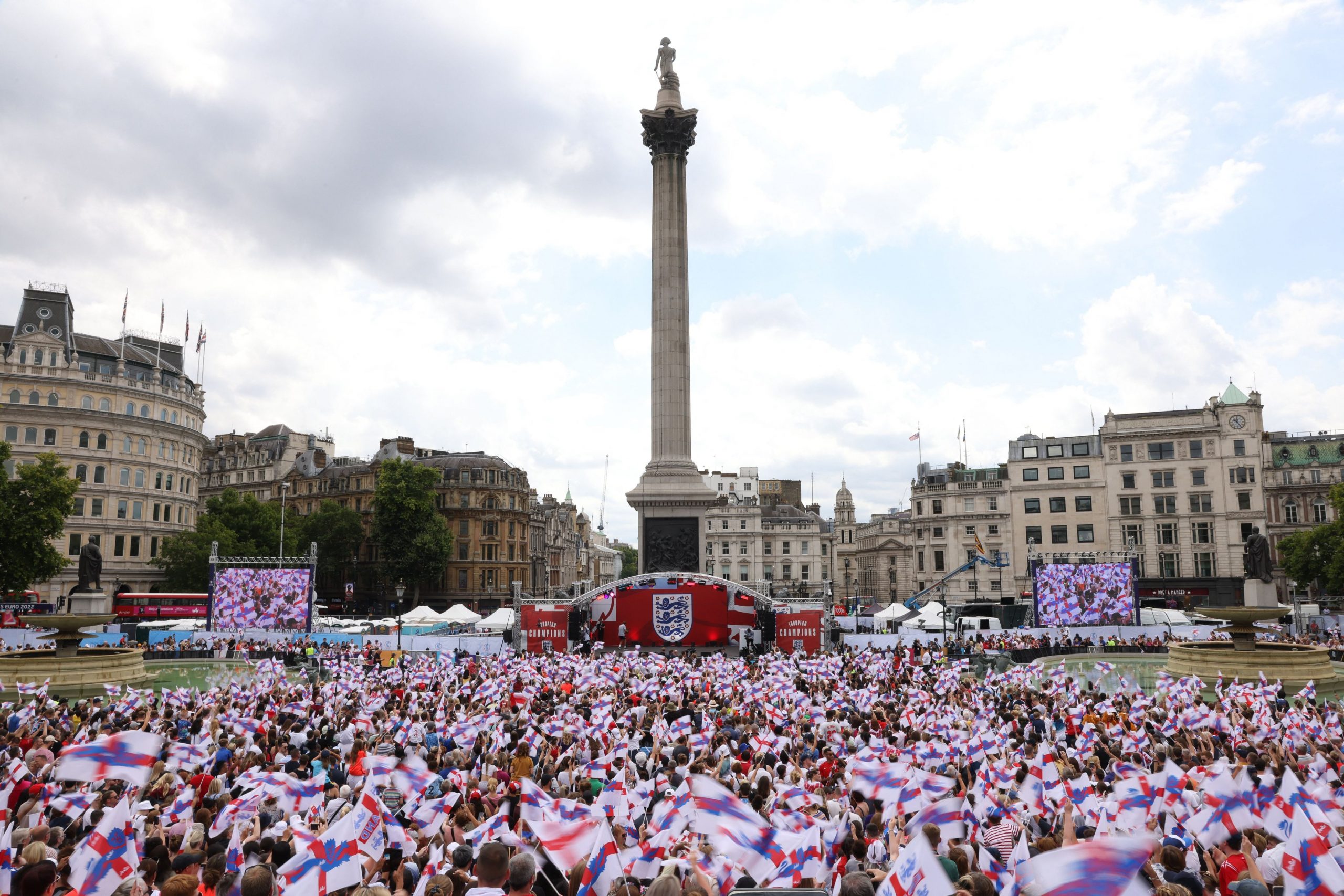 England's triumph at the Euros is, in fact, the first continental silverware the country has won in either men's or women's football.
Historic. Inspiring. European Champions! 🦁🏴󠁧󠁢󠁥󠁮󠁧󠁿 pic.twitter.com/qhIZeSYVow

— Sky Sports News (@SkySportsNews) August 1, 2022
After a night of partying, England's players met the fans in downtown London. Many of them still wore their medals, with huge cheers coming for every player in the squad, as well as manager Sarina Wiegman and her coaching staff. People traveled from across England to honor the historic achievement.
English FA's chief executive Mark Bullingham said the players had "captured the nation's hearts" and their Euro 2022 win would never be forgotten.
"This is an iconic moment for English football and everyone is so proud of the players, Sarina, and the support team," Bullingham said. "It has been an honor to host the tournament in England and the fans have been so important during the team's journey to success this summer, so it's only right that they can celebrate this historic victory together at Trafalgar Square."
'They became household names to millions'
Culture Secretary Nadine Dorries said players like captain Leah Williamson, top-scorer Beth Mead, and super-sub Alessia Russo have now become "household names to millions".
It's karaoke time in Trafalgar Square! 🤩🥳 pic.twitter.com/zC14SxiB4J

— Sky Sports News (@SkySportsNews) August 1, 2022
"We must now capitalize on this moment and together do all we can to encourage more women and girls into the game," Dorries added. "I'm delighted that we have worked quickly with the FA to put on a victory celebration in Trafalgar Square."
London-born Chloe Kelly, who took her shirt off on the pitch to celebrate scoring the winning goal told the crowd her "shirt is staying on this time."
The @Lionesses lift their first ever major trophy in front of a PACKED Trafalgar Square. 🏆pic.twitter.com/5YM1RJncde

— Attacking Third (@AttackingThird) August 1, 2022
Manager Sarina Wiegman refused to lay back and said her players now need to concentrate on winning the FIFA 2023 Women's World Cup in Australia and New Zealand.
Wiegman, 'the missing ingredient'
Captain Leah Williamson highlighted Wiegman's role in England's success, saying she was the "missing ingredient England was looking for" and praised the manager for bringing the team together.
"A little tired…we had a big party last night!" 😅

Sarina Wiegman says the #Lionesses have 'inspired a nation' 👏🏴󠁧󠁢󠁥󠁮󠁧󠁿 pic.twitter.com/IAGD8KXT2r

— Sky Sports News (@SkySportsNews) August 1, 2022
The Army in London has said it will honor the Lionesses in Monday's Changing of the Guard. It said onlookers might notice some more "special football music being played in celebration, something to do with being 'Champions.'"
"It took about 10 minutes to go in the back of the net" 🤣

Ella Toone reflects on her #WEURO2022 final goal 💫 pic.twitter.com/0zmq86mKUu

— Sky Sports News (@SkySportsNews) August 1, 2022