The Tampa Bay Lightning will continue their bid for a third straight Stanley Cup on Tuesday, but come into their second-round playoff series as a clear underdog to the Florida Panthers.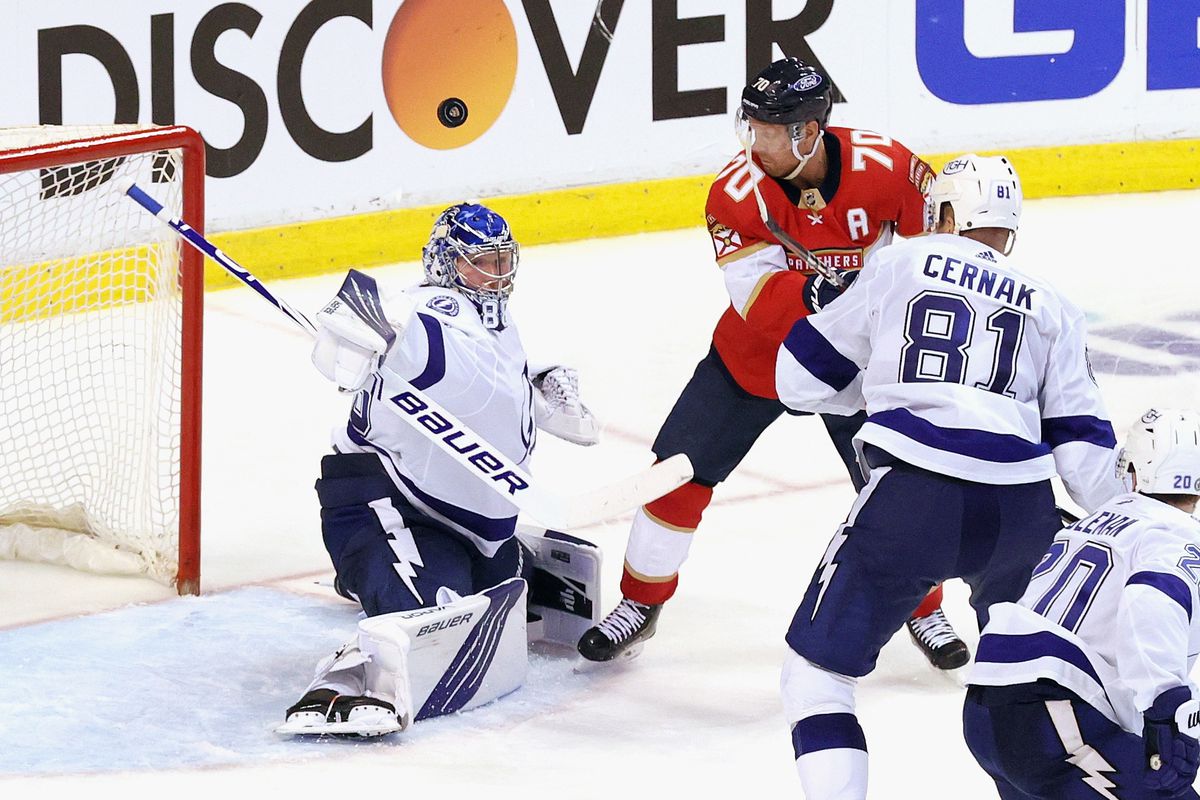 The Panthers open the series as a -170 pick over the Lightning (+150) at DraftKings Sportsbook.
Panthers grew during first-round series
Florida entered the playoffs as the top overall seed after finishing the regular season with 122 points. The Panthers finished off the Washington Capitals in six games to advance out of the opening round. They rate as the second favorite to win the Stanley Cup this year at +380, trailing only the Colorado Avalanche (+190).
However, the Panthers didn't find things easy in the first round. Washington twice took leads in the series before Florida won the final three games to ultimately pull away, finally dispatching the Capitals 4-3 in overtime in Game 6.
"I think we learned through that last series that we have to control our emotions," Florida coach Andrew Brunette told reporters. "It's going to be a rollercoaster ride and we can talk about it until we're blue in the face, until you go through it, until you realize and understand it. I think we're building towards that."
Meanwhile, the Lightning found themselves at the edge of elimination in the first round, trailing the Toronto Maple Leafs 3-2 in the series. But Tampa Bay managed to eek out two, one-goal wins, including an overtime victory at home in Game 6, to keep their title defense alive. The Lightning have now won all 17 games following a loss in the postseason dating back to 2020.
"I thought the first few games we didn't have much emotion," Tampa Bay goaltender Andrei Vasilevskiy told reporters. "But I thought that [in] Game 6, we were able to find an extra positivity in our game and extra emotions … and Game 7, I think we played our best hockey so far in these playoffs."
Battle of Florida renews for second straight playoffs
The Panthers and Lightning have history in the Stanley Cup Playoffs, albeit a recent one. The two teams faced off in the postseason for the first time last year. Tampa Bay won the series in six games on its way to defending its Stanley Cup title.
"We saw them a lot last year and, whenever we play them, it's obviously a tough test," Lightning forward Ross Colton said. "We kind of know what to expect from them. It's probably going to be a grind."
The Lightning will likely start the series without forward Brayden Point, who suffered a lower-body injury in Game 7 of the series against the Maple Leafs.
"Pointer is highly doubtful for Game 1, then we'll go day-to-day after that," Tampa Bay coach Jon Cooper said. "Anything that gives us hope he'll be back is encouraging."
However, the Panthers know that the Lightning are dangerous with or without Point.
"Everybody knows how good they are," Florida forward Anton Lundell told reporters. "They won two Cups in a row and it's a good challenge for us, and I think we're ready."