The Tampa Bay Lightning have four chances to advance to the Eastern Conference finals, but will try to end things quickly on Monday when they face the Florida Panthers in Game 4 of their second-round series.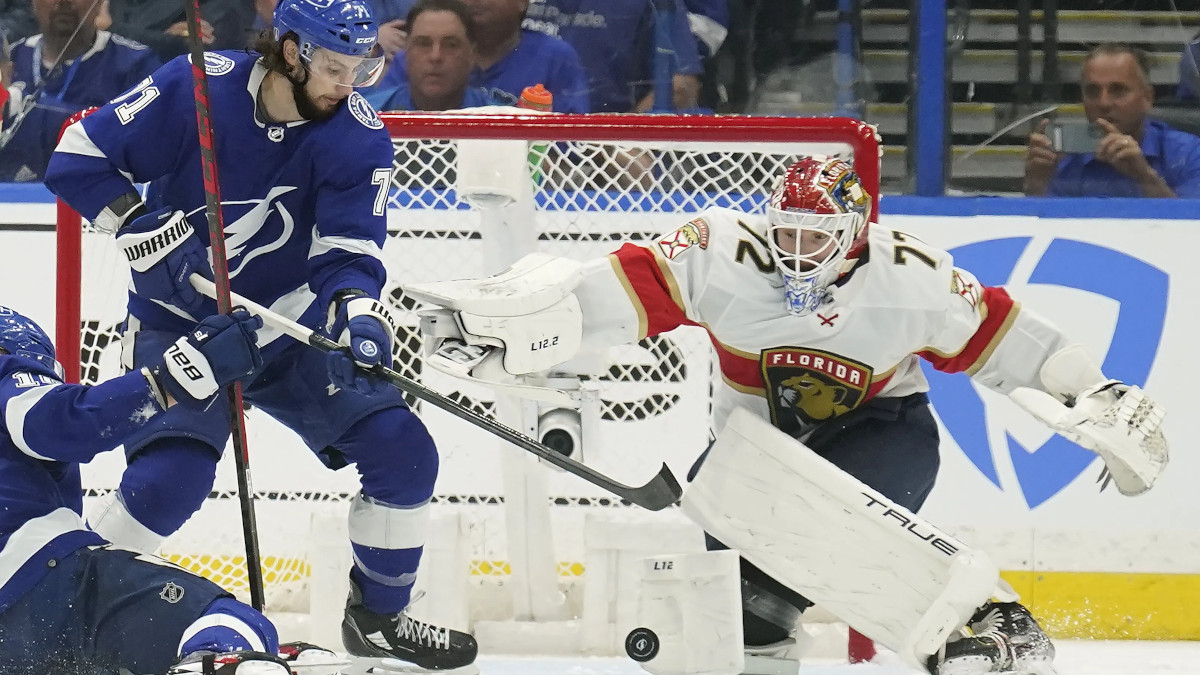 The Lightning enter as the -125 favorite to beat the Panthers (+104) and complete a four-game sweep, according to FanDuel Sportsbook.
Brunette: Lightning showing more 'will' than Panthers
Tampa Bay dominated the first three games of the series, outscoring Florida 11-3 and holding the Panthers to just one goal in each game. With the exception of a 2-1 score in Game 2, the series hasn't even been close.
Florida coach Andrew Brunette told reporters that the Lightning simply outplayed his team over the first three games.
"Obviously, they're Stanley Cup champions and the best team in hockey, probably over the last five years, so they know what they're doing and they're willing themselves," Brunette said. "They have more will and more desire than we do, and it shows, probably if you watch the game shift and shift right now, so we have to find a way that we need to dial it in deeper and harder, and want it more."
In the history of the Stanley Cup playoffs, teams with a 3-0 lead have a 197-4 record in the series. That's dominant, but shows there's a light at the end of the tunnel in the NHL that teams facing that deficit in other sports may not be able to see. The Lightning aren't taking anything for granted just yet.
"These guys have their backs against the wall," Lightning forward Steven Stamkos told reporters. "We've had this opportunity before and it's the hardest one to get. We understand that challenge, but we'll be ready. We have an opportunity to do it in front of our home fans and feed off that."
Tampa Bay among Stanley Cup favorites
While the Panthers face a monumental task, they'll get the chance to start their comeback immediately. There is no rest game in this series, as the two teams are coming off playing Game 3 on Sunday.
"Down 3-0, it's a good team, but who knows?" Panthers winger Jonathan Huberdeau told reporters. "We come back tomorrow, it's a back-to-back so we can show up tomorrow and win a game and it's a different series. This game is over and we lost. Tomorrow we'll wake up, it's a new day and we can do it."
The Lightning are now an -1800 favorite to win this series, with FanDuel offering +920 on the Panthers making an unlikely comeback. Tampa Bay also rates as a +280 second choice to win the Stanley Cup for the third consecutive year, trailing only the Colorado Avalanche.