When it comes to running against Letruska, Kenny McPeek – who sends Envoutante against the standout mare in Sunday's Grade 1 Spinster — summed up the frustration he and his fellow trainers face. "That's the thing," McPeek told the Daily Racing Form. "If you try to run with her early, you end up paying in the end. You're damned if you do and damned if you don't. We'll have to come up with something."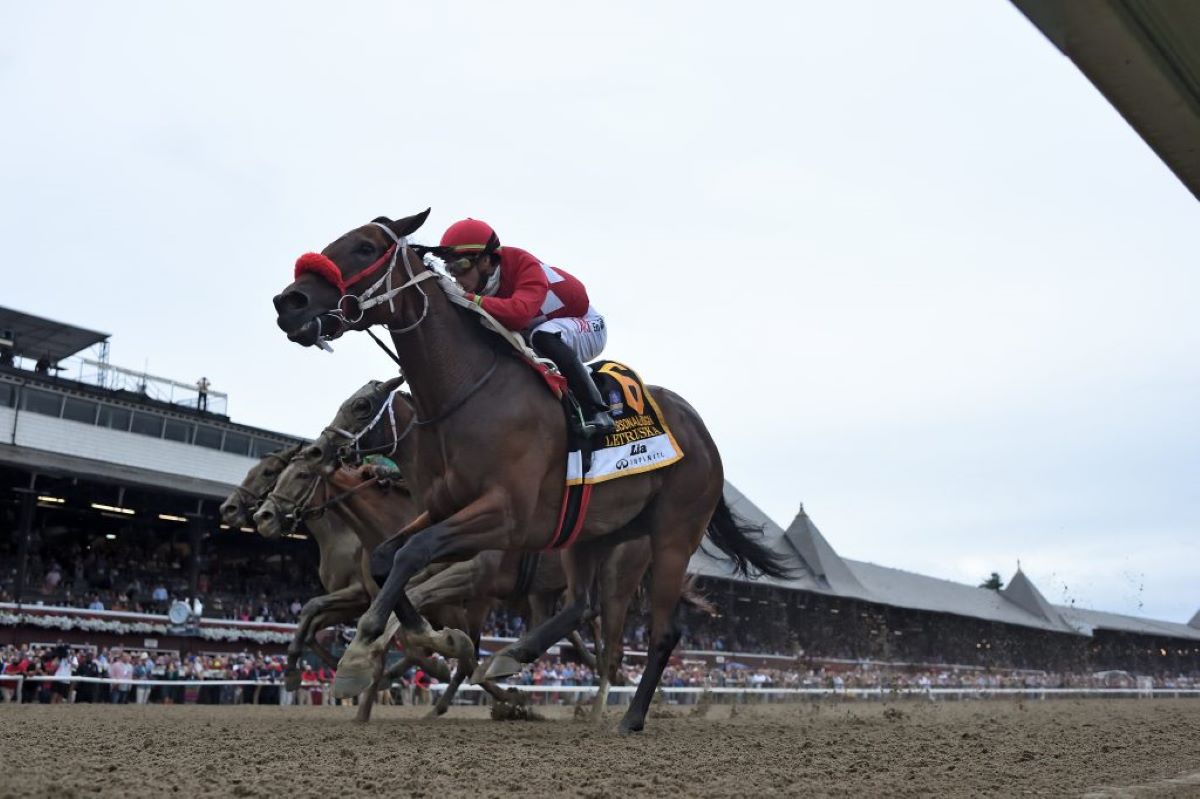 Whatever that "something" is, McPeek, Brad Cox, Chad Brown, and the other conditioners in the 1 1/8-mile anchor to Keeneland's Sunday card have this race to figure it out. Otherwise, the next time they see Letruska will be in the Del Mar starting gate for the Breeders' Cup Distaff.
That is, if there is a next time for Envoutante, Bonny South, and Dunbar Road, Letruska's three primary rivals in this Breeders' Cup "Win and You're In" race. Facing the dominant older mare in the country hasn't gone well for any of her rivals this year. And should 4/5 morning-line favorite Letruska win her fifth consecutive race – and fourth consecutive Grade 1 – there may not be a lot of trainers eager for a rematch.
Letruska turned away all comers but one this year
Cox's Bonny South finished second to Letruska in both the Grade 1 Ogden Phipps and Grade 1 Personal Ensign. Brown's Dunbar Road was fourth, albeit by three-quarters of a length, in the Personal Ensign. Envoutante was a distant third – by 6 ½ lengths — in the Grade 2 Fleur de Lis.
Not that Letruska needs to prove anything in the Spinster. She is 5-for-6 this year, with her only loss being a second by a head to Shedaresthedevil in March's Grade 2 Azeri at Oaklawn Park. Envoutante was fourth in that race.
Letruska spotting at @keenelandracing! 🤩

She's won 3 #WinAndYoureIN races this season and going for a 4th Sunday in the Spinster Stakes! pic.twitter.com/8vBAj40nRt

— Breeders' Cup (@BreedersCup) October 8, 2021
Her rivals and their connections have seen enough of Letruska's front-running style. She led at every call point in her last four races. She's earned triple-digit Beyer Speed Figures in each one, including a career-best 103 in the Ogden Phipps.
No pressure here for Breeders' Cup spot
Letruska already owns victories in three Breeders' Cup Challenge Series races, courtesy of her victories in the Ogden Phipps, the Fleur de Lis, and the Personal Ensign. She's already banked more than $1.6 million just this year.
For her, this is a timely tune-up for the Nov. 6 Breeders' Cup Distaff. "I like to spend a lot of time here, and she knows this track very well," her trainer, Fausto Gutierrez, told Keeneland.
Gutierrez uses Keeneland as his training base for the 5-year-old daughter of Super Saver. He brought her to Lexington after she beat Monomoy Girl and Swiss Skydiver in the Grade 1 Apple Blossom in April. After Letruska captured the Personal Ensign, Gutierrez brought her back to Keeneland for works.
Two bullet works follow front-running victory
Those works were productive. Letruska's Sept. 25, four-furlong dash in 47.40 seconds was the fastest of 76 horses running that distance that day. Her five-furlong work on Oct. 2 also earned a bullet: a 59-second jaunt that was fastest of 55 that day.
Should nothing untoward happen on Sunday, Gutierrez plans on shipping Letruska cross country to Del Mar. Prerace training for the Breeders' Cup begins Oct. 25. Whether any of Letruska's rivals follow for the Distaff – or detour into a different race – remains to be seen.